Iraq Expels Islamic State Families From Local Communities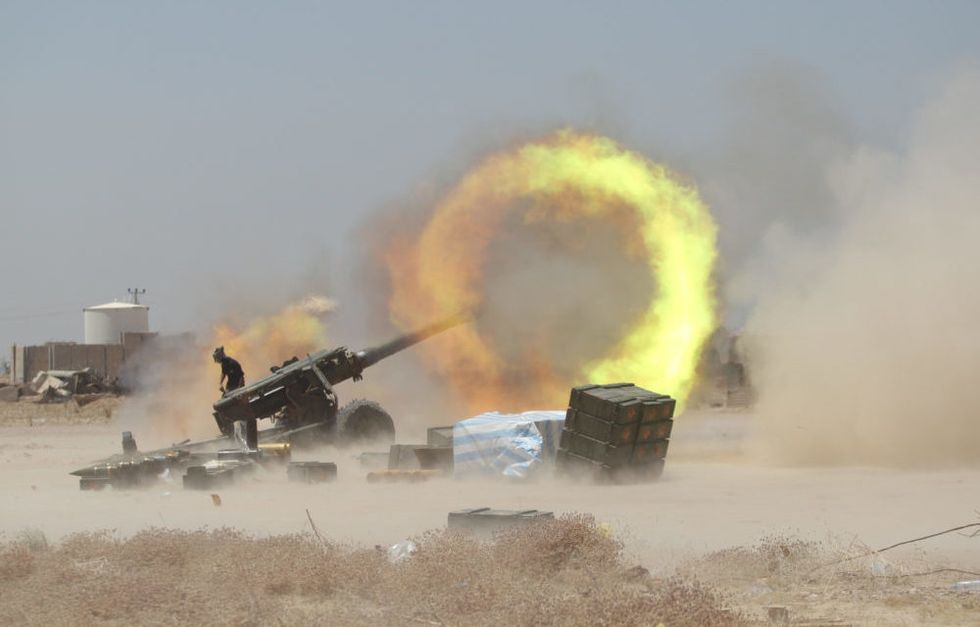 TIKRIT, Iraq (Reuters) – Iraqi authorities are expelling the families of suspected Islamic State members from their homes as the jihadist group loses ground, raising fears of communal violence if people seek to settle old scores.
Relatives of more than 200 militants are being forced to leave Dhuluiya, 70 km (40 miles) north of Baghdad, and Hit, 130 km to the west, government and security officials said.
Iraqi forces backed by a U.S.-led coalition have recaptured more than half the territory seized in 2014 by Islamic State, also known as ISIL and Daesh, and are gearing up for an offensive on the jihadists' de facto capital of Mosul later this year.
But the expulsions raise the specter that the ultra-hardline group's anticipated demise could trigger yet more conflict, if Iraqis seek to root out sympathizers and pursue retribution outside the law for Islamic State crimes they say include massacre, rape and enslavement.
Government forces and allied Shi'ite Muslim militias kicked Islamic State out of Dhuluiya nearly two years ago, but late last month police forced relatives of suspected insurgents, identified through intelligence and neighbors' testimonies, to leave 52 houses in the town, a local police officer said.
"After the liberation of Dhuluiya, tensions started to surface among the residents, especially people who lost relatives because of Daesh's extreme rules," said tribal leader Sheikh Ibrahim al-Jabouri. "We fear a fissure in society. Vengeance against Daesh families will only lead to more death."
Last week, a Reuters photographer observed members of the Samarra Operations Command, which handles security in Salahuddin province where Dhuluiya is located, marking the walls of shuttered houses with graffiti that said "Locked down by order of the Samarra Operations Command," and "There is no place for you among us".
Most of the families have moved in with relatives in nearby districts, said Jasim al-Jibarra, head of Salahuddin provincial council's security committee. Others may have slipped into neighboring Kirkuk province.
COLLECTIVE PUNISHMENT
An official at Iraq's Ministry of Migration and Displacement condemned forced expulsions as "oppressive" but could not confirm they were happening.
"The Iraqi constitution guarantees the right to freedom of living and settlement for each and every citizen," he said, declining to be named.
The United Nations warned that the expulsions, which it said are becoming widespread, endanger civilians' lives and undermine efforts at reconciling the country's minority Sunnis and Shi'ite majority.
"People who may have nothing to do with ISIL are effectively being punished for what a family member may or may not have done," said Francesco Motta, representative of the U.N. High Commissioner for Human Rights in Iraq.
"There are no legal standards applied to the family member who's supposed to be suspected or accused of participating or supporting ISIL and … the family members are being punished collectively."
In the western city of Hit, 170 families have been given until the Eid al-Adha holiday, which begins on Sept. 12, to leave, a police official and an international aid worker told Reuters.
Hit, which spent a year and a half under the extremists' control, was retaken in April by Iraqi forces who quickly returned most residents to their homes.
Mayor Muhannad Zbar said he was willing to empty the city of half its population if they were shown to have links with Islamic State.
With neighboring districts refusing to host them, the exiles may have no choice but to return to territory controlled by the jihadists.
(Additional reporting by Stephen Kalin in Baghdad; editing by Giles Elgood)
Photo: An Iraqi Shi'ite fighter fires artillery during clashes with Islamic State militants near Falluja, Iraq, May 29, 2016. REUTERS/Staff/File Photo