Iraq PM Under Mounting Criticism As U.S. Holds Back On Air Strikes
@AFP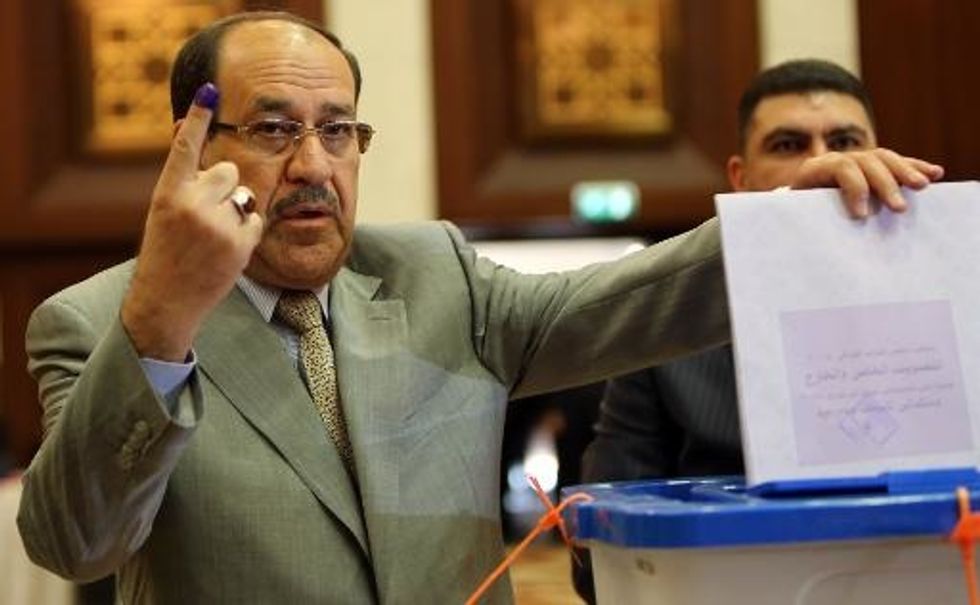 Baghdad (AFP) – Iraq's leader faced mounting criticism Friday for his Shiite-led government's failure to do more to woo the Sunni Arab minority as U.S. President Barack Obama promised military advisers but no immediate air strikes.
Top Shiite cleric Grand Ayatollah Ali al-Sistani, revered among Iraq's majority community, warned that time was running out to expel the jihadists, who have spearheaded the offensive that has seen Sunni Arab militants seize a vast swathe of northern and north-central Iraq.
Obama, who based his political career on ending U.S. involvement in Iraq, insisted the United States was not slipping back into the morass, and warned Prime Minister Nuri al-Maliki and his Shiite ally Iran that promoting sectarianism would spell disaster.
Tehran hit back, saying that Obama lacked a "serious will" to fight terrorism after he left unheeded a request from Baghdad for U.S. air strikes against the militants.
The assault, led by the jihadist Islamic State of Iraq and the Levant (ISIL) group but also involving loyalists of executed Sunni Arab dictator Saddam Hussein, has further threatened Washington's already-damaged legacy in Iraq.
"Going forward, we will be prepared to take targeted and precise military action if and when we determine that the situation on the ground requires it," Obama said on Thursday, as he announced the offer of up to 300 military advisers.
The offer was the most concrete action announced by Washington since the crisis erupted on June 9 but fell short of Iraq's request for air strikes and drew derision from Iran, which had offered its cooperation despite decades of enmity.
"Delaying the fight against terrorism and ISIL and putting conditions on it have fueled suspicions and doubts about the United States' objectives in Iraq," Deputy Foreign Minister Hossein Amir Abdollahian said.
"Obama's comments show the White House lacks serious will in fighting terrorism in Iraq and the region."
Top cleric Sistani called for Iraqis to band together against the jihadists before it is too late.
If ISIL is not "fought and expelled from Iraq, everyone will regret it tomorrow, when regret has no meaning," his spokesman announced on his behalf.
The battle for the strategic northern town of Tal Afar entered its sixth day on Friday, with witnesses saying security forces clashed with militants who still hold significant ground.
Shiite-majority Tal Afar is located along a strategic corridor to Syria, and is the largest town not to fall to militants in the northern province of Nineveh, most of which has been overrun.
The crew of an Iraqi gunship apparently mistook a police patrol for militants early Friday in the town of Dhuluiyah, north of the capital, opening fire and killing a woman, officials and a witness said.
A senior officer told AFP that Iraq needs U.S. help.
"We need American support to stop terrorism and eliminate it… especially through air strikes against specific targets," the army lieutenant general said on condition of anonymity.
"The large capabilities that the U.S. has will help to raise the fighting abilities and the morale of the fighters," the officer said.
But Obama insisted on Thursday that there will be no return of U.S. combat troops to Iraq, where Washington waged a bloody and costly war for nearly nine years before withdrawing in late 2011.
"American forces will not be returning to combat in Iraq," Obama said.
"But we will help Iraqis as they take the fight to terrorists who threaten the Iraqi people, the region and American interests as well."
Washington has already positioned an aircraft carrier in the Gulf and is also considering using drone strikes against the militants.
Senior U.S. officials said privately that special forces being sent to advise Iraqi forces could also be used to call in air strikes if necessary.
Military officials confirmed that U.S. forces were already flying F-18 warplanes and unmanned surveillance flights over Iraq.
The crisis in Iraq has raised questions over whether Maliki, who is seeking to retain the premiership after an April 30 general election, will continue in office.
U.S. Vice President Joe Biden, Defense Secretary Chuck Hagel, Chairman of the Joint Chiefs General Martin Dempsey and David Petraeus, the former top U.S. commander in Iraq, have all either called for Maliki to be more inclusive, or outright criticized him.
Obama said Thursday that Maliki's actions could dictate the fate of the country, amid a growing feeling in Washington that the Iraqi leader would do best by moving on.
"The test is before him and other Iraqi leaders as we speak," Obama said, calling for an end to mistrust, deep sectarian divides and political opportunism.
Former U.S .ambassador to Baghdad James Jeffrey said there has been a "definite uptick" in Washington's criticism of Maliki.
"Everybody is a bit at fault in Iraq on the sectarian thing, but Maliki over time did become more" sectarian, said Jeffrey, who left the post in mid-2012.
"He just isn't the solution to a unified Iraq."
AFP Photo/Ali al-Saadi