Is 'Q' The Greatest Hoax Of All Time?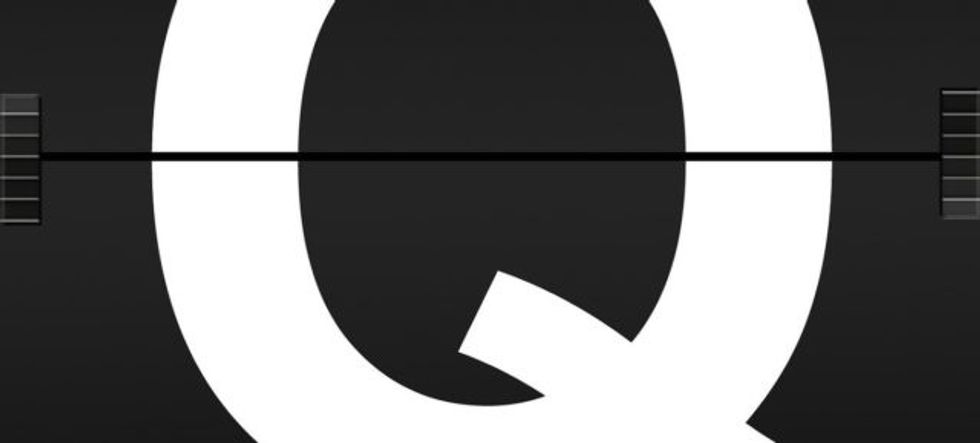 This article originally appeared on Creators.
The political movement swirling around President Donald Trump — formerly known as the Republican Party — displays certain unique features but is really just the latest noxious excrescence of the American right. Like so many of its predecessors, the Trump movement is built on fear. And like every movement motivated by paranoia, its followers are mentally vulnerable to the most idiotic conspiracy theories.
Not surprisingly, since everything about Trump is always the "biggest" and the "best," his fans are flocking to a truly enormous and enormously deluded conspiracy known as QAnon, or simply, "Q."
Insofar as any sane reporter can determine, Q is an entity that delivers anonymous messages via internet chat boards (the same virtual locations that generally attract obsessive right-wing types who carry out harassment campaigns from their mothers' basements). Supposedly sent by some person or persons in the upper reaches of the federal government with ultra-secret security clearances, the Q "drops" assure us that Trump is actually dismantling the "deep state" and elite international pedophilia cults, both controlled by various liberal politicians and celebrities. Already, Q has reported the arrest of Hillary Clinton (which never happened).
According to Q, all of this exciting activity is being carried out under deep cover, with the assistance of none other than Robert Mueller himself. You see, the special counsel is secretly working to assist Trump, not to investigate him. The verbal assaults and tweets against him emanating from the White House, not to mention Fox News, represent a "false flag" deception. So does everything else that doesn't fit into the conspiracy.
Among the charms of Q is that any believer can invent his or her own version of this mysterious presence, because there are no facts to fetter the paranoid imagination. Inquire who is delivering those tantalizing internet hints, as a CNN reporter asked Q kooks at a Trump rally last week, and everyone offers a different answer: It's one person, or 10 people, or more; it's a committee of military flag officers; it's Trump himself; it's John F. Kennedy Jr., who didn't really die in an airplane crash off Martha's Vineyard in 1999 after all. (Not kidding!)
If you're not a believer, you will have difficulty understanding how anyone can believe such a patently ridiculous confabulation. Yet among the Trump faithful there are hundreds of thousands, perhaps soon millions, fervently joining the Q queue. They are eagerly awaiting "the Storm," their term for the moment of reckoning when Trump and Mueller will seize all those liberal pedophiles and march them off to Gitmo.
Among them is Roseanne Barr, who has promoted Q on her Twitter feed for months. But nearly every right-wing media personality, from Sean Hannity to Alex Jones, is stoking the crazy — as are the Russians and their bots, of course, along with "alt-right" internet trolls like Jack Posobiec and Mike Cernovich. In other words, Q fans include all the usual suspects.
Now, manipulative charlatans on the right have been training stupid people to believe stupid things for decades, dating back to The John Birch Society and its insistence that former President Eisenhower, among others, was a conscious instrument of the "Communist conspiracy." Those claims offended principled conservatives, who kicked the Birchers out of their movement.
But in more recent years, the inclination to promote outrageous calumnies has penetrated the upper reaches of the Republican Party and its allies on the religious right and in right-wing media. Republican leaders who are appalled by these tactics are almost always too cowardly to disavow them.
So in the early '90s, furious over losing the White House to Bill and Hillary Clinton after three terms of Ronald Reagan and George H.W. Bush, Republicans promoted vile accusations to demonize the Democrats. Major GOP figures, including House committee chairs and especially House Speaker Newt Gingrich, slyly endorsed charges they knew to be utterly false. So did Rush Limbaugh, followed later by his many imitators on Fox. And so did Rev. Jerry Falwell, a minister of the Gospel who routinely violated the Eighth Commandment for profit.
The Clintons were slimed for years with concocted stories of cocaine trafficking and murder. Now they are said to operate an international child sex trafficking ring, along with former President Barack Obama (who is really a Communist Muslim born in Kenya) and George Soros (a Jew who is really a Nazi). But those sick fantasies have already gone stale.
The freshest theory, brought to us by BuzzFeed News, is also the most refreshing: Q is merely a hoax, concocted by leftists to make the right look extra dumb. For anyone with a functioning brain, a spirit of decency and a sense of humor, that's the only conspiracy with any traction.
To find out more about Joe Conason and read features by other Creators Syndicate writers and cartoonists, visit the Creators Syndicate website at www.creators.com.
Photo credit: at Pixabay