Israel Launches Airstrike Offensive In Gaza, Readies Ground Troops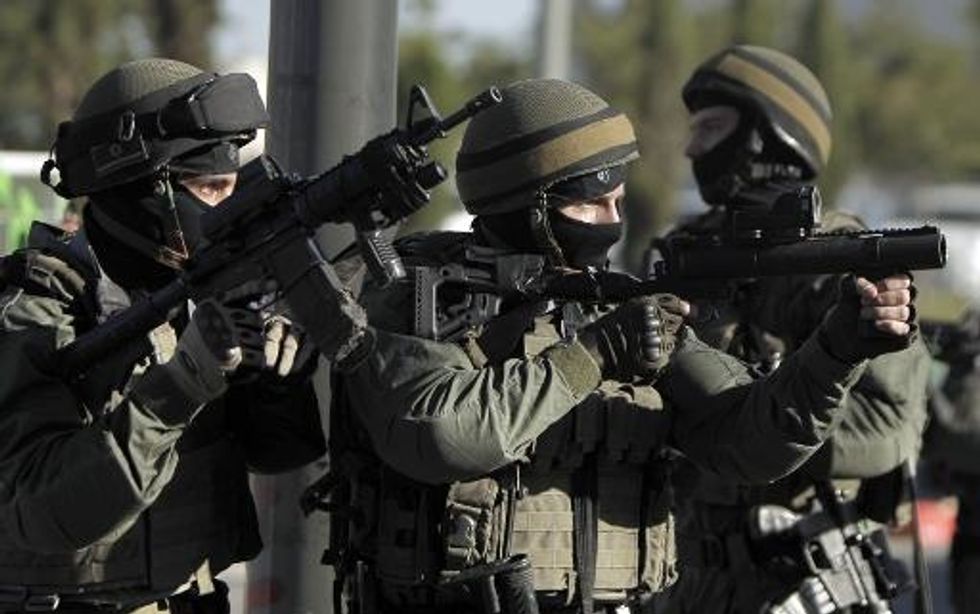 By Batsheva Sobelman, Los Angeles Times
JERUSALEM — Responding to increasingly heavy rocket fire, Israel launched an open-ended offensive military operation in the Gaza Strip Tuesday to curb Hamas rocket fire, army officials said.
After fierce volleys hurled 80 rockets at Israel Monday, Prime Minister Benjamin Netanyahu convened his security cabinet and gave the military the green light to call up more army reservists in addition to 1,500 already drafted.
Netanyahu told the heads of Israeli security at the defense ministry in Tel-Aviv Tuesday morning that "the gloves are off," adding that "Hamas has chosen escalation and will pay a heavy price for it."
Dubbed "Protective Edge," the first military offensive by Israel in Gaza since November 2012 began overnight with a series of extensive strikes from air and sea targeting concealed rocket launchers, training bases and weapons storages, as well as houses of individual Hamas members involved in rocket fire, the army said.
"We're taking this to the next step," army spokesman Lt. Col. Peter Lerner said Tuesday. "We've moved on from calm-for-calm," said Lerner, referring to the policy enacted earlier in the crisis when a cease-fire was reportedly being discussed.
Acting on government directives, the army's goals are "striking Hamas in Gaza and reducing rocket fire against Israel," Lerner said, noting Israel was watching for Hamas' response. There are no orders for ground operations but the army is preparing forces in case the operation requires ground maneuvers, Lerner said.
Gaza officials said families in homes targeted overnight received a phone call from Israeli intelligence warning the house would be bombed and asking them to leave. Gaza health officials said 15 Palestinians were injured in the pre-dawn strikes. Hamas spokesman Sami Abu Zuhri said in a statement that rockets were a "natural reaction to the Israeli crimes against our people."
Large public events, summer camps, and other activities were canceled Tuesday in Israeli towns within a 25-mile radius of the Gaza strip while Israel prepares for long-range fire from Hamas. Hamas has an estimated 10,000 rockets of various ranges, Lerner said, including those capable of reaching beyond Tel-Aviv to areas 50 miles north of the Gaza strip.
Rockets pushed deeper into Israel Monday night, bringing hundreds of thousands more people into the current crisis and setting off air-raid sirens as far as Jerusalem, as citizens in southern and central Israel scurried for bomb shelters. Trains in southern Israel were also halted indefinitely. Fire continued throughout Tuesday morning including over Ashdod, the country's fifth most populated city.
Of 16 rockets fired into Israel during one hour, five were intercepted by Iron Dome, Israel's mobile air-defense systems deployed throughout the country, officials said. Meanwhile, Palestinian sources reported several injuries from another Israeli airstrike.
In recent weeks, Palestinian militants launched around 300 rockets at Israel in an escalation that began in response to Israel's crackdown on Hamas in the West Bank following the abduction and killing of three Israeli teenagers.
Rocket fire has increased in intensity and range in recent days, with Hamas now openly claiming responsibility for the shooting.
Israel will not relent until calm is achieved in the south, Finance Minister Yair Lapid told Army Radio Tuesday. "And calm will be restored as we make this equation impossible for Hamas," he said, adding that Hamas leaders "know no one is immune, they have gone underground and with good reason."
Netanyahu faces public pressure from Israelis who have spent the last few weeks within 15-second running distances from a bomb shelter, as well as members of his cabinet demanding an all-out military offensive to invade and occupy the Gaza strip to purge it from Hamas and other militants.
Hamas has been "trying to drag Israel forcibly into an armed conflict," military analyst Alex Fishman wrote in the Hebrew daily Yediot Aharonot, calling Hamas' behavior "suicidal."
Israel has waged several military offenses in Gaza in recent years that ended with informal cease-fires with militant Palestinian factions brokered by third parties, providing extended periods of relative calm until fire erupts again. The last operation was in November 2012.
"This sort of maintenance needs to be done periodically, perhaps more often," retired General Yoav Galant said in a media interview.
Sobelman is a special correspondent. Special correspondent Rushdi abu Alouf in Gaza City contributed to this report.
AFP Photo / Ahmad Gharabli
Interested in world news? Sign up for our daily email newsletter!