Israel's Netanyahu Slams World Community For 'Hypocrisy' Over Iran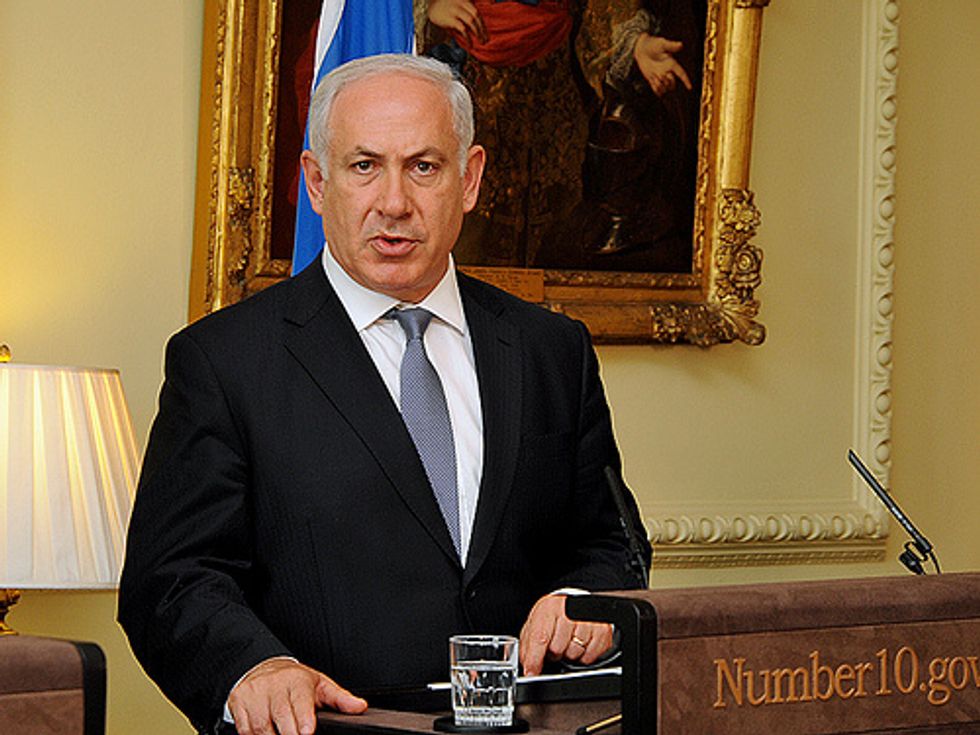 By Batsheva Sobelman, Los Angeles Times
JERUSALEM — Blue seas, red mountains and green rockets set the stage for Israeli Prime Minister Benjamin Netanyahu on Monday as he launched a fierce critique of the international community, which he accused of hypocrisy regarding Iran and a double standard toward Israel.
The country's top political and military ranks, as well as international diplomats and media, traveled to Israel's southernmost city of Eilat for the display of the weapons seized from the Klos-C, a Panamanian-registered ship intercepted by Israel's navy near Sudan last week.
The ship had sailed from Iran with a cargo of 40 Syrian-made M-302 rockets with a range of up to 100 miles, 181 Iranian-made mortars and approximately 400,000 rounds of bullets, according to Israel's military. Israel tracked the weapons shipment for months before intercepting it.
Speaking at a widely advertised and televised news conference, Netanyahu praised the Israeli army and the Mossad intelligence agency for the operation, saying it had prevented the rockets from reaching the Gaza Strip, where "terrorist organizations would have made murderous use of them against Israeli citizens."
Capturing the ship offered a timely boost for Israel's efforts to persuade the major powers negotiating with Iran over its controversial nuclear program that its new image of moderation is a dangerous ploy.
Iran has denied Israel's accusation that it was shipping weapons, accusing it of "fabrications." Hamas officials in Gaza have said Israel's claims were meant to justify its ongoing blockade of the territory.
With the weapons arranged on exhibit in the port of Eilat, nearly 1,000 miles from where naval commandos boarded the ship, Netanyahu had harsh words for the international community.
"There are those in the international community who would prefer us not to hold this event. … They want to continue nurturing the illusion that Iran has changed its course," the prime minister said.
Since the operation, which took place during Netanyahu's visit to the United States, Israel has waged an extensive campaign to present Iran's "true face" _ reinforcing the point that Israeli officials have been making for months as Western powers have negotiated with Iran over its nuclear program.
But, said Netanyahu, the world wasn't interested.
Not only have international condemnations of the arms shipment been "few and feeble," Netanyahu said, but at the same time "handshakes and smiles" were seen in Tehran as European policy chief Catherine Ashton met with Iranian Foreign Minister Mohammad Javad Zarif.
Netanyahu accused the international community of "hypocrisy against Israel," keeping largely silent following the exposure of the arms ship but readily issuing "blunt and sharp" denunciations of Israel.
"Not only is this hypocrisy morally wrong, it is also dangerous," Netanyahu said, making the point that this time Iran's illicit cargo was rockets threatening Israel, but next time it could be nuclear weapons targeting the world. He urged the world to wake up "before it's too late."
Photo: Downing Street via Flickr