Ivanka Dodges Questions About Shady Chinese Deal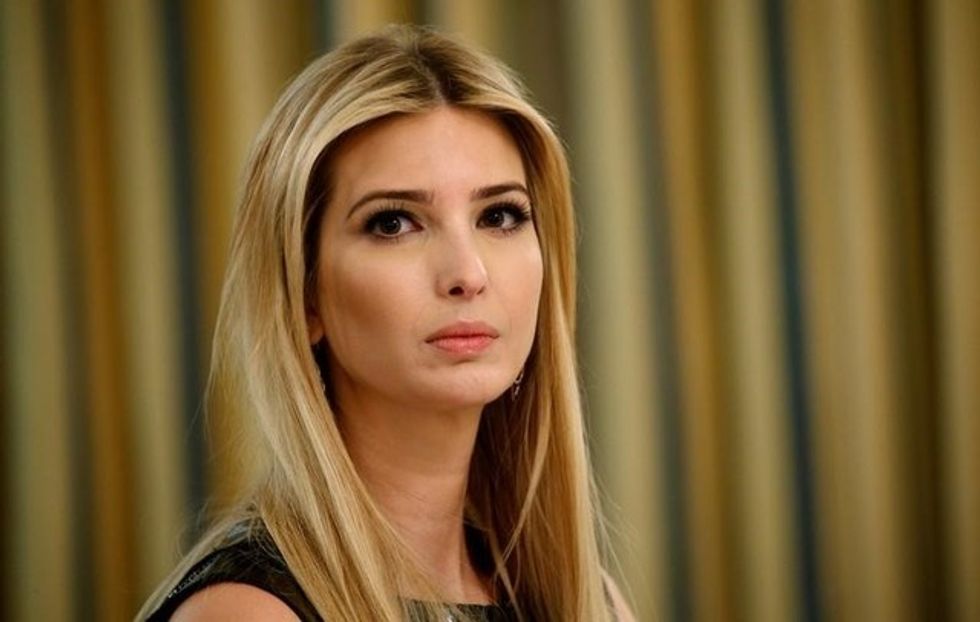 Reprinted with permission from AlterNet.
Ivanka Trump is refusing to answer questions about the glaring conflict of interest created by her work in the White House and her ongoing business dealings with the Chinese government, reported the New York Times' Maggie Haberman on Tuesday. President Donald Trump's daughter was hosting a phone briefing Tuesday with reporters and abruptly left the call after one journalist questioned her recent acquisition of valuable trademarks for her fashion line in China.
"Ivanka Trump is leading a call on a WH event on sports tomorrow," Haberman wrote. "First question is related to her business trademarks in China. WH aide on call declines to answer and redirects. A few q's later, aide says Ivanka Trump had to go to another meeting."
The Trump-China business relationship has recently drawn scrutiny after the president bizarrely touted the need to protect Chinese jobs and revive the Chinese telecommunications company ZTE, which had been sanctioned by the U.S. and was believed to be a national security threat.
In addition to Ivanka Trump's acquisition of key trademark deals with the Chinese government, the president's announcement about reviving ZTE came on the heels of Chinese investment in Trump properties in Indonesia, as CNBC reported.
President Trump and his family's sprawling business dealings, including an untold number of foreign deals, present a major conflict of interest that is unprecedented in modern American politics. Trump has been criticized since the campaign for having no plausible proposal to distinguish his policymaking in office from his business activities, and that criticism has only increased since he moved into the White House.
"There's a strong reason to suspect Trump is basing policy decisions on how they'll profit his family," said Trump critic and former Director of the Office of Government Ethics Walter Shaub in a recent tweet. "Conflicts of interest are dangerous, as is a derelict Congress."
Cody Fenwick is a reporter and editor. Follow him on Twitter @codytfenwick.