Japan PM Expresses 'Utmost Grief' Over War But No Fresh Apology
@reuters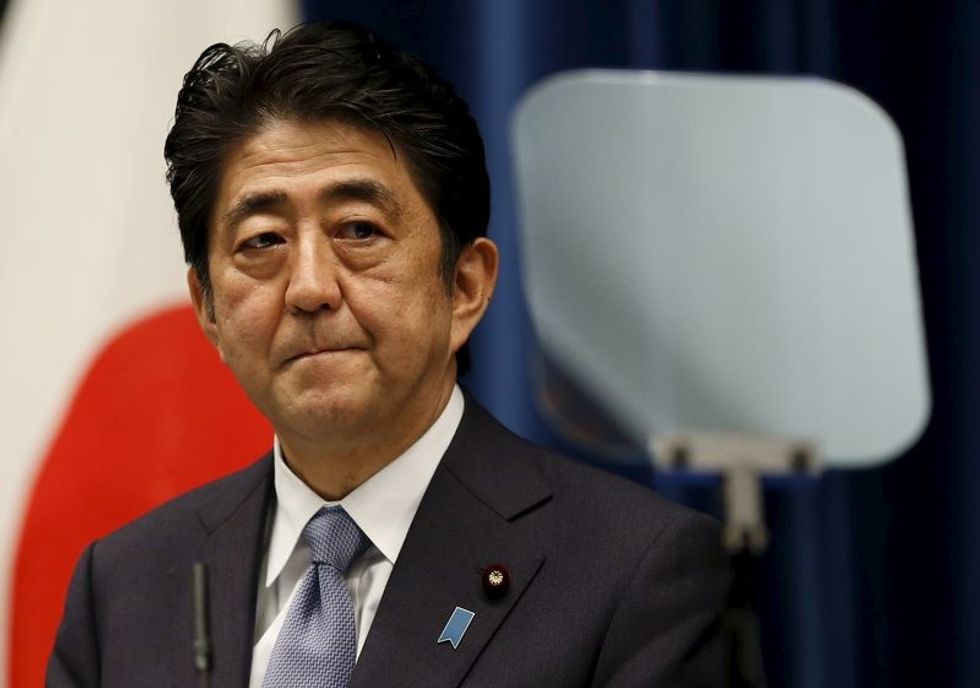 By Kiyoshi Takenaka and Linda Sieg
TOKYO (Reuters) — Prime Minister Shinzo Abe on Friday expressed "utmost grief" for the suffering Japan inflicted in World War II, but said that future generations of Japanese should not have to keep apologizing for the mistakes of the past.
Abe, marking the 70th anniversary of World War II's end, also said he upheld past government apologies over the war including the landmark 1995 statement by then-premier Tomiichi Murayama, but offered no new apology of his own.
The legacy of the war still haunts relations with China and South Korea, which suffered under Japan's sometimes brutal occupation and colonial rule before Tokyo's defeat in 1945.
Beijing and Seoul had made clear they wanted Abe to stick to the 1995 "heartfelt apology" for suffering caused by Tokyo's "colonial rule and aggression."
"Upon the innocent people did our country inflict immeasurable damage and suffering," Abe said in a statement.
"When I squarely contemplate this obvious fact, even now, I find myself speechless and my heart is rent with the utmost grief."
The remarks by Abe, who is seen by critics as a revisionist who wants to play down the dark side of Japan's wartime past, will be closely analyzed in China and South Korea, and by ally the United States, which wants to see reduced tensions in the region.
Abe, who referred to the wartime sufferings of the Chinese in his statement, said he hoped China would recognize Japan's "candid feelings" and that he hoped to meet Chinese President Xi Jinping if the opportunity arose.
Abe's statement comes as he pushes for a more robust defense policy through measures domestic critics say violate Japan's pacifist constitution. Public doubts about the bills have triggered a slide in Abe's ratings to below 40 percent.
Washington has welcomed the changes, which Abe says are needed to meet new challenges, including a more assertive China.
(Reporting by Linda Sieg; Editing by Nick Macfie)
Photo: Japan's Prime Minister Shinzo Abe attends a news conference for delivering a statement marking the 70th anniversary of World War II's end, at his official residence in Tokyo, August 14, 2015. REUTERS/Toru Hanai