#EndorseThis: Is Jared Kushner The Real President?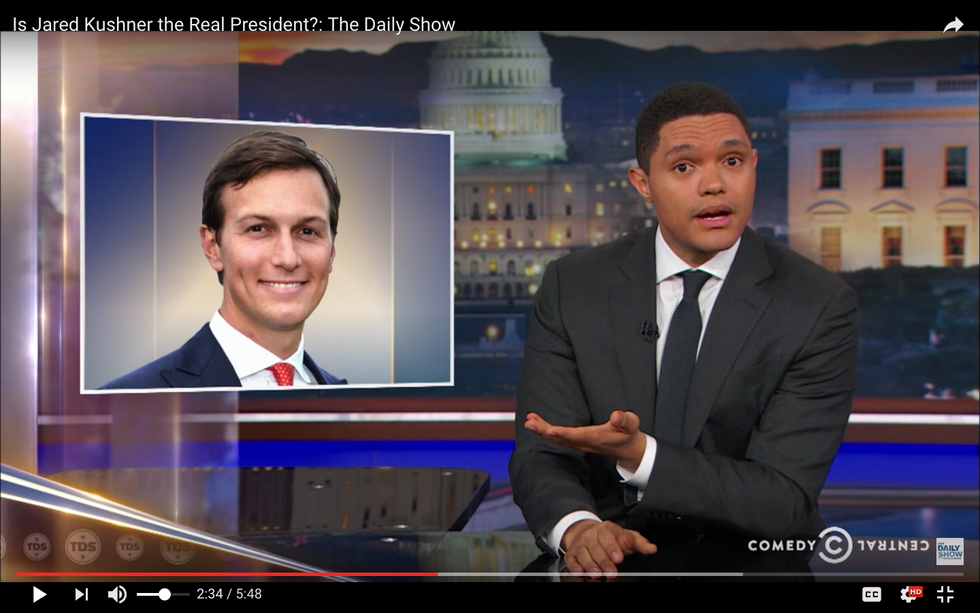 To anyone who knows Jared Kushner, the real estate heir and failed newspaper owner, the notion that he is a top adviser to the president of the United States is astonishing, perhaps even alarming. But the ever-growing list of assignments turned over by Donald Trump to his polite, photogenic young son-in-law has now reached a ludicrous level that the Daily Show can no longer ignore.
Kushner's updated to-do list includes establishing peace in the Mideast, reorganizing the entire federal government, creating an "Office of American Innovation" across departments and agencies, overseeing US relations with China and Mexico, reforming the criminal justice system and the Veterans Administration, organizing the visit of Chinese president Xi Jinping, plus much more — leading Trevor Noah to ask whether he is, in fact, "The Real President."
Why would Trump demand that Kushner perform so many vital tasks that are far beyond his competence? As we learn in this segment, it isn't owing to his worldly experience or deep knowledge (remember, he was unaware last January that the entire White House staff would soon depart with President Obama).
Some say he wants to run for president himself someday, so he's learning on the job — just as he did in real estate, where his purchase of a Fifth Avenue office tower for an exorbitant price has jeopardized his family's company. Good luck, Jared! (And good luck, America.)