Jeb Bush Faces Common Core Fight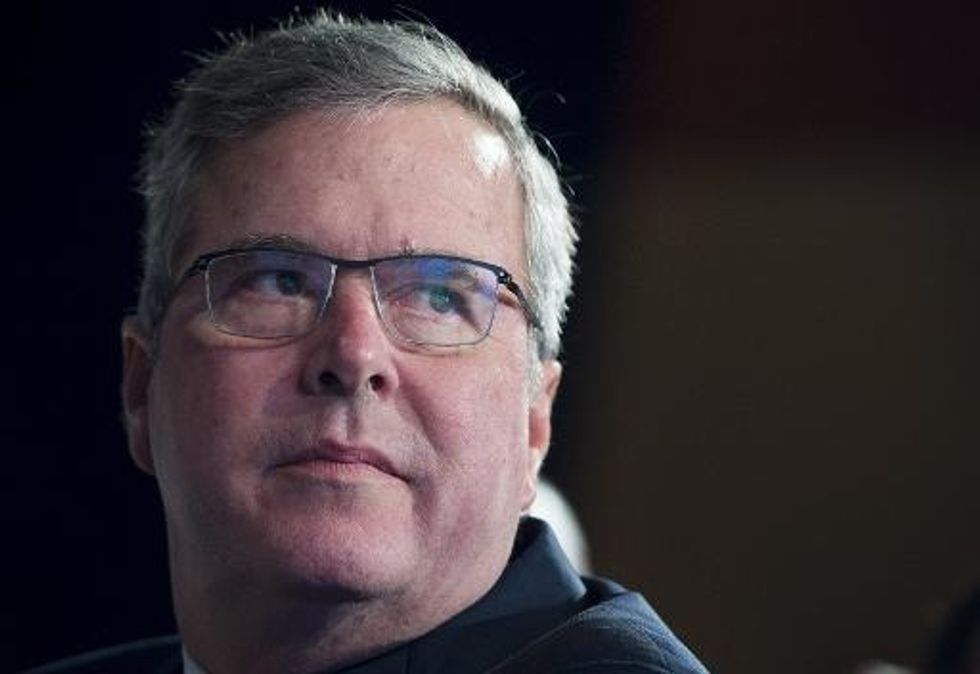 By Kathleen McGrory, Miami Herald (TNS)
TALLAHASSEE, Fla. — Jeb Bush never wavered in his support for the Common Core state standards — not even after the education benchmarks became a target for Tea Party groups decrying federal overreach in education.
That may hurt the former Florida governor, who has said he is considering a run for the White House.
Bush would find himself in a crowded field of Republican candidates, some of whom — along with ardent conservatives nationwide — have stepped up their attacks on the Common Core.
Speaking last week on Fox News Sunday, conservative syndicated columnist George Will said Bush has "four strikes against him — Common Core, immigration, his name and the big sign on his back that says establishment choice."
Bush, who has played a key role in setting the national education agenda since leaving the governor's mansion in 2007, was among the earliest supporters of the Common Core standards.
The benchmarks, created by the National Governors Association and the Council of Chief State School Officers, outline what students should know at each grade level. They have been adopted in 43 states and the District of Columbia.
At first, the Common Core had bipartisan support, as well as buy-in from the teachers union and the business community. Advocates said the new standards encouraged critical thinking and problem solving.
But critics began to surface in 2013 as the benchmarks were rolled out in classrooms across the country. Tea Party activists and conservative pundits pointed out that the Obama administration had provided an incentive for states to adopt the standards — and derided the initiative as a federal takeover of education akin to Obamacare. Other critics said the movement would stifle creativity in the classroom.
The pressure led several state legislatures to jettison the Common Core. Florida solicited public input on the benchmarks, and — after making a series of small changes — rechristened them the Florida Standards.
Some Republican leaders who are likely to run for president have spoken out against the Common Core, including U.S. Sen. Marco Rubio, Louisiana Gov. Bobby Jindal and former Massachusetts Gov. Mitt Romney.
Not Bush. His nonprofit Foundation for Excellence in Education doubled down on the Common Core, launching an initiative called Conservative for Higher Standards.
"There are critics of Common Core Standards from both ends of the ideological spectrum," Bush said at an American Legislative Exchange Council conference in August 2013. "I know there are some in this room. I respect those who don't share my views. What I can't accept are the dumbed-down standards and expectations that exist in almost all of our schools today."
More than a year later, the subject remains controversial.
A PDK/Gallup Poll released in August found that 60 percent of Americans oppose the use of Common Core standards. Of the Republicans surveyed, 76 percent said they objected to the new benchmarks. Those opposed said Common Core limits "the flexibility that teachers have to teach what they think is best."
In Ohio, state lawmakers have promised to revive efforts to repeal the standards in 2015.
Even Florida state Sen. Jack Latvala, a powerful Republican from Clearwater, has said he has new doubts about the benchmarks — and wants the Legislature to have a discussion on the Common Core in the coming months.
Noah Wall, director of grassroots for the conservative lobbying group FreedomWorks, attributes the movement to the work of activists across the country.
"This really galvanized a new generation of moms who are otherwise not necessarily conservatives," Wall said. "But this is an issue that gets them involved in a way that no other issue really has, because you're dealing with their kids."
Wall said the Common Core would "turn people out" to the polls, particularly in a presidential contest.
"This is a defining issue for our grassroots base," he said.
That could help potential candidates like Jindal, who has sued the federal government for coercing states to adopt the standards. Jindal has kept up efforts to block Louisiana from using new Common Core-aligned tests.
Emmett McGroarty, who oversees education for the conservative American Principles Project, sees it as a liability for Bush.
"It's a political death fight for him," McGroarty said. "Now that he's dug his heels in, his only chance (for redemption) is a full-sale admission that this was bad, it was a bipartisan train wreck, and that the standards are of low quality."
There are conservatives who support the standards, including members of big business groups like the U.S. Chamber of Commerce and some right-of-center education think tanks.
Sol Stern, a senior fellow with the right-leaning Manhattan Institute for Policy Research who favors the Common Core, said Bush stands to gain some points for "looking courageous and standing up to some very silly arguments."
"All this stuff about Obamacare and the feds are dictating this? It's total nonsense," Stern said. "If Bush goes out on the stump and debates (on this topic), he can make very strong points."
There's another possibility. Jeffrey Henig, a professor at Columbia University Teachers College, said the debate over the standards could calm down before the 2016 election.
Henig drew parallels to the launch of the new healthcare marketplace under President Barack Obama's Affordable Care Act, noting that the federal government's problem-plagued website once seemed likely to dominate the 2014 election cycle.
"We might see the same thing with Common Core," he said. "A year from now, it's going to seem a little less toxic and a little less alien."
Critics like conservative columnist Michelle Malkin are unconvinced.
"It would be a mistake — although not an unexpected mistake — on the part of the D.C. punditocracy and the Republican establishment to underestimate how much of a problem this is for him," she said.
AFP Photo/Saul Loeb