Jindal Urges Republicans To 'Stop Being The Stupid Party,' But Offers Few Ideas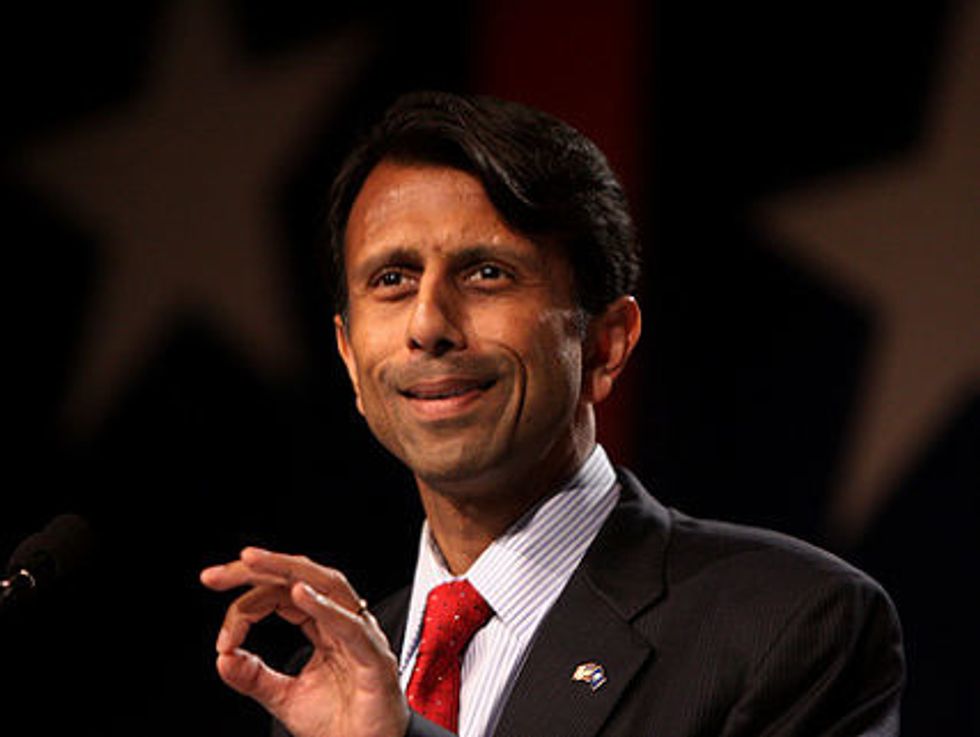 In his first post-election interview, Louisiana governor Bobby Jindal urged his fellow Republicans to "stop being the stupid party" — but stopped short of suggesting many substantive changes to the party's platform.
"It is no secret we had a number of Republicans damage our brand this year with offensive, bizarre comments — enough of that," Jindal told Politico's Jonathan Martin. "It's not going to be the last time anyone says something stupid within our party, but it can't be tolerated within our party."
Jindal went on to suggest that the Republicans become "the party of ideas, details and intelligent solutions," declaring that "we need to trust the intelligence of the American people and we need to stop insulting the intelligence of the voters."
Jindal is a curious messenger to tell Republicans that they should stop insulting the intelligence of the American people. After all, the Louisiana governor claims that he cured a woman's cancer with an exorcism, and — through his support of the largest school voucher program in the nation — Louisiana has been re-routing money from public schools to private institutions that teach students that the Loch Ness Monster is real and the Great Depression was a myth, among other insane curricula.
It's hard to demand that others champion "intelligent solutions" when you're teaching your children that the Ku Klux Klan were actually the good guys.
On the economic front, Jindal struck a populist tone. "We've got to make sure that we are not the party of big business, big banks, big Wall Street bailouts, big corporate loopholes, big anything," the governor told Martin. "We cannot be, we must not be, the party that simply protects the rich so they get to keep their toys."
The problem is, Jindal's record does not match his rhetoric; for example, he is such a strident defender of Grover Norquist's pledge to never raise taxes under any circumstances that Norquist endorsed Jindal to be the Republican vice presidential nominee.
Similarly, although Jindal slammed the "offensive, bizzare comments" that cost Todd Akin and Richard Mourdock their chances to win Senate seats, Politico's Martin reports that Jindal "suggested the party not retreat from its stances opposing abortion rights and gay marriage but rather soften its tone on such matters."
On immigration, Jindal dodged Martin's questions, putting the onus on President Obama to come up with a plan. "I think the president has said he wants to present a comprehensive approach; I think we as a party need to hear what he has to say and offer our ideas," he said. In the past, however, Jindal has supported a strict, Arizona-style immigration law.
While Jindal did suggest that he may support something similar to the Volcker Rule, for the most part he offered no plan to move the party forward aside from striking a more positive tone. If Jindal is serious about respecting voters' intelligence, then he must realize that they will see through his plan to offer the same ideas with a populist spin. Voters made clear on election night that, while they may not be enamored with the GOP's style, they have equally serious concerns about the substance of the party's plans.
Photo by Gage Skidmore via Flickr.com