Judge Finds Probable Cause For Murder Charge Against Cleveland Officer Who Shot Tamir Rice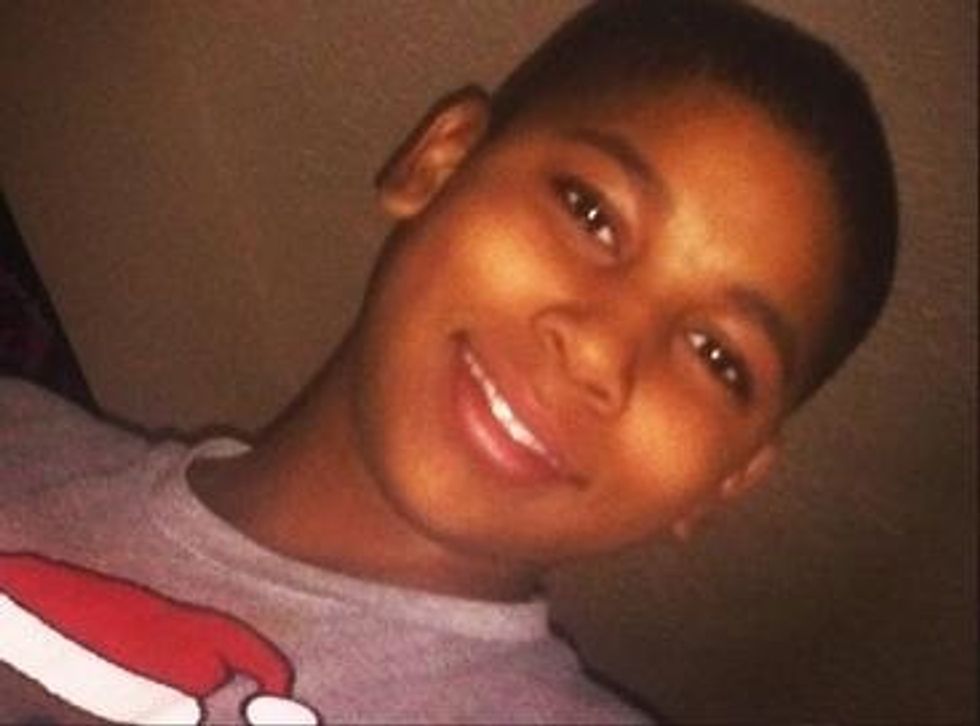 By James Queally and Matt Pearce, Los Angeles Times (TNS)
An Ohio judge found probable cause to bring criminal charges against the Cleveland police officer who shot and killed 12-year-old Tamir Rice last year, but the decision whether to prosecute is still likely to rest with a county grand jury, officials said Thursday.
No charges have been filed; Cleveland Municipal Judge Ronald Adrine's ruling is advisory. City and county prosecutors will review the decision.
Adrine found probable cause to charge Officer Timothy Loehmann with "murder, reckless homicide, negligent homicide, involuntary manslaughter and dereliction of duty," Michael Nelson, an attorney for a group of citizens who asked the court to bring charges earlier in the week, told the Los Angeles Times.
The judge also found probable cause to charge Loehmann's partner, Frank Garmback, with negligent homicide and dereliction of duty.
"This is the first positive step toward justice for this family," Nelson said.
Although the decision could be considered a moral victory for local activists, who were infuriated by the acquittal last month of a Cleveland police officer charged in a deadly 2012 pursuit, legal experts said the ruling has "zero legal impact" on Loehmann and Garmback.
"In the criminal justice system, the most powerful party is the prosecutor, not the judge, and the prosecutor has complete discretion here," said Joshua Dressler, a distinguished professor at Ohio State University's Moritz College of Law who specializes in criminal law.
In a statement after the judge ruled, Cuyahoga County Prosecutor Timothy J. McGinty said, "This case, as with all other fatal use of deadly force cases involving law enforcement officers, will go to the grand jury. That has been the policy of this office since I was elected. Ultimately, the grand jury decides whether police officers are charged or not charged."
"The way I see it is that you have a little bit of a tap dance going on here between the judge and the prosecutor, that the judge is in a sense, whether purposely or not, … putting a little bit of pressure on the prosecutor to indict," Dressler said.
The city prosecutor referred Adrine's ruling to McGinty's office late Thursday, the city said in a brief statement. Calls to the Cleveland Police Department seeking comment were not returned.
The boy's death in November came in the wake of other deaths of black males at the hands of white police officers, including Michael Brown in Ferguson, Mo., in August and Eric Garner in New York City in July. Tamir's case quickly became a rallying cry in a nationwide discussion about police use of force and the relationship between law enforcement and ethnic minority citizens.
The officers are white, and Tamir was black.
Loehmann shot Tamir twice while responding to a call about someone waving a gun in a Cleveland neighborhood. The 911 caller told police that the person was probably a child and that the gun was probably fake, but that information was not relayed to the rookie officer.
Video of the incident shows Garmback driving his police cruiser close to Tamir. Loehmann got out of the car and opened fire almost immediately. Police have said that he warned the boy to drop the weapon.
In his 10-page ruling, Adrine described the footage of Tamir's death as "notorious and hard to watch."
"After viewing it several times, this court is still thunderstruck by how quickly this event turned deadly," he wrote.
The judge noted that neither officer moved to provide Tamir with medical aid after the fatal shots were fired, and that they kept the boy's sister from approaching him. He also criticized Loehmann's near immediate decision to fire, and questioned police accounts that Tamir had ignored the officer's orders to drop the toy gun he was holding.
"There appears to be little if any time reflected on the video for (Tamir) to react or respond to any verbal or audible commands. … Literally, the entire encounter is over in an instant," he wrote.
Union leaders have defended Loehmann's actions, saying that the officer was responding under the circumstance that he did not know Tamir was carrying a toy gun, meaning all he saw was a person pointing what he believed to be a real firearm in his direction.
But Loehmann's actions came under additional scrutiny in the weeks after the shooting, when it was revealed that the 26-year-old had been deemed unfit for duty by a previous police department because of poor performance. He had also reportedly shown signs of emotional instability during firearms training.
The officer's defense attorney, Henry Hilow, dismissed Adrine's ruling as irrelevant to the question of whether or not to prosecute Loehmann. The citizens who brought the claim, he said, did not witness the shooting and would not even have legal standing to testify at a grand jury hearing or criminal trial.
"My take is that the case as it stood yesterday, stands today and stands tomorrow hasn't' changed," Hilow told the Los Angeles Times. "Regardless of what the family thinks and with all due respect to all the people who signed the affidavits, there is not one person who signed that affidavit who has first-hand knowledge of what took place."
Although Thursday's ruling may not change anything from a legal perspective, experts said the fact that a sitting judge found probable cause could ultimately influence grand jurors. Unlike regular jurors, grand jurors are not restricted from looking at media coverage of a case, so they could be influenced by Adrine's decision.
"Maybe they would push back at a prosecutor a bit more — 'Why wouldn't we indict if a judge thinks there's probable cause?' It might have some impact," Dressler said.
Tamir's death was being investigated by the Cuyahoga County Sheriff's Department, which turned over the case to the prosecutor's office this month. That investigation remains open.
Loehmann and Garmback did not provide any statements to the sheriff's office during its review, according to Steve Loomis, president of the Cleveland Police Patrolmen's Association. The officers did give statements to internal affairs and homicide investigators on the day of the shooting, and also walked through the scene with them, Loomis previously told The Times.
Cleveland City Councilman Jeff Johnson told The Times that though the ruling is advisory in nature, it still marks a significant step in the investigation.
"This is substantive in that a respected, long-sitting judge from the African American community has done a review, and he has a lot of credibility," Johnson told The Times. "This will start some discussion, and hopefully it will increase the resolve of the county prosecutor to do it the right way."
Photo: Tamir Rice, via Wikimedia Commons