Judge Napolitano Smacks Back As Trump Attacks Him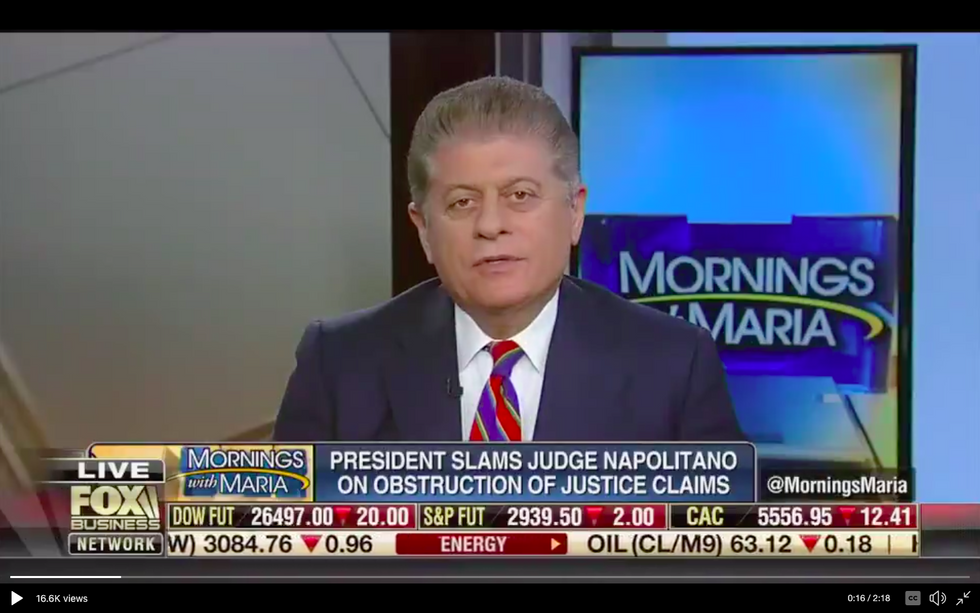 Andrew Napolitano on Monday addressed Donald Trump's personal attacks against him on-air after the president insulted the Fox News judicial analyst's intelligence over the weekend.
Napolitano also accused Trump of mischaracterizing a conversation between them, during which the president claims Napolitano asked to be placed on the Supreme Court and "asked for pardon for his friend."
Trump on Saturday issued a series of disparaging tweets after Napolitano's last week described the president's behavior as "immoral," "criminal" and "defenseless."
….Ever since Andrew came to my office to ask that I appoint him to the U.S. Supreme Court, and I said NO, he has been very hostile! Also asked for pardon for his friend. A good "pal" of low ratings Shepard Smith.

— Donald J. Trump (@realDonaldTrump) April 28, 2019
Responding to the president's comments on Fox Business Monday, Napolitano asked, "This is the way you treat your friends? How do you treat your enemies?"
Referencing Trump's claim that he asked the president to appoint him to the Supreme Court, he described a meeting during the transition where he was advising Trump on Supreme Court nominees. According to Napolitano, Trump at one point told the Fox News judicial analyst it "sounds like you're describing yourself."
"I said 'no, no, I'm not describing myself,'" he explained. "'I'm describing Neil Gorsuch because you have this list of people from which you want to choose, and Judge Gorsuch is the person that I think most of your advisers are going to point to.'"
The former New Jersey judge later said Trump's attack was a "brilliant" way to deflect from the ongoing conversation surrounding special counsel Robert Mueller's report.
Watch the video below:
On Fox Business this morning, Andrew Napolitano denies asking President Trump for a spot on the Supreme Court and says Trump is misleading about the pardon.

Is Fox News going to look into this at all? Are they going to at least pretend to care? pic.twitter.com/FozRl3YUVI

— Matthew Gertz (@MattGertz) April 29, 2019