Kari Lake Rages At 'Bastards' In Crude Election-Denying Rant At Mar-a-Lago
@next2godwin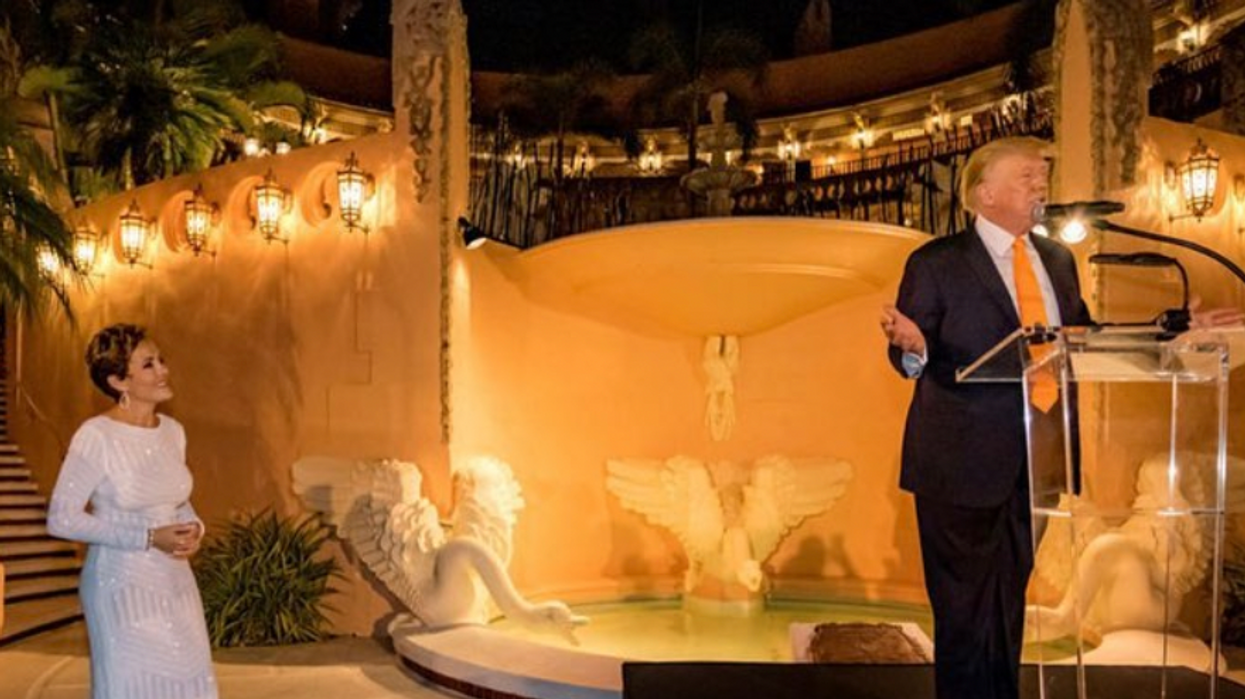 Image from Kari Lake Instagram
The Trump-backed loser of Arizona's 2022 gubernatorial race, Kari Lake, doubled down on her election denialism in an unhinged rant, insisting — despite reams of expert-backed evidence to the contrary — that "evil bastards" had stolen the election from her.
Lake's crusade against the expressed will of Arizona voters — and, in the same vein, American voters too — began well before Election Day. "We do not move on from November 2020 until we make this right," Lake told far-right OANN last September, denouncing the 2020 election results as "fraudulent" and "corrupted."
She bolstered her refusal to move on, this time from her own race, in a late November post on Truth Social, Trump's failing Twitter clone, writing: "The Fake News ignores our Fake Elections and expects us to just 'move on.' We won't."
And on Thursday night, at an LGBTQ Republican confab at Mar-a-Lago, Lake — who, true to her word, has not conceded to Arizona's governor-elect Katie Hobbs — trashed the results of her state's 2022 gubernatorial election with an incendiary diatribe in line with her history of election denial.
"To watch these evil bastards...to watch them steal this in broad daylight, and if they think they are going to get away with it, they messed with the wrong bitch," Lake said, inciting cheers from the crowd of conservatives.
\u201cKari Lake speaking at Mar-a-Lago last night: "To watch these evil bastards...to watch them steal this in broad daylight, and if they think they are going to get away with it, they messed with the wrong bitch."\u201d

— The Republican Accountability Project (@The Republican Accountability Project) 1671213507
Unlike a majority of election-denying candidates — rejected by voters up and down the ballot in the 2022 races across the country — who have since conceded, a defiant Lake, imitating her backer and the election denier-in-chief, former President Trump, has rebuffed the notion of concession and continued to peddle baseless allegations of electoral fraud, five weeks after the Associated Press called the race and 12 days after the Grand Canyon State certified its election.

Late Saturday, Lake tweeted an excerpt of Fox News star Tucker Carlson's speech at Turning Point USA's 2022 AmericaFest — a tirade as embarrassing and out of touch with reality as his rants on his show — spreading baseless voting machine conspiracies.
\u201c.@TuckerCarlson: "I interviewed @KariLake, and she's telling us all about the problems with voting machines, the majority of voting machines in your county didn't work? It's like 70% of the population lives in one county... I'd love to hear a benign explanation for that."\u201d

— Kari Lake (@Kari Lake) 1671333370
Voting machine hoaxes are a staple in the political discourse of the far right and the reason for which certain right-wing luminaries, including Fox News personalities, former Trump lawyer Rudy Giuliani, and disgraced "Kraken" attorney Sidney Powell, now find themselves in legal hot water.
Such hoaxes made unwelcome appearances in an April lawsuit by Lake and GOP Arizona secretary of state candidate Mark Finchem to prohibit the use of voting machines in Arizona's Maricopa and Pima counties (both Democratic strongholds) for the midterms, citing disproven election fraud claims as a basis for the egregious demand.
A federal judge blasted that suit as full of "conjectural allegations of potential injuries" in a scathing 30-page opinion and summarily dismissed it to deter "similarly baseless suits in the future." The judge also sanctioned attorneys for Lake and Finchem.
Yet, Lake repeated a hodgepodge of groundless allegations in a 70-page complaint she filed at the Maricopa County Superior Court on Friday, December 9, demanding that she be declared the winner of the 2022 Arizona gubernatorial election, a race she lost by 17,000 votes.
The "experts" cited in Lake's new lawsuit — and one of the lawyers who filed it, Kurt Olsen — are "part of a loose election-denial network led by Mike Lindell, the pillow company entrepreneur who has been pushing conspiracy theories about election machines since early 2021," according to the New York Times.
Lake's obstinate dissemination of false election claims catapulted her to stardom in the MAGA sphere and earned the ire of departing Republican Arizona governor Doug Ducey, who was lauded for silencing a phone call from a desperate Trump while signing papers that certified Biden's victory in the state's 2020 election.
"Kari Lake is misleading voters with no evidence. She's been tagged by her opponents with a nickname, 'Fake Lake,' which seems to be sticking and actually doing some damage," Ducey told CNN's State of the Union in July.
Lake — who said she wouldn't have certified Arizona's 2020 results for Biden had she been the governor at the time — assailed Ducey for recognizing Hobbs' victory as he had Biden's.
"This is just beyond 2020. I mean what they did in 2020, looks like they did it again, and then some. And for the Governor (@DougDucey), if he says he's going to certify this, and @KatieHobbs to certify this, I think they really better think long and hard," she wrote on Twitter.
Lake's quest to overturn the results of Arizona's elections has the support of Trump, who called for Lake to be "installed as governor of Arizona" in the aftermath of what he branded "yet another criminal voting operation" involving "'BROKEN' voting machines."
\u201c2:30 AM post: \u201cKari Lake should be installed Governor of Arizona.\u201d\u201d

— Ron Filipkowski \ud83c\uddfa\ud83c\udde6 (@Ron Filipkowski \ud83c\uddfa\ud83c\udde6) 1669636146
The former president also delivered a speech at the Thursday night event, the Log Cabin Republicans' "Spirit of Lincoln" gala, where Lake and other Republican luminaries had spoken.
"We are fighting for the gay community, and we are fighting and fighting hard," Trump claimed, hoping to chalk up support for his quiescent 2024 campaign.
Ironically, after Trump announced his 2024 presidential bid, the Human Rights Campaign, a prominent U.S.-based gay civil rights organization, slammed the ex-president's "hateful language and discriminatory policies have emboldened waves of bigotry, disinformation, and violence."
"A majority of Americans rejected Donald Trump twice, and we expect that voters will again reject his malevolent, dystopian vision for our country," the group said in a press release.