Kavanaugh's 'Evidence' May Actually Confirm Blasey Ford's Version
@FAWFULFAN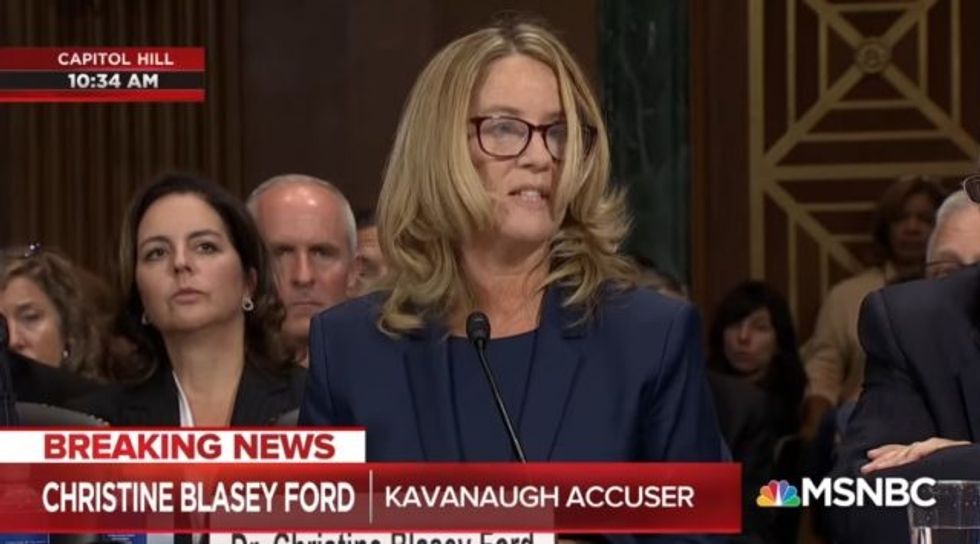 Reprinted with permission from AlterNet.
One of the only pieces of evidence Supreme Court nominee Brett Kavanaugh brought to his aid in Thursday's Senate Judiciary Committee hearing over his sexual assault accusation from California psychology professor Christine Blasey Ford was a series of calendars he had kept in the early 1980s.
These calendars, he asserted, were part appointment book and part diary. They documented mundane details of his life, from medical appointments to weightlifting regimens and were so meticulous that he took care to cross out every event that he didn't make it to.
As even he admitted, the calendars would not on their own constitute proof of his innocence. But in fact, they did not even suggest his innocence. Because, as Washington Post writer Philip Bump notes, Kavanaugh's timeline is, in fact, consistent with Ford's testimony — and even suggests the date of the house party at which the assault allegedly took place: July 1, 1982.
SPONSORED
During the questioning, Rachel Mitchell, the sex crimes prosecutor Republicans hired to relay their questions so they didn't have to, pressed Kavanaugh about an entry on that date that read "Tobin's House— Workout / Go to Timmy's for Skis w/ Judge, Tom, PJ, Bernie, Squi." Upon questioning, Kavanaugh stated that the people at this event were Tim Gaudette, Mark Judge, Tom Kaine, P.J. Smyth, Bernie McCarthy, and Chris Garrett.
As Bump notes, what Kavanaugh revealed about this date is significant:
Notice two things here. First, that "Squi" was in attendance at the party — someone who, we learned thanks to Mitchell's questioning of Ford, was going out with Ford over the course of that summer. Second, notice those two other attendees, one of whom Mitchell highlighted: Mark Judge and P.J. Smyth.
Judge, one of Kavanaugh's close high school friends, was named by Ford as a witness to the assault, something Judge denies remembering. Ford also allegesSmyth was at the party, although he too does not remember the incident.
But, as Bump explains, this date and description lines up perfectly with Ford's testimony:
During her testimony, Ford made clear that the event at which she says she was assaulted was a casual get-together before the others (who were older than her and had a later curfew) went to other, bigger parties. Kavanaugh says that the gathering at Timmy's on July 1 was essentially that.

We noted Thursday, too, that the time frame of this July 1 party fits with Ford's testimony. She says that six to eight weeks after the alleged assault, she saw Judge working at a store in the area. Judge's book indicates that he was working at that store for several weeks in early to mid-August.

This is a central point to Ford's allegation. Kavanaugh denies knowing her, denies being at a party with her. Here is an event in July where he was with several long-standing friends, two of whom were named by Ford and one of whom she'd been going out with.
If Kavanaugh had hoped his calendars would contradict Ford, he was sorely mistaken. If anything, they potentially reveal more information about the party than Ford herself remember.
View the calendar below:
I missed this before, but I was just looking at Kavanaugh's calendar, and I noticed that he's hanging out on July 1, among a few other people, with "PJ" and "Judge."

Pretty amazing coincidence that Ford, before she saw the calendars, said PJ and Mark Judge were there. pic.twitter.com/8lXwiROHiO

— Matt Fuller (@MEPFuller) September 27, 2018
Matthew Chapman is a video game designer, science fiction author, and political reporter from Austin, TX. Follow him on Twitter @fawfulfan.