Kellyanne Conway's Bizarre Advice About Opioids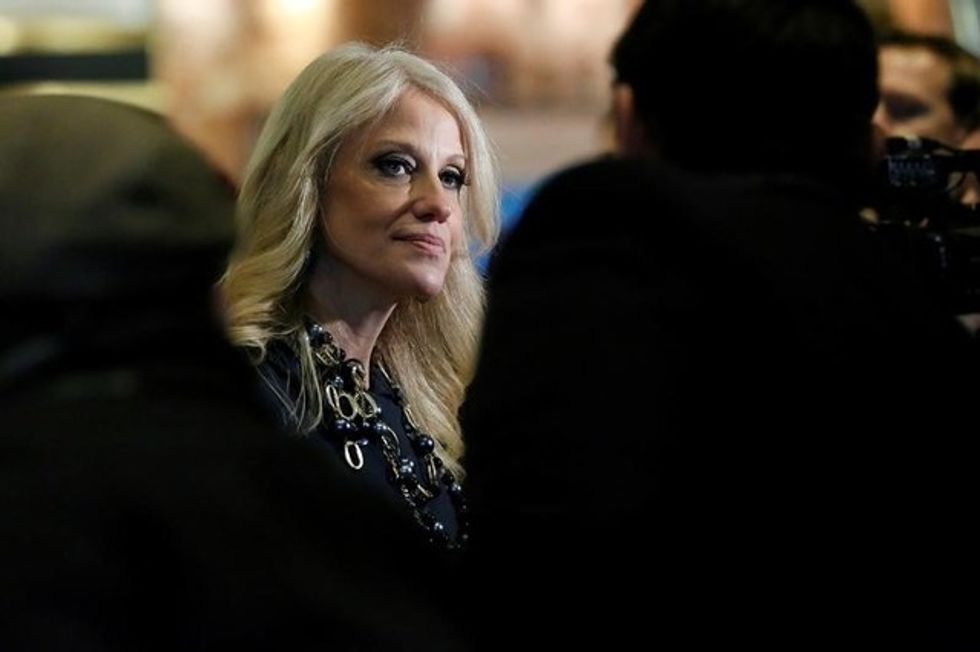 Reprinted with permission from AlterNet.
Counselor to the president Kellyanne Conway had a bizarre piece of advice Thursday for college students while speaking at a forum on drug abuse.
"Eat the ice cream, have the French fry, don't buy the street drug," she said.
The remarks came after she correctly emphasized the dangerous of fentanyl, noting that the synthetic opioid is far more deadly than heroin. Her suggestion that students should eat ice cream or French fries struck many as bizarre and seeming to completely misunderstand the nature of drug abuse.
Unfortunately, the shallowness of Conway's advice is reflective of the administration's backward approach to the opioid crisis.
During a speech about the opioid crisis this week, Trump said he strongly favored "spending a lot of money on great commercials showing how bad it is, so that kids seeing those commercials during the right shows on television or wherever — the internet — when they see these commercials they — 'I don't want any part of it.'"
This idea is reminiscent of Nancy Reagan's much-derided "Just say no" approach to drugs. Like Conway's ice-cream comments, this ignores the complex sociological and psychological pressures that drive drug use.
Overall, the approach to the opioid crisis under Trump is tragically inadequate.
Politico reported in early February that Conway, who was recently selected to lead the administration's efforts against the crisis, has been ignoring the public health professionals within the government and working instead with political appointees. Conway herself has a background in punditry and polling, not public health, and struck many as an odd choice for the position.
Trump emphasized the death penalty and other punitive measures against drug dealers during his speech this week, an idea that would not only  be ineffective, but likely unconstitutional. Trump did mention some efforts to increase drug treatment access, but his proposals on this front are vague and likely to be underfunded. At the same time, his health care policies have resulted in the rising rate of uninsured in the country, which decreases access to treatment for addiction and other mental health needs.
Watch Conway's comments below:
Cody Fenwick is a reporter and editor. Follow him on Twitter @codytfenwick.