Kennedy's Assassin Remembered At Dallas Museum
@AFP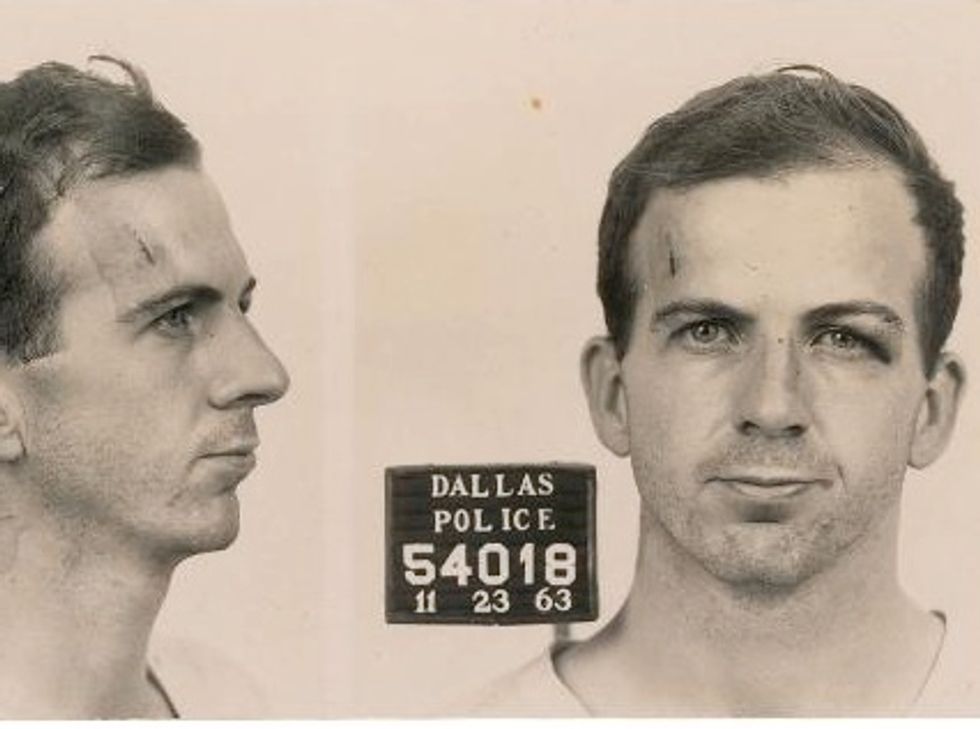 Dallas (AFP) – Minutes after personally witnessing the assassination of John F. Kennedy, Pierce Allman came across a man exiting the Texas School Book Depository and looking remarkably calm.
The man's name was Lee Harvey Oswald, 24, the former U.S. Marine who defected to the Soviet Union then returned home and went on to kill the 35th president of the United States.
As program director of Dallas radio station WFAA, Allman's journalistic instinct after the shooting was to find a telephone — and fast — to call in one of the biggest news stories of the 20th century.
"I turn around and I ran up the sidewalk, ran up the steps of the depository building, and asked a guy standing in a doorway where a phone was," Allman told AFP, ahead of the 50th anniversary of Kennedy's death.
"And he jerked his thumb and said, 'In there'."
The "guy," Allman would later learn, was Oswald.
"He was very calm. Didn't seem to be in a hurry. Was not out of breath. Was not nervous in any way," Allman recalled. "Evidently, he left right after I went inside."
Several government investigations, notably the Warren Commission, name Oswald as the lone sniper who killed Kennedy from the sixth floor of the book depository, which today is a museum dedicated to the events of November 22, 1963.
Glass walls surround the window from where Oswald pulled the trigger. Boxes marked "books" are piled alongside, as they would have been on that day.
"After those three shots were fired, Oswald would have very quickly walked to the opposite corner of this floor to the northwest corner, where he would have slipped the rifle between two stacks of boxes," explained Stephen Fagin, associate curator of the Sixth Floor Museum at Dealey Plaza.
From there, Fagin said, Oswald would have descended a staircase to the second floor and passed Dallas police officer Marrion Baker, who later testified that Oswald didn't appear nervous or out of breath — even though the lawman had his gun drawn.
While chaos gripped spectators on the street and the presidential motorcade raced to a hospital, Oswald took a bus and then a taxi to his rooming house in the Oak Cliff neighborhood.
There he collected a jacket and a handgun, then departed on foot.
On the street, a Dallas police officer, J. D. Tippit, stopped him for questioning. Forty-five minutes had elapsed since Kennedy was shot.
Oswald responded by fatally shooting Tippit.
Oswald then slipped into the Texas Theater — still a cinema with a distinct 1960s flavor — where he watched a few minutes of a Korean War movie before finding himself surrounded by police, tipped off by management because he failed to buy a ticket.
"As he got up, they (police sources) told me that afternoon that he said, 'Well, it's all over now'," said Hugh Aynesworth, a reporter for the Dallas Morning News at the time, and later author of "November 22, 1963: Witness to History."
"But it wasn't, because he pulled a pistol," Aynesworth said.
At police headquarters when Oswald arrived for questioning was 27-year-old car salesman James Tague, who had been slightly injured in the face when he was grazed by a ricochet as Kennedy was shot.
"There was a commotion at the door," he said. "Two policemen brought a man in handcuffs in, and one says: 'This is the man that killed a policeman over Oak Cliff a while ago'."
Tague, a keen amateur historian, argued in his book "LBJ and the Kennedy Killing" that Oswald was innocent and the finger of blame should point instead to Kennedy's vice president Lyndon Johnson.
The jail cell in which Oswald — who denied all the charges against him — stayed for two nights remains intact, on a disused floor.
Security officer Paullus Armstrong, taking AFP on a tour of the premises, described how nightclub promoter Jack Ruby shot and killed Oswald in the abdomen despite the phalanx of police officers around the suspect.
"Ruby walked down the ramp, just as they were bringing in Oswald outside the door," he said. "Jack Ruby saw him and fired. It lasted less than a minute."
Reporter Bob Huffaker of radio station KRLD was present went Ruby pulled the trigger.
"I wheeled just in time to see Oswald grasp his abdomen and fall," he said. "I just said: 'Oswald has been shot, Oswald has been shot'."
Oswald was declared dead at the emergency ward of Parkland hospital — exactly as Kennedy had been, two days before.
AFP Photo/Handout