Kerry Hosts Iraq Talks With Gulf Allies
@AFP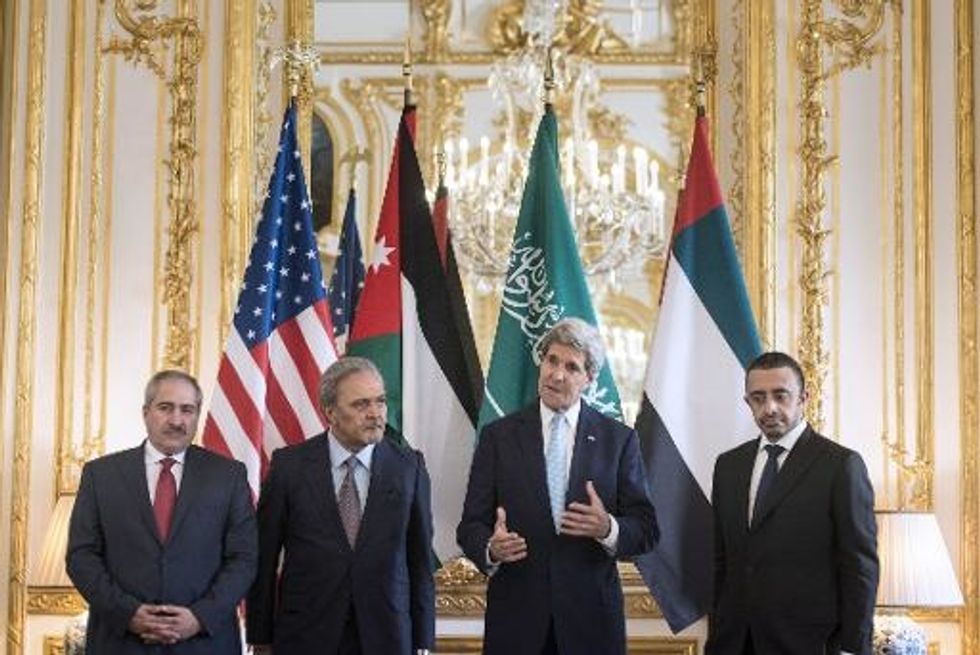 Paris (AFP) – U.S. Secretary of State John Kerry hosted urgent talks with Gulf allies on Thursday to address the widening crisis in Iraq, where Sunni Islamic extremists have seized a swath of territory.
Bringing together his counterparts from the largely Sunni nations of Jordan, Saudi Arabia and the United Arab Emirates, Kerry was to press home "the shared threat they all face from ISIL," a senior State Department official said.
He would also brief them on his visit this week to Baghdad and Arbil, in northern Iraq, where he sought to persuade fractious Iraqi leaders to unify to save the country which risks tearing apart in the face of the militant threat.
Militants from the Islamic State of Iraq and the Levant this week seized the border crossing from Iraq into Jordan, causing alarm in the Hashemite kingdom.
The oil-rich Sunni Gulf kingdom of Saudi Arabia has meanwhile accused Iraq's Shiite Prime Minister Nuri al-Maliki of fuelling the crisis by marginalizing the country's Sunni Arab minority.
"There needs to be a recognition of the seriousness of the threat, and that everybody should be working together to encourage all the parties in Iraq to move towards that political resolution," the State Department official said.
"I'm particularly grateful to our allies and partners from the Middle East, the Gulf states, particularly Jordan, coming here to talk about the number of critical issues right now," Kerry said at the start of the talks in the lavish U.S. ambassador's residence in Paris.
"Iraq, obviously, is one of the predominant points, the move of ISIL concerns every single country here," he warned.
Saudi Foreign Minister Prince Saud al-Faisal said that "all these issues… are of immense importance for our countries."
"And I think with the cooperation between the countries we can affect hopefully the situation in the Middle East."
ISIL aspires to create an Islamic state that straddles Iraq and Syria and the ministers were also due to discuss the three-year Syrian conflict.
Kerry will fly to Saudi Arabia on Friday to discuss the turmoil in the Middle East with King Abdullah.
AFP Photo/Brendan Smialowski