Kerry In Jordan Amid Settlement Row
@AFP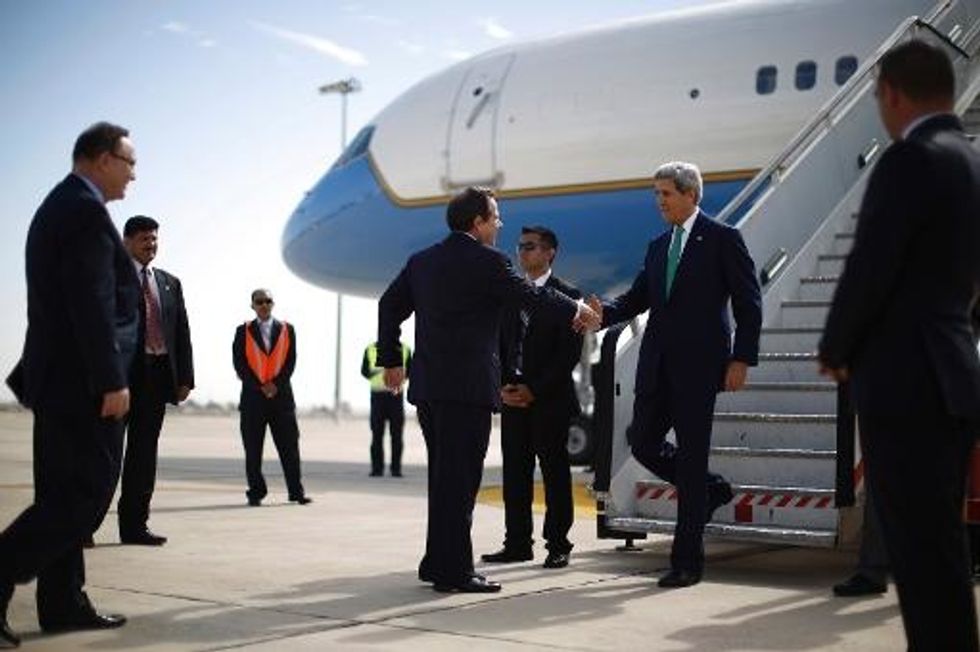 Amman (AFP) – Secretary of State John Kerry held talks with Jordan's king Thursday after reaffirming U.S. opposition to Israeli settlements, as the contentious issue threatens to derail the peace process.
The top U.S. diplomat met with King Abdullah II in Amman and was later to hold talks with Jordanian Foreign Minister Nasser Judeh.
Kerry, who has single-mindedly fought to get the Israeli-Palestinian peace negotiations back on track despite recriminations on both sides, appeared upbeat as he went into the talks with the king.
"We've created some clarity on some of the points," he said. "I was pleased."
Abdullah praised Kerry for winning international trust and said his assurances were critical to ensuring the success of the Middle East peace process.
"I think that the main thing is the trust in you," the king told Kerry, who is scheduled later in the day to hold another round of talks with Palestinian president Mahmud Abbas, this time in the Jordanian capital.
As the U.S. top diplomat doubles down on efforts to bridge the gaps in the peace negotiations he will return to Jerusalem on Friday for a previously unscheduled breakfast meeting with Israeli Prime Minister Benjamin Netanyahu.
U.S. officials told journalists that Kerry's schedule had changed, but it was not immediately clear if he would then return to Amman where he had been due to spend the night before leaving as scheduled for the United Arab Emirates on Saturday.
During marathon talks on Wednesday, Netanyahu denounced the Palestinians for threatening to leave the talks over Israel's continued settlement construction on land they want for their future state.
The Israeli leader told Kerry, who was on his seventh visit to Israel and the West Bank since February, that he was "concerned about the progress" of the talks, accusing the Palestinians of fabricating reasons to avoid making tough decisions.
"I see the Palestinians… continuing to create artificial crises, continuing to avoid, run away from the historic decisions that are needed to make a genuine peace," Netanyahu said.
In the West Bank city of Bethlehem on Wednesday, Kerry sought to play down the dispute.
"As in any negotiations, there will be moments of up and moments of down. It goes back and forth," he told crowds gathered outside the Church of the Nativity, the traditional site of Jesus's birth.
But following more than two hours of talks with the Palestinians, including a 40-minute one-on-one with Abbas, he was quick to reiterate U.S. opposition to the settlements.
"We consider now, and have always considered, the settlements to be illegitimate," Kerry said.
No Palestinian agreement to condone settlements
"I want to make it extremely clear that at no time did the Palestinians in any way agree, as a matter of going back to the talks, that they could somehow condone or accept the settlements," he added.
"That is not to say that they weren't aware — or we weren't aware — that there would be construction.
"But that construction, importantly, in our judgement, would be much better off limited as much as possible in an effort to help create a climate for these talks to be able to proceed effectively."
His remarks related to a bitter row that has erupted over Israeli moves during the past week to push ahead with construction of more than 3,700 new settler homes.
Talks between the two negotiating teams on Tuesday broke down over the issue, a senior Palestinian official told AFP.
Israel denies its construction is a violation of the terms which brought the two sides back to the table.
"We agreed three months ago on certain terms. We stand by those terms, we abide scrupulously by the terms of the agreement and the understanding which launched negotiations," Netanyahu said early Wednesday.
Despite the row, Kerry later told Israeli President Shimon Peres that the peace process "is not mission impossible. It can happen."
Kerry also had a late dinner with Netanyahu in Jerusalem, after which the two dismissed their teams and again huddled alone for private talks, meeting for a total of seven hours throughout Wednesday.
AFP Photo/Justin Reed