Kerry Tells North Korea To Get 'Real'
@AFP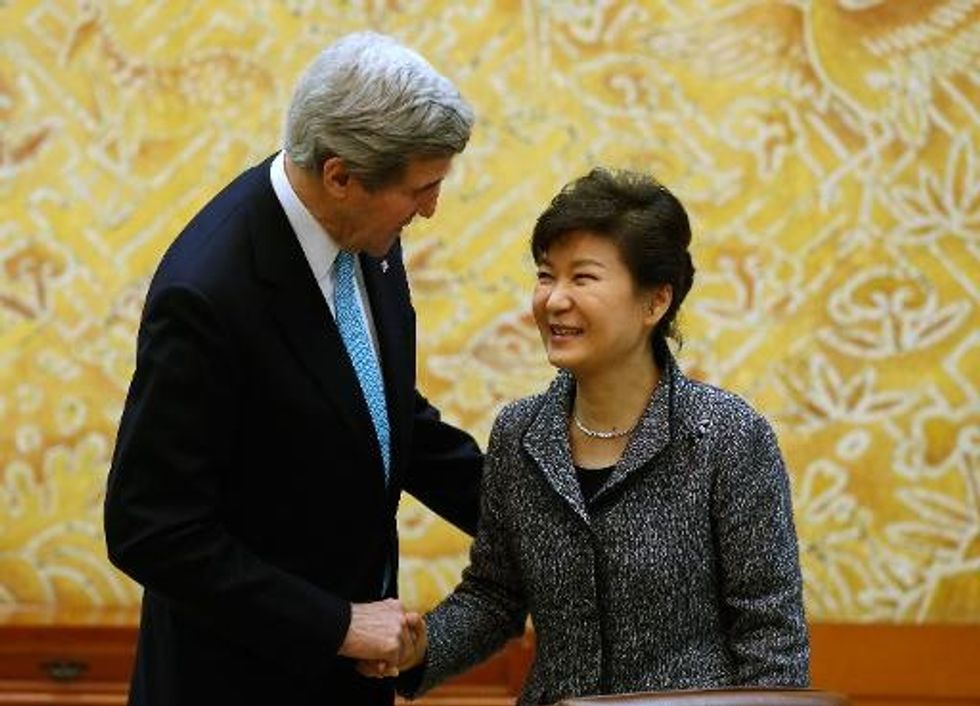 Seoul (AFP) – U.S. Secretary of State John Kerry Thursday welcomed new high-level talks between North and South Korea, while warning Pyongyang against trying to derail an upcoming South Korea-U.S. military exercise.
Kerry, in Seoul to discuss North Korea's nuclear program at the start of an Asia tour, stressed the U.S. would never accept the North as a nuclear state and that it would not be drawn into "talks for talks' sake" with Pyongyang.
"We've been through that exercise previously, we want to know that this is real," he said, adding North Korea had to take "meaningful action" towards denuclearization before a dialogue could begin.
At the same time, he voiced full support for South Korean President Park Geun-Hye's efforts to build trust with the North, and welcomed a recent diplomatic initiative that saw the rival Koreas meet Wednesday for their highest-level talks in seven years.
A second round of discussions is scheduled for Friday, with North Korea pushing the South to postpone its annual military exercises with the U.S. until after a planned reunion from February 20-25 of family members separated by the Korean War.
The drills are slated to begin February 24 and Seoul is refusing to consider a postponement — a stance that Kerry made clear had Washington's backing.
Kerry said the reunion was a purely humanitarian issue and there was "no legitimate excuse" for linking it to the military exercises that take place every year.
North Korea should act out of "human decency" and not try and use "one [issue] as an excuse to somehow condition the other," he added.
Last year's joint exercises fueled an unusually sharp and protracted surge in military tensions, with Pyongyang threatening a preemptive nuclear strike, and nuclear-capable US stealth bombers making dummy runs over the Korean peninsula.
North Korea views the drills as a rehearsal for invasion, and has repeatedly demanded their permanent cancellation.
The United States has around 28,000 troops stationed in South Korea.
Under its defense agreement with Washington, South Korea is protected by the U.S. nuclear umbrella and the United States would assume overall operational command of joint US and South Korean forces if a full-scale war with the North broke out.
Kerry's Asia tour will take him on Friday to China — North Korea's only major ally — where he indicated he would push Beijing to do more to rein in Pyongyang's nuclear ambitions.
"China has a unique and critical role it can play … and no country has a greater potential to influence North Korea," he said, praising moves by Beijing last year to help reduce tensions after Pyongyang carried out another nuclear test.
Kerry's visit comes ahead of an Asia tour in April by President Barack Obama, which will take in Japan and South Korea — the two main U.S. military allies in the region.
Ties between Seoul and Tokyo are at their lowest ebb for many years, causing concern in Washington which feels the three allies must maintain a united front — particularly on the issue of North Korea.
Japan's 1910-45 colonial rule over the Korean peninsula remains a hugely emotive issue in South Korea, which feels successive Japanese governments have failed to apologize properly or atone for abuses during the period.
Japanese Prime Minister Shinzo Abe's visit to a controversial war shrine in December was angrily denounced by Seoul.
Kerry urged both countries to try and put the past "history behind them," saying it was "critical" to maintain "robust trilateral cooperation."
But South Korean Foreign Minister Yun Byung-se reiterated that Japan must "take appropriate measures to improve the situation."
President Park came to office a year ago promising greater engagement with Pyongyang, and Wednesday's talks had raised hopes the two sides might be ready to embark on a genuine trust-building dialogue.
But South Korea remains wary of the impoverished North's intentions, suggesting that its only real desire is to see the resumption of several lucrative cross-border projects.
AFP Photo/Kim Hong-Ji