Kerry Travels To Cairo Seeking 'Immediate Ceasefire'
@AFP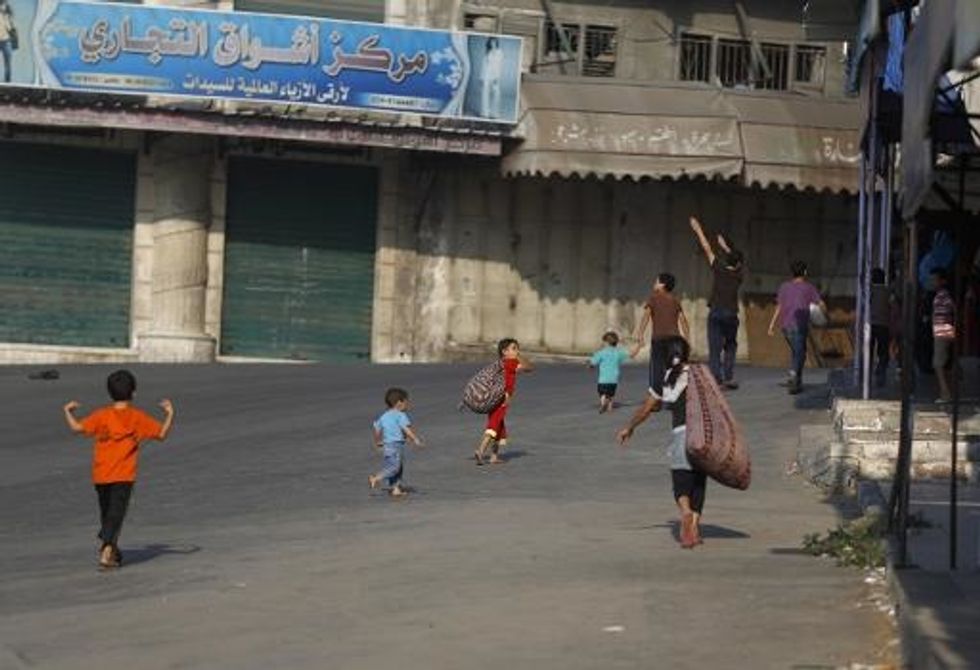 Washington (AFP) — U.S. Secretary of State John Kerry traveled to Cairo early Monday for crisis talks on Gaza, following President Barack Obama's call for an "immediate ceasefire" between Israelis and Palestinians.
The US top diplomat is scheduled to meet with senior officials from Egypt and other countries, the State Department said, in a bid to halt a blistering land, sea, and air assault that has sent thousands of terrified civilians fleeing their homes.
Kerry will seek "an immediate cessation of hostilities based on a return to the November 2012 ceasefire agreement," the White House said, stressing the need to protect civilian life both "in Gaza and in Israel."
According to the State Department, Kerry supports Egypt's initiative to bring about a ceasefire. His visit to the region comes in parallel with a high-profile peace mission by UN Secretary-General Ban Ki-moon.
Obama spoke Sunday by telephone with Israeli Prime Minister Benjamin Netanyahu to express his "serious concern" after more than 100 Palestinians and 13 Israeli soldiers were killed in the bloodiest day since the Gaza offensive was launched.
As more human remains are pulled from the rubble, the Palestinian death toll had risen to 501 by Monday, the fifth day of the Israeli ground operation.
Kerry's high-stakes trip came as U.S. media reported that two American members of the Israeli Defense Force were killed in Gaza fighting.
The State Department said two US citizens were killed in Gaza violence, but did not immediately disclose their occupations.
– Obama decries rising death toll –
During their second call in three days, Obama and Netanyahu "discussed Israel's ongoing military operation," including "the loss of Israeli soldiers," the White House added.
Obama "raised serious concern about the growing number of casualties, including increasing Palestinian civilian deaths in Gaza and the loss of Israeli soldiers," the White House said.
The U.S. leader also condemned attacks by Hamas and "reaffirmed Israel's right to defend itself."
"The president underscored that the United States will work closely with Israel and regional partners on implementing an immediate ceasefire, and stressed the need to protect civilians — in Gaza and in Israel."
Kerry on Sunday did the rounds on the influential U.S. television political talk shows, with Netanyahu also appearing on two of the TV programs.
Just before Kerry's Monday departure from Andrews Air Force Base outside Washington, the UN Security Council deplored the mounting death toll in Gaza and appealed for an immediate ceasefire.
Meeting for two hours at an emergency session, the 15-member Council called for the respect of international humanitarian law, including the protection of civilians.
In a statement, the Council threw its support behind Egypt's bid to broker a truce as well as the peace mission by the UN's Ban, who is due in Kuwait on Monday before heading to Egypt, Israel, and the Palestinian West Bank.
Egypt, which has been a mediator in previous Israel-Hamas conflicts, had proposed a halt to the fighting but Hamas rejected the initiative saying it had not been consulted. Israel initially accepted Cairo's plan.
Hamas has laid out a set of conditions, including the lifting of Israel's eight-year blockade on Gaza, the opening of the Rafah border crossing with Egypt, and the release of scores of prisoners Israel re-arrested in recent weeks.
AFP Photo / Mohammed Abed
Interested in world news? Sign up for our daily email newsletter!