Kerry Urges China To Be Cooperative Partner
@AFP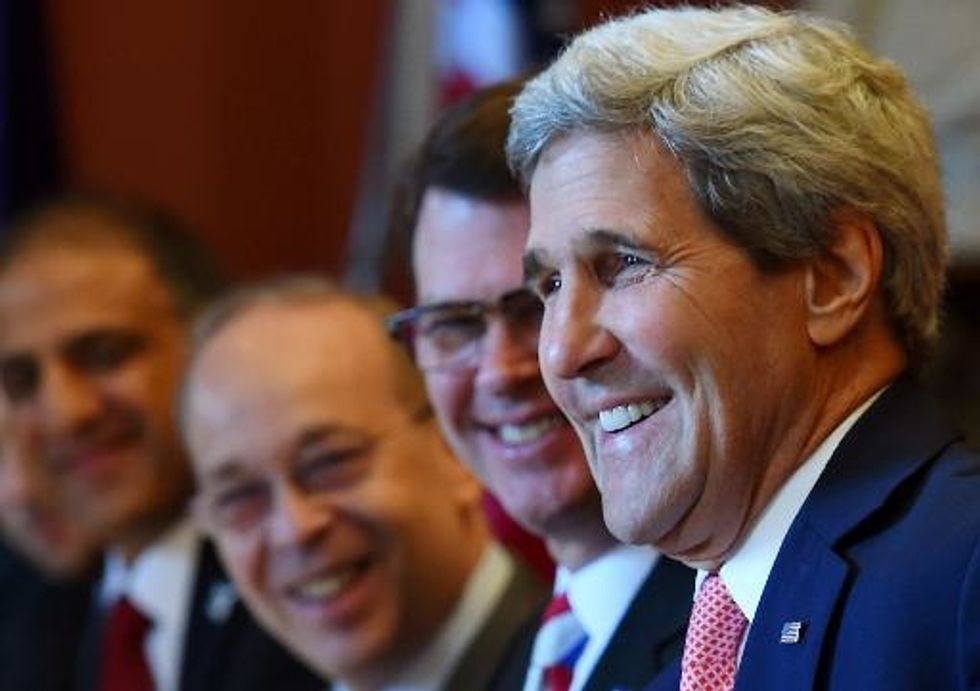 Sydney (AFP) — U.S. Secretary of State John Kerry urged China Tuesday to be a cooperative partner, saying Washington was not interested in conflict or confrontation with it.
Kerry, who is in Australia for annual talks on security and foreign policy, made the comments as Beijing accused Washington of deliberately stoking tensions in the South China Sea.
"We welcome the rise of China as a global partner, hopefully, as a powerful economy, as a full participating constructive member of the international community," he said.
"And we want China to participate in constructive ways, whether it is in the South China Sea, or with respect to Japan, and South Korea, with North Korea, with other issues that we face."
Beijing claims almost all of the South China Sea, putting it at odds with countries including the Philippines and Vietnam, and there have been several tense encounters in the area over recent months.
China has rejected a U.S. proposal for a freeze on provocative actions in the region, with Foreign Minister Wang Yi saying: "Some countries outside the region are restless, and stir up tensions… might their intention be to create chaos in the region?
"China and ASEAN are totally able to safeguard well the peace and stability of South China Sea," Wang said in comments on Monday.
Kerry said the United States was looking to cooperate with China.
"We are not seeking conflict and confrontation. And our hope is that China will likewise take advantage of the opportunities that are in front of it and be that cooperative partner," he said in Sydney.
The United States has sharpened its tone on the South China Sea following a series of maritime incidents between China and rival claimants, including Beijing's positioning of an oil rig in waters also claimed by Vietnam. The incident sparked deadly riots in Vietnam.
Kerry said that while there were always differences between countries, there were issues on which all parties could agree a diplomatic path forward.
"Because everybody in the world understands that the world will be better off if great power nations are finding ways to cooperate and not confront each other," he said.
AFP Photo/Dan Himbrechts
Interested in world news? Sign up for our daily email newsletter!