Kerry Urges Ukraine Reforms, Russia Pullback
@AFP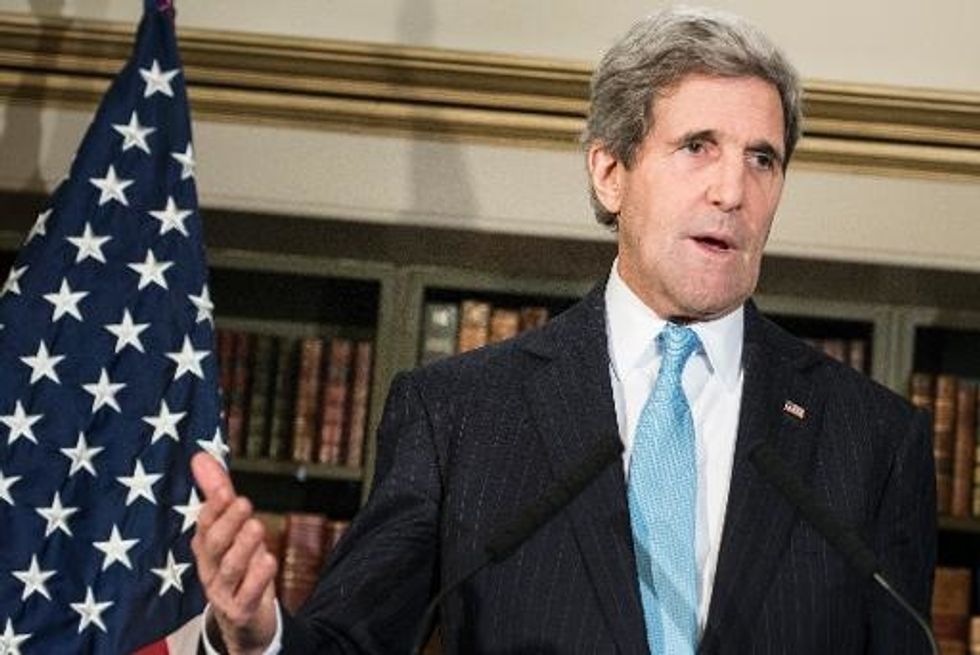 Washington (AFP) – U.S. Secretary of State John Kerry urged Moscow Sunday to pull back Russian forces to their bases in Crimea in return for constitutional reforms in Ukraine to protect minority rights, a U.S. official said.
Kerry's overture, in a phone call with Russian Foreign Minister Sergei Lavrov, came as residents of Crimea were voting on whether to break away from Ukraine and join Russia in the worst East-West crisis since the Cold War.
It appeared to receive a positive echo from Moscow, where the foreign ministry said Lavrov and Kerry agreed to look for ways to defuse the crisis in Ukraine through "the launch as soon as possible of a constitutional reform with the support of the international community."
The senior State Department official said Kerry "made clear that this crisis can only be resolved politically and that as Ukrainians take the necessary political measures going forward, Russia must reciprocate by pulling forces back to base, and addressing the tensions and concerns about military engagement."
Tensions were high with Russian troops guarding the unofficial border between Crimea and the rest of Ukraine, and Cossacks and pro-Russian militias patrolling outside polling stations in Crimea.
Kerry reiterated that the United States considers the referendum illegal under Ukrainian law and that it would not recognize the outcome.
Kerry also raised concerns about Russian military activity in Kherson Oblast, the Ukrainian province just north of Crimea, and "continuing provocations" in the eastern cities in Ukraine, the U.S. official said.
"Further to discussions that the United States has had with Russia, our European partners and the government of Ukraine, Secretary Kerry also drew attention to the broad multi-party constitutional reform process already under way in the Ukrainian Rada," said the official, referring to the parliament.
"He urged Russia to support efforts by Ukrainians across the spectrum to address power sharing and decentralization through a constitutional reform process that is broadly inclusive and protects the rights of minorities."
In Moscow, the Russian foreign ministry said Kerry assured Lavrov that Washington is already conducting all the necessary work and expects that it will soon bring positive results."
A senior State Department official said it was "positive to see Russia focusing on political processes in the form of constitutional reforms that have been ongoing.
"But it is Russia's military movements and escalatory steps that are raising the greatest concern.
"If Russia wants to make a concrete contribution to this process, it will immediately heed the international community's call to pull its forces in Crimea back to bases, end any further military provocations including the exercises to Ukraine's east and south, and work to end the provocative actions of ethnic Russian civilians and irregulars in Ukraine's eastern and southern cities," the official said.
AFP Photo/Brendan Smialowski