Kid Rock: I'm 'Embarrassed To Be A Republican'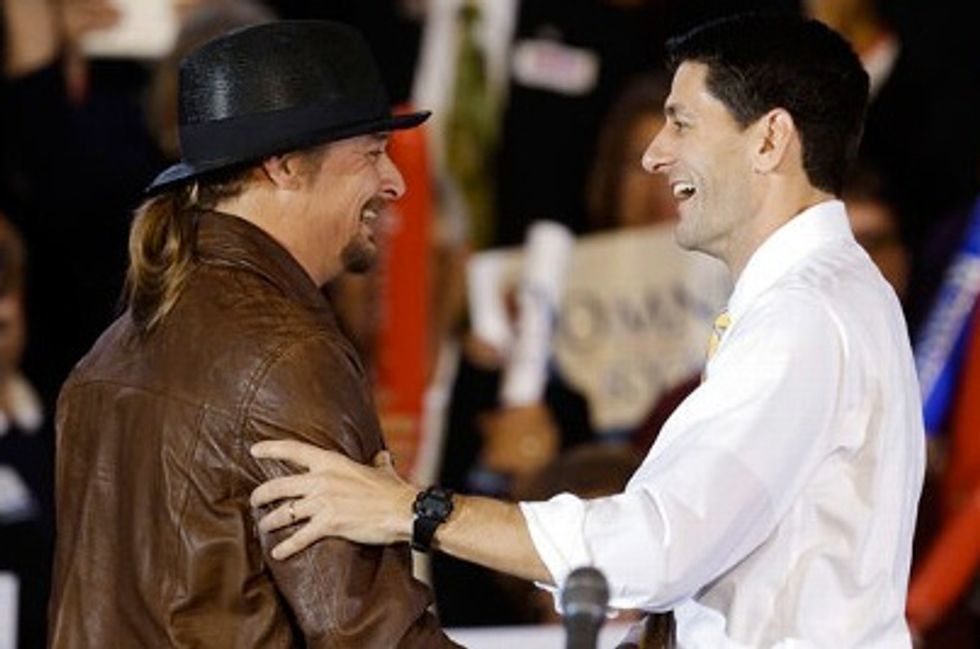 Supporters of President Obama no doubt still harbor lingering pangs of jealousy over the star-studded parade of hip celebrities who lined up to throw their considerable weight behind Mitt Romney and Paul Ryan in the 2012 presidential campaign — Meat Loaf's stirring rendition of "America the Beautiful" in particular causing the green-eyed monster to rear its ugly head.
But one of Mitt's all-star team has broken free from the pack — yes, Detroit's own Kid Rock, a conservative who campaigned and performed at events for Romney after extracting a promise from the candidate to "help the state of Michigan," has done an about-face of sorts, telling Rolling Stone that he's "embarrassed to be a Republican."
Sounding an awful lot like a socialist and nothing at all like Paul Ryan, the usually reliably right-wing Rock blasted the current state of income inequality, telling the magazine, "Athletes and musicians make astronomical amounts of money. People get paid $100 million to throw a baseball! Shouldn't we all take less and pass some of that money onto others?"
But wait, there's more! "Think about firefighters, teachers and policemen," continues the pro-choice, pro-marriage equality Rock, making his bid for Liberal of the Year and practically guaranteeing himself a starring role on Sarah Palin's Facebook page. "We should celebrate people that are intellectually smart and trying to make this world a better place."
*Thud*
Take a moment to relocate your jaw from the ground back up to your face before trying to absorb this next bit, as Rock explains that he's planning to charge only $20 per ticket for his next tour… even if he doesn't make any money, because the idea is to — wait for it — share the wealth: "Don't guarantee me a dime; if nobody shows up, I'll lose money. It costs us $125,000 to show up with our crew and whatnot," he begins. "But I want to share beer, parking, hot dogs. Let's put the money in a pot at the end of the night and figure out, based on the numbers, what I'll get paid. Even if it sells out, I'll take a pay cut. Fortunately, I'm able to do that."
And lest you think he couldn't stomp on the spirit of capitalism any harder… think again. The first two rows at each show will not be sold; Rock will send his roadies to the back of the venue, and bring some of the unfortunate riff-raff up front to enjoy the show from the best seats in the house — there will be none of that "he who pays the most gets the most" at a Kid Rock concert… no, everyone, be they taker or maker, has the same chance at a free front-row seat.
The newly benevolent star would also like to make rows 2-18 available only by paperless ticketing but has run into trouble with states that have outlawed the practice. And if you're thinking that this is where the other shoe drops, this is where he finally does what Republicans are genetically wired to do — blame President Obama and the Democrats for the whole sorry mess — you will be disappointed. But happily so.
"That's one of the times I'm f***ing embarrassed to be a Republican," he rants to the delight of everyone who shares even a passing acquaintance with reality. "It's f***ing Republican lawmakers passing those laws, you dumba**es."
You don't say.
AP Photo/Paul Sancya