Kremlin Propagandist Bemoans Probe Of 'Our Trump, Russian Agent' (VIDEO)
@CynicalBrandon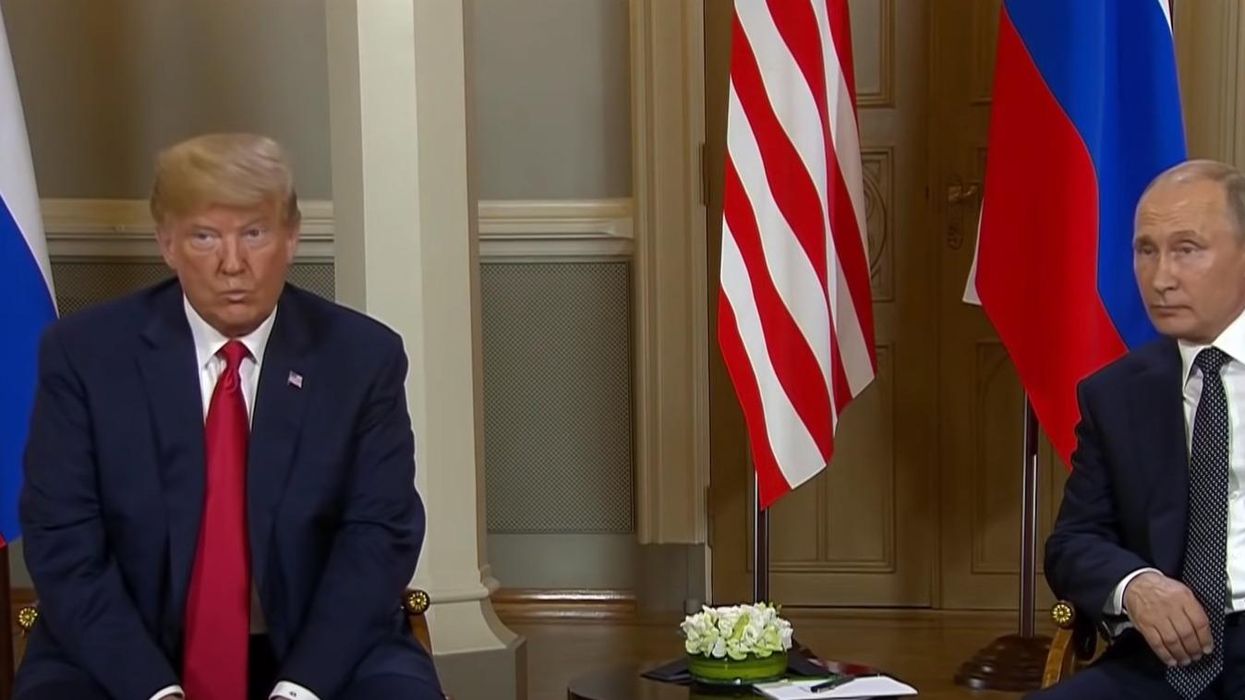 Youtube Screenshot
Russian State Duma member and Russia 1 TV propagandist Evgeny Popov on Thursday lamented over the United States Justice Department's criminal investigation into former President Donald Trump, his scheme to overturn the 2020 election, and the January 6th Capitol insurrection.
In his on-air rant, Popov referred to "our Trump," suggesting that he belongs to the Kremlin and Russian President Vladimir Putin. Popov also pushed the Big Lie that the contest between Trump and President Joe Biden was rigged.
"A shameful scandal is heating up in America, where Biden wants to charge Trump, who is supposedly an agent of Putin. The Department of Justice has opened a criminal case against our own Donald Trump, writes The Washington Post. They're investigating Trump's actions before the storming of the Capitol last January and his attempts to nullify the outcome of a fake, unfair, falsified US presidential election. They're trying to pull it off by the midterms in order to put Trump behind bars by November. Otherwise, the Democrats have no chance of winning. So the Democrats have decided to eliminate their biggest competitor – our Trump – especially since Donald says all sorts of things. And he will keep saying them," Popov said.
He then fired off several bigoted Trumpian tropes about Biden.
"With Sleepy Joe, America is humiliated and on its knees. The inflation is at a record level in 50 years. The gas prices are totally unheard of. Against this backdrop, criminality is on the rise. The government is not concerned about real problems, but about perverts, the sexual education of children, and protection of transgenders. Let's listen to Trump," Popov crowed as sped-up clips of Trump speaking were displayed.
"Didn't we write a cool speech for Donald Trump? The best is yet to come. It won't be surprising if DOJ adds Trump's speech to the materials of their criminal case. Donald says he is an agent of Russia, which is true," Popov added. "The context is not all that important. The former president of the United States will be able to train the male basketball team in prison."
Watch below via The Daily Beast's Julia Davis or at this link.
Meanwhile on Russia's Kremlin-controlled state TV, host Evgeny Popov—who is also a State Duma member—is criticizing the DOJ and the Biden administration for their alleged intent to put "our Trump," as the Russians call him, behind bars. pic.twitter.com/8NEEhmrIkl
— Julia Davis (@JuliaDavisNews) July 28, 2022
Reprinted with permission from Alternet.