Largest Charter School Chain In L.A. Raises Millions In Dark Money To Fight Union Drive, State Auditor Finds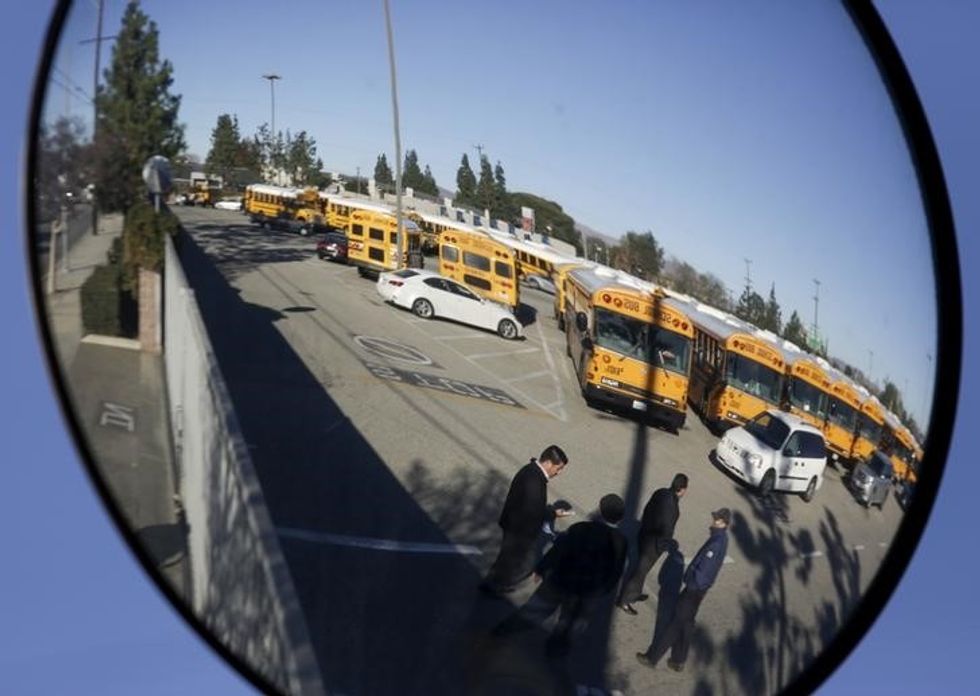 Reprinted with permission from Alternet.

The extraordinary lengths that Los Angeles' largest charter school chain will go to defeat a union drive were revealed in a new California State Auditor report that found the chain raised nearly $1 million for the effort and broke federal privacy law by giving alumni information to industry lobbyists to augment their union-busting campaign.
The efforts by Alliance College-Ready Public Schools to stop the union drive that began in March 2015, when 67 teachers and counselors said they wanted to join United Teachers Los Angeles, also included $2.2 million in donated legal fees, hiring an array of campaign consultants routinely seen in political fights and coordinating with the California Charter School Association (CCSA), which used the private alumni files to recruit former students to their side.
The audit report did not say who gave the money or legal work worth $3.2 million to Alliance, which operates 25 schools in the L.A. region with 12,000 students and has more than 600 teachers and counselors. The state auditor's goal was to "identify the source and amount" of anti-union funds spent by Alliance and "determine whether public and private funds are comingled." It concluded Alliance set up separate accounts and had not dipped into the $157 million it got from state, federal and local sources in fiscal year 2015-'16.
While that finding sparked the "did not use public funds to fight unions" headline in local news that Alliance wanted, the audit noted that Alliance's anti-union effort clearly violated federal privacy laws by giving information about former students to CCSA, which in turn, recruited and paid some to deliver scripted messages. The report also stated that California law permits union drives at public schools, noting Alliance and UTLA have been in court where the chain has been ordered to cease illegal intimidation and threats.
But because auditors are state government accountants, their report mostly stuck to fiscal and privacy issues. As the audit parsed Alliance's $3.2 million in anti-union expenses, it withheld a lot of details, such as names of donors, who did the pro bono legal work or whether these contributions were tax-deductible as the chain is a non-profit corporation.
However, UTLA officials have said Alliance retained Proskauer Rose LLP, a firm whose anti-union work has been documented at T-Mobile, major league sports and Columbia, Yale and Duke universities. Some of the "$426,000 in consulting fees for public relations and other services" described in the audit went to Mercury LLC, UTLA said, the PR firm with many anti-union clients from Michigan GOP Gov. Rick Snyder to David Koch.
While the state auditor's report said Alliance kept anti-union funds separate from academics, it did note that of the $914,759 "Alliance Home Office" funds paid out that $204,540 was for reimbursements to schools "for expenses related to the time spent by school personnel in response to the unionization effort, and a $3,000 grant to each school for any future response to unionization efforts." The report also said that Alliance senior management held anti-union conference calls with principals and other staff.
"I am glad that this audit has been completed, but additional clarification is needed," California Sen. Tony Mendoza, D-Artesia, a former Los Angeles teacher who requested the state audit last May, said in a statement. "I would like more information on the reimbursement of school employees, specifically if anti-unionization activities took place during school hours."
Stepping back, it is remarkable that the largest charter chain in California's largest school district, which last year received 94 percent of its funding from taxpayers, was raising millions in dark money to undermine a legal activity—union organizing. This is not money for computers, libraries or learning centers. This is not business as usual unless you're in the business of union busting, which has long been a national goal of the K-12 privatization movement.
As you might expect, Alliance's spokespeople and UTLA officials talked past each other when commenting on the report.
The chain all but denied it had done anything wrong, even as the audit report stiffly noted its anti-union bias, saying, "Alliance expressed its opinion that UTLA has been funding and supporting efforts to interfere with the freedom and flexibility that charter schools like Alliance have in tailoring programs for the needs of their students."
"There's no there there," Alliance spokeswoman Catherine Suitor told LAschoolreport.com, speaking of the ongoing litigation around the chain's anti-union organizing tactics and the state auditor's report. "Our goal again is to stay focused on educating kids, running great schools and making Alliance a really great place to work for our educators."
Needless to say, those supporting the Alliance union drive see things very differently.
"Alliance is spending resources to run a campaign against their own teachers and counselors," UTLA president Alex Caputo-Pearl said in a statement. "Raising funds for a war chest to fight your own employees is just plain wrong. Operators of publicly funded schools should be working to see that every available dollar is spent to further quality education for students."
"All we want is a fair, neutral process so we can make up our own minds about forming a union without our employer interfering, and violating our rights under the law," Alisha Mernick, an Alliance Teacher, said in a UTLA article on the audit report. "When your employer is raising and spending millions of dollars to try to prevent you from having a union rather than working with teachers through collective bargaining to improve our students' education—that's a pretty good sign you need a union."
This article was made possible by the readers and supporters of AlterNet.