At Last, Kate And Jackie Are Married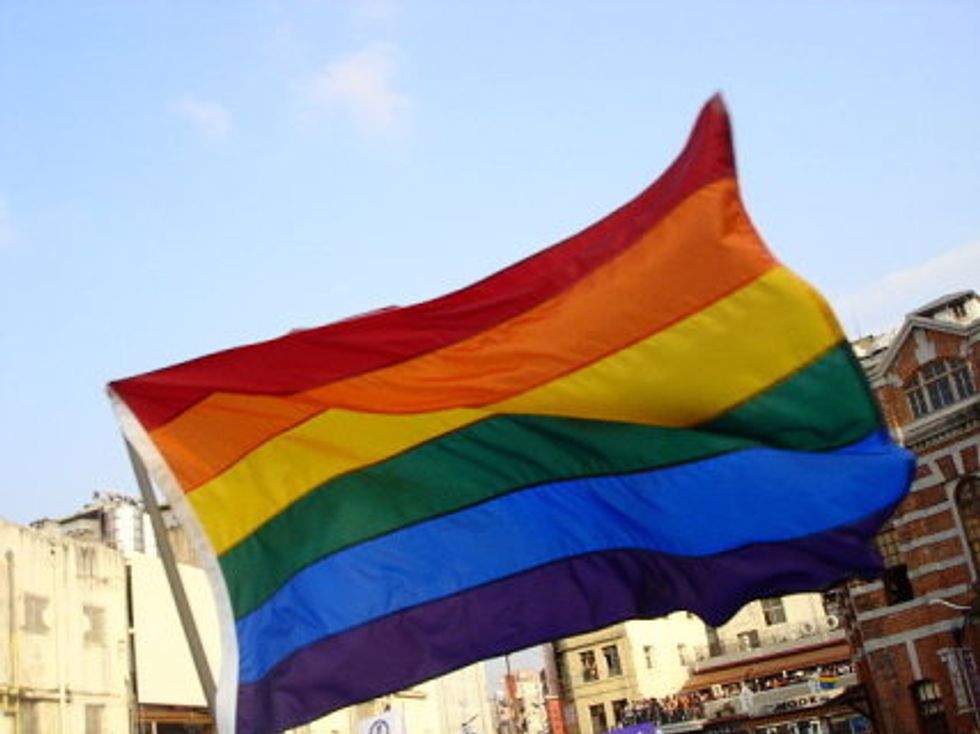 Last Sunday, shortly after they exchanged their wedding vows, I witnessed something I'd never before seen in the 20 years I've known this couple.
Jackie and Kate leaned in and they kissed.
I've vacationed with these two women, attended countless movies and holiday dinners with them, and, for the past year, lived seven houses away from them. We've stood graveside at parents' funerals, raised our glasses in toasts to our children and done that mime thing for each other countless times when one of us has something on her face that doesn't belong in polite company.
To me, they've always been Kate and Jackie, but in our two decades of friendship, I've seen them hold hands only a few times. Always on Sundays, after we've settled into the darkened pew for the preacher's sermon, or during a movie, after the lights go down.
I've heard their pet names for each other countless times, usually from my perch in the back seat of their car as we race to dinner. Like most close couples, they love each other more than their grudges. Their rare spats in my presence are always laced with "honey" and "sweetie," signaling an intention to hold one's temper.
At such moments, I giggle like the 7-year-old girl I used to be in the back of our family's Chevy Impala. As with my parents, Jackie and Kate's sugarcoating is a reassurance that whatever argument is sputtering to be born is destined to die in the parking lot.
Twenty years is a long time for a romance — and a friendship. After so much time hanging out together, you think you've got your friends figured out.
And then you sit in a back room at Carmine's on Manhattan's Upper West Side with 20 of their other closest friends and family members and bear witness to the resolution of a pain you realize you have never understood.
For the first time, my beloved friends felt loved enough, safe enough, to share a single kiss. They had to do it 500 hundred miles from home. Forgive me, I told them the week before, if I seem just a tad grumpy about that.
"We all do, honey," Jackie said. "But we've waited long enough."
Jackie Cerruti Cassara and Kathryn Matthews Huey have spent all of their years together in my home state of Ohio. They met here, built their home here and grew careers here. Jackie is vice president for education at the Howard Hanna realty company. Kate is dean of the Amistad Chapel for the United Church of Christ, headquartered in Cleveland.
Their most common question for friends: What do you need? They're those people.
Nearly 11 years ago, Kate and Pastor Laurie officiated at my wedding, along with my husband's longtime pastor, the Rev. Linwood Chamberlain. Jackie organized the entire event and helped us find a new home, twice.
Seven months later, Ohio voters overwhelmingly passed a referendum banning same-sex marriage. It's hard to describe the prolonged heartbreak of that if you don't live here. If you do live here, it's impossible to forget it.
The Sunday after that election, Pastor Laurie asked church members to stand if they were directly affected by the defeat of "Issue 1." More than 50 people rose to their feet. As I described in a column later that week, they didn't look angry. They looked abandoned. The sadness in their faces brought many of us to tears, and eventually, the entire congregation was on its feet. Hate hurts all of us, not just its targets.
In their years together here in Ohio, Jackie and Kate have not so much hidden their love as moderated it for public consumption. This is not to suggest they long to make out at the local Baskin-Robbins. They are private people.
But private is different from timid. Make that terrified. Each of them has her own stories. As they would quickly — and forcefully — remind me, this is not the time or place to share them.
We have happy news.
Jackie and Kate packed up their car and drove eight hours to New York City, where they were allowed to buy a marriage license. Along with us, their small band of merry marauders, they dropped more than $11,000 in New York in four short days.
Imagine what a wedding of 75 people brings in dollars to a city. Multiply that spending by thousands upon thousands every weekend and you get an idea of what else states such as Ohio lose when they insist on such pinched definitions of love.
Enough with the grumbling. This is a happy day.
Jackie and Kate are married — for as long as they both shall live.
Connie Schultz is a Pulitzer Prize-winning columnist and an essayist for Parade magazine. She is the author of two books, including "…and His Lovely Wife," which chronicled the successful race of her husband, Sherrod Brown, for the U.S. Senate. To find out more about Connie Schultz (con.schultz@yahoo.com) and read her past columns, please visit the Creators Syndicate Web page at www.creators.com.
Photo via Wikimedia Commons