How We're Learning To Do Journalism Differently In the Age of Trump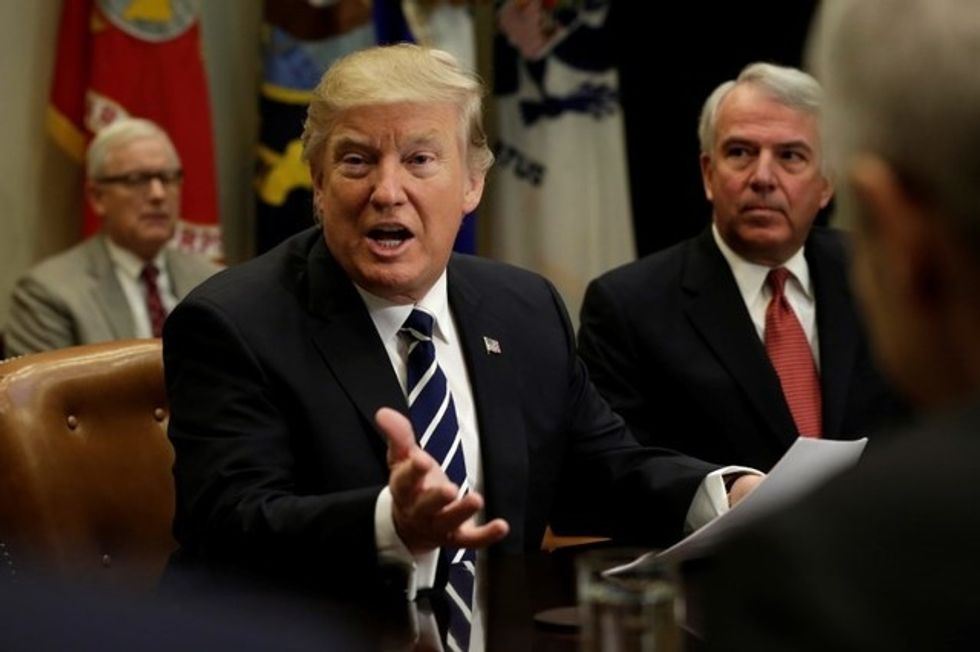 Reprinted with permission from ProPublica.
It's a great time to be an investigative journalist. Sure, no president has done more to demonize media than President Trump. But nor has anybody done more to boost our standing than Trump.
Millions of Americans have put their faith in us. A few weeks after the election, a friend of mine, pondering the reality of one-party government in Washington, looked at me soberly and summed up her sentiment: "You are our Congress now."
What she meant, of course, was that we need to keep doing our job: to ferret out facts and expose wrongdoing. It seemed straightforward enough.
But as my friend was talking, one thought kept running over and over in my mind: How the hell are we going to do this?
At ProPublica, our stories often take months, and occasionally longer than that. How could we cover something as fast moving as a new administration? We also tend to stay away from areas other reporters are already covering. If lots of reporters are already digging into something, why would we want to as well? One of our advantages is that we don't have to be comprehensive. We can and should skip stories where we're unlikely to distinguish ourselves.
We could have made the decision to stick with those inclinations ­— to veer away from the pack and focus on areas where others were now even less likely to be.
But we didn't do that.
Instead, on Inauguration Day, we announced what we would be covering ­— many, many areas related to the new administration. The same day, we reported Trump hadn't fulfilled his promise to hand over control of his businesses. Two weeks later, we reported that Trump's daughter Ivanka had failed to do the same.
And our stories kept coming: about how Trump was hiring lobbyists to work at agencies they once lobbied, about the hundreds of officials Trump had quietly installed across the government, and about a Trump trust document that states the president can pull money from his businesses any time he wants. (It's that last story that got the White House riled up and led Sean Spicer, to blessedly, label us a "left-wing blog.")
We're still in flux. We definitely don't have all the answers. Like many newsrooms, we're still grappling with how to handle coverage of the new administration. But we have found a few principles to be helpful.
Worry Less About Zigging When Others Zag
Rather than tacking away from important topics that already have the country's attention, sometimes it makes sense to look for opportunities within them.
Take the work last year of the Washington Post's David Fahrenthold, who, of course, could serve as an example in any number of these tips. Countless journalists were covering Trump's campaign. The size of the scrum covering his candidacy probably set a record. But how many reporters were really digging into Trump's charity? It turned out none, until Fahrenthold.
That's obviously not an easy example to replicate. In fact, Fahrenthold has written about how he didn't know what he was launching himself into.
That doesn't mean you should chase the week's news, or worry about matching what other outlets are doing. What it means is deciding you're going to go after the most important and vital topics, and then giving yourself the task of producing revelatory coverage within them.
A hypothetical I've occasionally invoked: Imagine you had been a reporter during the civil rights era and were looking back at your career decades later. What would you have hoped to cover? (I've heard BuzzFeed's Ben Smith tell his staff something quite similar: Write now what you think you'll be proud of at the end of your career.)
Stop Hoarding and Start Sharing
ProPublica has been collaborating with other newsrooms since we started nine years ago. But over the past few months, we've landed on new ways of working with others.
On a Friday night in late March, the White House announced it was making many staffers' financial disclosure forms "available." But it didn't post them online or even disclose which staffers had filed the forms.
To get the documents, reporters first had to guess who had filed the disclosures. Then, they had to fill out a form on the White House's website for each person. It was like dealing with the world's worst customer service department ­— only we were trying to wrangle purportedly public information.
Then, one of our editors, Tracy Weber, had an idea: Why not call our friends at other outlets and coordinate. Within minutes, The New York Times and Associated Press had agreed to work with us and post all the documents we gathered.
In another instance, we talked with the Times' Eric Lipton about our joint interest in documenting the legion of lobbyists joining the administration. The chat led to a very simple and quick collaboration: We shared data on administration hires with the Times, which used it to publish a hard-hitting story that cited our contribution.
It was just one example of many where even the simple act of comparing notes has paid off. That's clearly not the proper approach all the time. But it can be plenty of the time.
Do It Out In the Open
For years, we've reached out to readers to fuel our journalism. But we've been much more aggressive about it recently.
One thing has been to simply say what we're working on — even if it's just broadly. On Inauguration Day, we not only laid out our areas of coverage, but we also gave contact information for each of our reporters. And at the bottom of many of our stories now is a reporter's contact info, and, crucially, an explanation of what information they're seeking.
Do you have information about the Trump administration's beachhead teams and their role at federal agencies? Contact Justin at justin@propublica.org or via Signal at 774-826-6240. Here is a guide for how to leak to ProPublica.
It's not fancy, but it's effective.
Sometimes readers don't have insider tips, but they can still contribute. In February, a reader wrote us about a letter she received from Missouri Sen. Roy Blunt criticizing Obamacare. The letter was filled with misleading formation. We wondered if that was true of other congressional letters, so Charles Ornstein and Terry Parris Jr. asked readers to share any similar letters they'd gotten. Again, we coordinated to get the word out with other outlets: Vox, Kaiser Health News and STAT News. Readers sent in hundreds of letters. The result: We were able to lay out how legislators were sending their constituents correspondence "full of lies and misinformation."
Others are also embracing the approach, and getting results: Last month, the Trump administration disclosed donors who funded the president's $100 million inauguration committee. The administration posted them as super-unhelpful, non-searchable PDFs. So reporters got together to fix that, turning the documents into data. Then, the Huffington Post's Christina Wilkie invited readers to dig in and background the donors. It turns out, some of the names were straight-up fake.
You Won't Be Able to Neatly Plan and Package Your Stories — and That's Okay
Just about the only certainty with this administration is that nobody knows what will happen. That means if you're going to cover one of the most consequential stories of our time, you're probably not going to be able to, say, carefully plot out a year's worth of stories in advance.
But that doesn't mean just writing what's in front of you, either. In fact, it's more crucial than ever to think carefully about which waters to swim in. You just may need to be at peace with the uncertainty about where exactly your coverage is heading. You may even have some false starts. And there's no guarantee it will work at all.
Success will require the typical alchemy needed for great journalism ­— doggedness, imagination, and luck. It will also require a leap of faith. Making that leap seems only fair given the faith that readers have put in us.