Let's Adopt These Planks From GOP's National Platform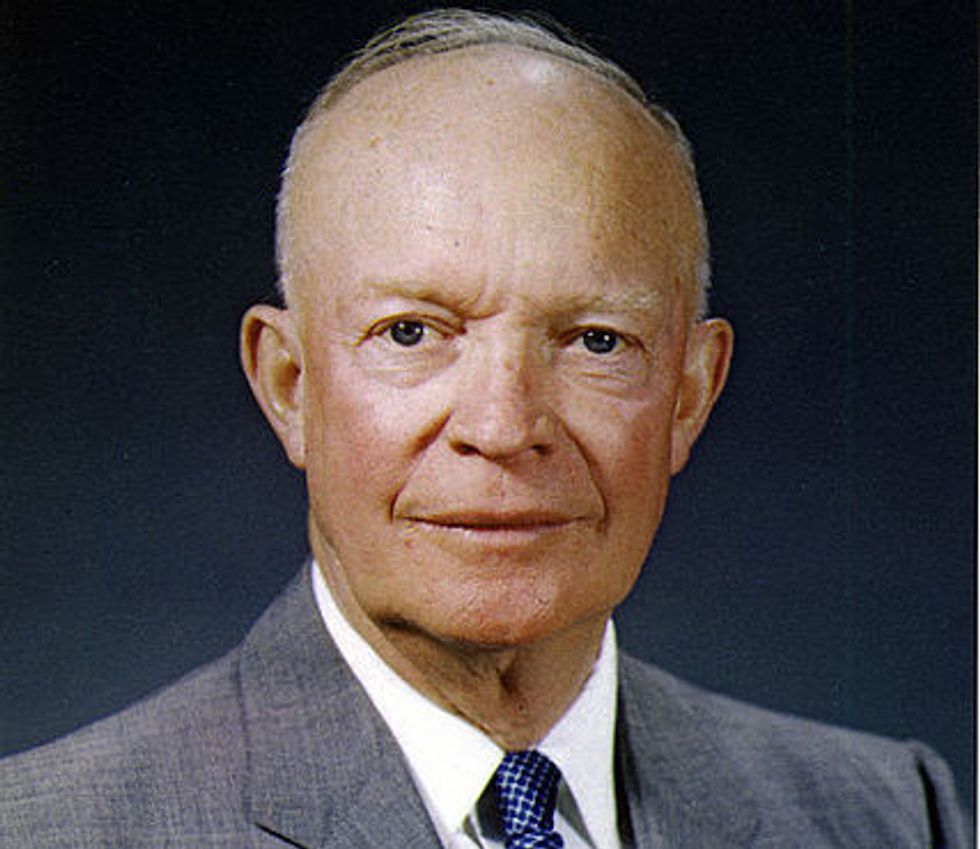 From Rick Perry to Rick Santorum, many Republican sparklies say they reject the science of evolution, favoring instead the "science" of the Bible, including some of its interpreters who claim the Earth is not 4.5 billion years old, but has been around only about 6,000 years. Georgia Rep. Paul Broun (who ironically serves on the House Science Committee) even calls evolution "lies straight from the pit of hell."
But while they dis Charles Darwin and the evidence of evolutionary progression, the GOP as a whole seems firmly committed to "devolution" as its own operating principle. Webster's Dictionary explains that to devolve is to "degenerate through a gradual change" — synonyms include to crumble, decline, regress, sink … worsen.
The party's leaders are presently in an intramural tussle over how they should cope with last year's electoral drubbing they took from women, Latinos and young voters. Tea Party Republicans argue for going deeper into the right-wing weeds by promoting a new McCarthyism focused on the bugaboo of a United Nations takeover of America. Others insist the party simply has a packaging problem, so they're seeking softer ways to say "kill Medicare" and studying how to say "cut taxes for the rich" in Spanish.
But now here's some unexpected news!
It comes from what purports to be an official document of the National Republican Party. And — wow! — the policy positions it contains show that top thinkers and strategists really are serious about coming to their senses and rejecting the plutocratic extremism and far-right wackiness that has stained their recent presidential, congressional and gubernatorial campaigns.
Right at the top, this 18-page manifesto proclaims that, "Our government was created by the people for all the people, and it must serve no less a purpose." ALL the people!
Forget last year's ridiculous pontifications by Mitt Romney and others dividing America into virtuous "creators" (like themselves and their billionaire backers) and worthless "moochers" (like you and me) — this document abounds with commitments to the common good. "America does not prosper," it proudly proclaims on page three, "unless all Americans prosper." Shazam — that's downright democratic!
And then there's this: "Government must have a heart as well as a head." And this: We must conserve and safeguard "our natural resources for the greatest good of all, now and in the future." And this: "The purpose of the Republican Party is to (build) a dynamic prosperity in which every citizen fairly shares."
And how's this for a complete turnaround: "Labor is the United States. The men and women, who with their minds, their hearts and hands, create the wealth that is shared in this country — they are America." Holy Koch brothers, share the wealth?
Yes, and how about this: "The protection of the right of workers to organize into unions and to bargain collectively is the firm and permanent policy of the (Republican Party)." Eat your heart out Scott Walker, Rick Snyder, John Kasich and you other labor-bashing GOP governors!
The document also offers unequivocal support for (of all things) the United Nations, as well as for the U.S. Postal Service and such progressive-minded policies as equal rights for women, expanding our national parks, "vigorous enforcement of anti-trust laws" and raising the minimum wage. New enlightenment in the Grand Old Party. Hallelujah!
Can all this be true? Yes — except it's not new. This document is the Republican Party platform … of 1956. Fifty-seven years ago, under the presidency of Dwight Eisenhower, Republicans not only said sensible things like that, they put them in their national party platform as pledges to the American people. How far they've devolved, huh?
Of course, the last thing Republican leaders want is advice from someone like me, but I'm happy to give it anyway, free of charge. Here it is: If you ever hope to evolve politically, ponder going back to the future. You're welcome.
To find out more about Jim Hightower, and read features by other Creators Syndicate writers and cartoonists, visit the Creators Syndicate webpage at www.creators.com.