LOL Of The Week: RNC Chair Priebus Still Blames The Black Guy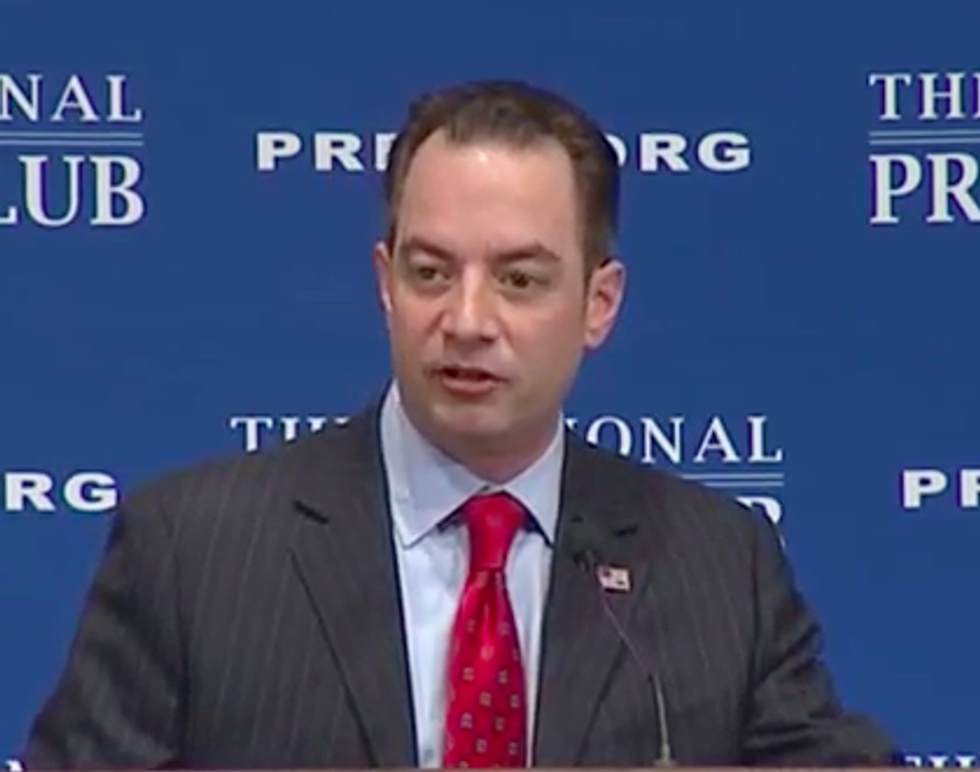 Last week, Republican National Committee Chairman Reince Priebus stood in front of the National Press Club and announced the results of an intensive "autopsy" of the 2012 election. As Priebus had led the party during that election, it was a bit like a zombie rising to give you its assessment of why it had expired before heading off in search of brains.
His diagnosis was, of course, that the Republican Party's policies are totally awesome — except for that little "self-deportation" thing that Mitt Romney had to back to win the GOP nomination. They could take the rest of Romney's platform, which is basically Paul Ryan's platform, add a dash of comprehensive immigration reform, and BAM! — instant Reagan.
The GOP's main problem — in the GOP's own humble opinion — was that they hadn't done a good enough job of communicating those totally awesome policies, especially to minorities.
"I think our policies are sound, but I think in many ways the way we communicate can be a real problem," Priebus said. The report also called for fewer presidential debates — because apparently when you have awesome policies, you don't want to overexpose them.
The GOP's solution is positively Keynesian. Republicans need to spend, spend, spend! He called for $10 million in new digital infrastructure and permanent hires who would be charged with reaching out to minorities with the same totally awesome policies that lost in 2012 — just in a better "tone."
"Young voters are increasingly rolling their eyes at what the party represents, and many minorities think Republicans don't like them or don't want them in our country," Sally Bradshaw, a Republican strategist, wrote in the autopsy. "When someone rolls their eyes at us, they aren't likely to open their ears to us."
Priebus kept his "tone" friendly and positive for the length of his presentation. And then, he took questions.
The RNC chair was asked about a shouting match at the CPAC conservative convention, in which an attendee complained about white men being "systematically disenfranchised."
Priebus, in his minority outreach mode, answered the question as if he were being asked how he's going to reach out to minority voters, whom he was obviously aware were actually being systematically disenfranchised, thanks to a record number of laws passed by Republicans since 2010 — mostly in the Old Confederacy states — designed to do just that.
"For one thing, we have to show up. If you're going to get the order, you have to ask for the sale," he said, equating campaigning with running an Amway distributorship. He went on to say that he's going to hire hundreds of paid people across the country to reach out to minorities this year.
He then proceeded to take a blatant stab at the most famous minority staffer the RNC has had in years — former chairman Michael Steele. "When we walked into the RNC — and we were $25, $26 million in debt — we could barely make the first payroll," Priebus said, apropos of nothing.

So here's Priebus' first act of minority outreach — blame the highest-ranking African-American official in the history of the Republican Party for your troubles by pointing out the horrendous situation you inherited.
The current chairman then complained that both the party's credit cards had been canceled and he was forced to use his own plastic to pay the bills. Of course, Republicans have blasted President Obama for years whenever he points out that the economy he inherited was losing nearly a million jobs a month as the global financial system threatened to melt down daily. That's nothing compared to poor Reince having to front some money for a few months and deal with all the debates Steele had scheduled.
"That should tell you everything you need to know about ground game, mechanics and how did you get behind," he said.
When asked specifically if Steele had ruined the party's chances, he said, "I'm not going to go there." He then went there. "The numbers speak for themselves."
LOL.
As chairman of the RNC, Steele led the party to picking up 63 seats in the House along with gains across the nation that gave the party the most elected officials it has had since 1928. Priebus, on the other hand, led the RNC to shedding eight seats in the House, blowing a chance to pick up the Senate and losing the White House by an electoral landslide.
And he wants us to look at the numbers.
"Priebus wasn't complaining about debt or concerned about debt when I was writing checks to Wisconsin when he was chairman and wanted to win the state legislature, which they did, win the governorship, which they did," Steele responded later. "At the end of the day all of the members were on board with going into debt to win."
"The RNC had a surplus, they had money in the bank at the end of the 2012 cycle, but they had nothing to show for it," Steele continued
Of course, Steele had help. The unemployment rate was rising, nearly hitting 10 percent again. Karl Rove, fueled by a tsunami of dark money, seized the opportunity to win big in swing states like Michigan and Ohio. And Fox News' organizing of the Tea Party through most of 2009 gave the GOP an army of passionate supporters on the ground.
But for Priebus to suggest that the numbers make his case represents the kind of denial the GOP is in.
They can keep the same chairman, the same policies and continue to demand photo ID to fight a completely fictional voter fraud problem designed to suppress the minority voter — and minority voters will suddenly fall in love with Paul Ryan's budget that kills exactly the kind of social safety net they value.
Little Lord Reince thinks he can blame his predecessor and spend his way out of a problem, after blasting his opponents for doing exactly that. And they think their message of "blame the black guy," which failed in 2012, is the perfect way to begin 2013. He simply has no idea why his party's approval rating is at a 20-year low and estranged from the public in a nearly unprecedented way.
So here's my GOP autopsy of their loss in 2012 and losses that are certain to come: It died from a fatal lack of self-awareness.