Love For A Child Isn't So Simple Anymore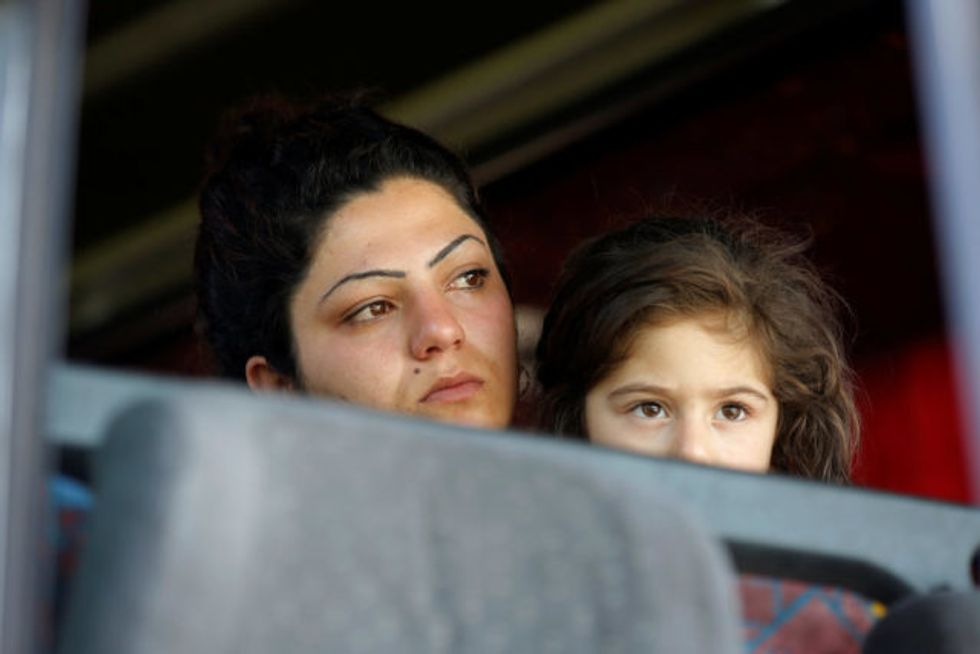 Reprinted with permission from Creators.
Last week, you walked off that plane with the biggest smile on your face. Your hug was stronger and taller than last time, proof of a growth spurt in the past six months that just stretched on forever, I swear.
Before the airline official would allow you to leave with me, I had to show ID to prove my relationship to you and then sign the forms. That's what we do for unaccompanied minors, to keep them safe and secure. Not always, though. Sometimes in this country, we treat unaccompanied minors as suspects, as criminals, instead of the survivors they are trying to be. As I signed the form for your release, I thought about them, too.
Our eight days together flew by — for Grandpa and me, but not always for you. You love us, we know that, and you were having a lot of fun, but you were also missing your parents, as children do. Even when you are with grandparents you've known all of your life — sleeping in the guest bed you've known since you were a toddler — it's not the same as being with Mom and Dad.
On your sixth day with us, you asked when exactly your flight home would be. I had the answer, down to the minute. You were immediately reassured and ran outside to play whiffle ball with Grandpa. I sat on the porch steps and cheered like a crowd of one, but my mind did wander. Thousands of young children have been pulled from their parents' arms at our border. Day after day, these terrified children have wanted to know when they would see their mothers again, their fathers. Day after day, for weeks and then months, strangers in charge of them refused to tell them.
The day after you asked about your flight, The New York Times ran a story about a 5-year-old boy from Brazil. Border Patrol agents had torn him away from his mother. Fifty days later — seven weeks and a day — they were reunited, but his mother said he is a different little boy now.
He had not nursed for years, she told the Times, but now he was pleading to be breastfed. When visitors come to their new home in Philadelphia, he hides behind the sofa.
"He's been like that since I got him back," his mother said. "He doesn't want to talk to anyone."
This is how my mind worked throughout our time with you, and rightfully so. How can I tell you over and over how much I love you and not think about those frightened children whose parents love them just as much?
There's also the looming issue of accountability. One day, you will be old enough to put it all together — the camps full of children during your childhood, the president who demonized migrants fleeing for their lives, the mobs who cheered him on — and you will want to know what the adults in your life tried to do to stop it. I want to have the right answer for you.
This morning, as promised, I signed more airline forms and waited with you at the gate until the attendant walked you onto the plane. As instructed, I stayed until your plane was in the air, to avoid your being without a family member for even a minute if your flight were delayed or canceled.
Your assembled Lego creatures still stand sentry around our house, waiting for me to fulfill my promise to wrap them in Bubble Wrap and send them to you. Not Chewbacca, though. You said Chewie stays with me. He is right where you left him, guarding the vase of hydrangeas on the kitchen counter.
I looked at him just now and thought about your surprised grin when I quoted Han Solo yelling at him: "Get in there, you big furry oaf! I don't care what you smell!" The look on your face as I talked about being 20 years old the first time I saw "Star Wars." We were sitting in the rockers on the front porch, chatting about a wide range of crazy before dinner. How I love that.
My phone is chirping. I open the text message, and there it is: your parents' promised photo of your reunion. Three happy faces, cheek to cheek. For a moment, I am overjoyed to know you are safe and secure with your parents, who love you so much.
And then my mind fills with thoughts for those other children, as it should, as it always will now. Grandma promises you that.
Connie Schultz is a Pulitzer Prize-winning columnist and professional in residence at Kent State University's school of journalism. She is the author of two books, including "…and His Lovely Wife," which chronicled the successful race of her husband, Sherrod Brown, for the U.S. Senate. To find out more about Connie Schultz (con.schultz@yahoo.com) and read her past columns, please visit the Creators Syndicate webpage at www.creators.com.