Merkel Leads Fightback Against Eurosceptic Charge
@AFP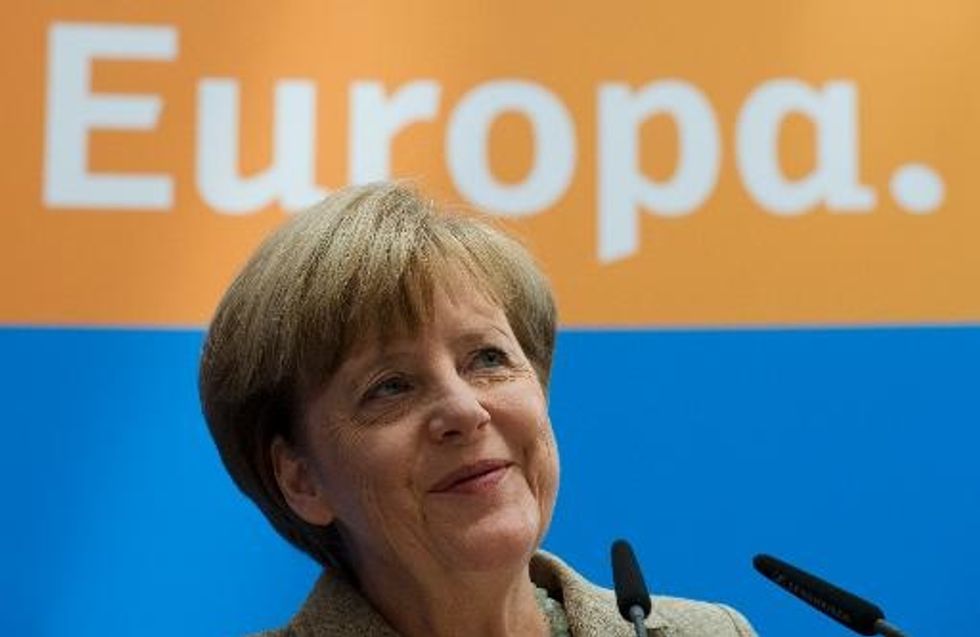 Brussels (AFP) – German Chancellor Angela Merkel headed the charge against eurosceptics and the far-right Monday after France's National Front (FN) and Britain's UKIP led anti-EU parties in a stinging rebuke for Brussels.
"Earthquake" in Europe, read the headlines, summing up a day of trauma for establishment parties and the accepted consensus that the European Union offers the best future for all.
"It's quite remarkable and regrettable but now the point is to win those voters back," said Merkel, whose own conservative party won Sunday's poll in Germany.
"A policy of competitiveness, growth and jobs is the best answer to the disappointment of those who voted in a way that we don't like," she said.
She said the European Union's 500 million people were interested not by arcane politics, "but in the question of how Europe affects them and their lives".
In France, a dismayed Prime Minister Manuel Valls could only lament the "massive abstention" of Socialist voters that left his party a distant third, with just 14 percent of the vote, to a rampant National Front which topped Sunday's poll with 25 percent.
The pro-European Union parties must offer disillusioned voters the real prospect of jobs and growth, Valls said, refusing to step down after just weeks in office.
"I am convinced that Europe can be re-oriented to increase support for growth and employment, which it hasn't done in years," Valls said.
"Certainly there is a message across Europe of disillusionment with Europe and the EU has got to hear that loud and clear," said Foreign Secretary William Hague in Britain, where Nigel Farage's UK Independence Party scored a stunning victory with 27 percent of the vote.
"This is just about the most extraordinary result in British politics for over 100 years," Farage said, promising more to come. "The penny has really dropped."
European Commission head Jose Manuel Barroso put the best gloss on the outcome, stressing that combined, the pro-EU camp of the center-right, center-left and Liberals would still have "a very solid and workable majority in the European Parliament".
"Standing together as Europeans is indispensable for Europe to shape a global order where we can defend our values and interests," Barroso said, adding that decisive action to provide growth and jobs would be the best answer to current concerns.
Analysts said anti-euro and anti-immigration parties had tapped into growing voter frustration after years in the economic doldrums pushed unemployment in Europe to record highs, while governments cut spending to balance the public finances at Brussels's behest.
Parliament's latest projections give the centre-right European People's Party 213 seats in the new 751-seat assembly, with the Socialists on 190 and the ALDE Liberals on 64, followed by the Greens on 53.
The anti-EU vote should produce about 140 seats in all, giving them enough of a voice in the new assembly to live up to promises to weaken the EU from the inside.
Analysts noted, however, that these parties must get at least 25 MEPs from a minimum of seven of the EU's 28 member states to form an official Parliamentary group, and some might struggle to meet that requirement.
The FN will have 24 of the 74 seats for France. But UKIP, for example, refuses any ties with the FN because it says it is anti-Semitic, meaning the French group will have to look to smaller, extreme parties such as Holland's PVV.
The fact that the EPP and Socialists remain the two biggest groups means there is no reason to believe the anti-EU vote is fatal, analysts say.
"By and large, the EU elections delivered roughly the expected protest vote," said Holger Schmieding of Berenberg Bank.
"Austerity and reforms are painful, immigration is contentious even at the best of times. Voters used the EU elections to let off steam. No surprise."
Sunday's vote "was probably the high er mark of anti-EU sentiment. As economic growth gains some momentum… anti-EU sentiment will likely subside somewhat in coming years," Schmieding said in a note entitled: "Not quite an Earthquake."
Some analysts — and many officials — also highlighted that voter turnout, having fallen steadily since 1979, edged up very slightly to 43.1 percent from 43 percent in 2009, suggesting that voter disinterest in the EU might have peaked.
Financial markets welcomed the outcome. In Italy, stocks jumped more than 3.0 percent in early trade after Prime Minister Matteo Renzi won by a landslide, seeing off the eurosceptic Five Star Movement of Beppe Grillo with 40.8 percent of the vote to 21.2 percent.
The Paris stock exchange was up 0.33 percent and Frankfurt put on 0.94 percent. London was closed for a public holiday.
AFP Photo/John MacDougall