Michelle Obama Looks To Ease Mistrust On China Trip
@AFP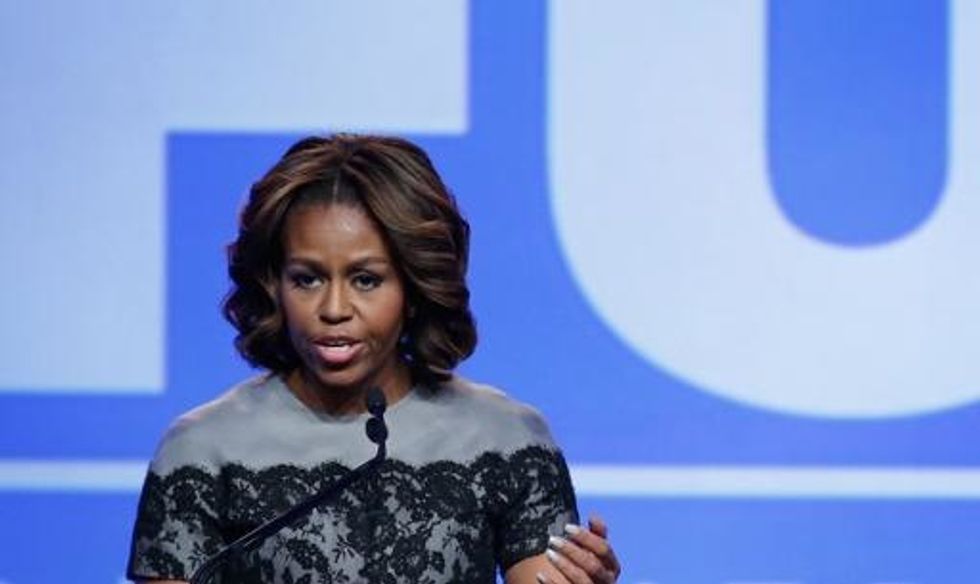 Washington (AFP) – Michelle Obama will look to dispel growing mistrust between the United States and China through a weeklong tour of the Asian power focused deliberately on soft issues, officials said Monday.
Accompanied by her two daughters and mother, the U.S. first lady will head Wednesday on a tour to some of China's most celebrated sites including the Great Wall, the ancient terracotta warrior sculptures of Xian and a panda preserve.
White House officials said that Michelle Obama would not take up the myriad disputes between the two nations but would instead speak about educational exchanges and emphasize U.S. goodwill toward the Chinese people.
"I think it is important to break through that mistrust and the first lady's visit is an opportunity to do that," Ben Rhodes, a deputy national security adviser, told reporters.
The Chinese public's opinion of the United States has significantly worsened from highs when President Barack Obama took office in 2009. Forty percent of Chinese had a favorable opinion of the United States in last year's Pew Research Center survey — a figure far below that in Western and African nations but still higher than the rate in most of the Islamic world.
The world's two largest economies have been increasingly at odds over issues that include allegations of mass Chinese cyber-espionage and Beijing's increasing assertiveness in territorial disputes with U.S. allies Japan and the Philippines.
Rhodes hoped that Michelle Obama would indirectly highlight one frequent U.S. concern in China — human rights — by her very background. Michelle Obama was raised in humble circumstances in Chicago before becoming a successful lawyer, while her husband is the first president from the historically persecuted African American minority.
"I think the first lady's story itself sends a powerful message about the ability of someone from a disadvantaged economic background, from a minority group, to ascend to the positions that she did in private life and now as first lady," Rhodes said.
While his wife is visiting China, President Obama will take up the gamut of U.S.-China relations in a meeting with counterpart Xi Jinping on the sidelines of next week's nuclear security summit in The Netherlands.
Michelle Obama will meet in Beijing with Xi's wife, the singer Peng Liyuan. The U.S. first lady caused a minor stir in June when she did not go to a California desert resort to mingle with Peng over a weekend intended to build a relationship between the two presidents.
In Beijing, Peng will guide Michelle Obama through Beijing's Forbidden City and welcome her with a dinner and performance, the White House said. The Obamas will also tour the Great Wall, the ancient city of Xian and the southwestern city of Chengdu, near the habitat of pandas, China's emblematic animal.
Michelle Obama will deliver speeches on educational cooperation. China is the largest source of foreign students to U.S. universities and a growing number of US students have studied Mandarin — including the Obamas' eldest daughter, 15-year-old Malia.
Philip J. Crowley, a former State Department spokesman, said that Michelle Obama's trip can help reframe the U.S.-China relationship away from just the countries' disagreements.
"These differences are real and important. But there are also many areas where the countries' interests overlap and they deserve attention as well," said Crowley, now a professor at George Washington University.
Michelle Obama has enjoyed consistently higher popularity ratings than her husband and has mostly stayed away from controversial topics, instead leading a campaign to encourage Americans to eat better and exercise.
AFP Photo/Alex Wong