Michigan Governor: Solve Flint Water Crisis Instead Of Laying Blame
@reuters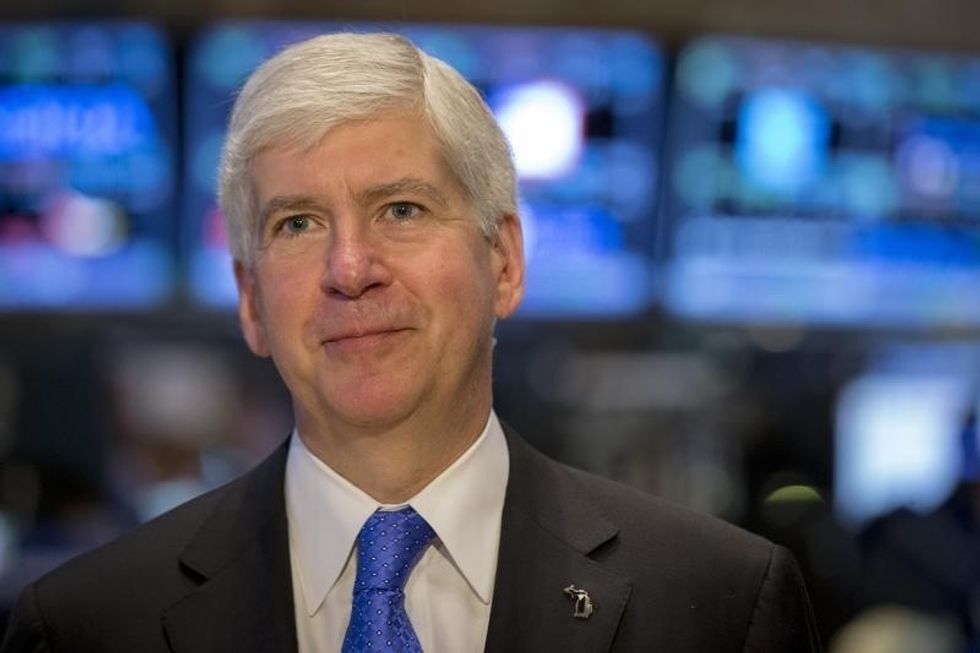 DETROIT (Reuters) – Michigan Governor Rick Snyder said on Friday he wants officials to focus on solving problems around lead-contaminated drinking water in Flint instead of laying blame as he said some have been doing.
"There are a number of folk out there that are spending their time mainly on the political side and the blame side," he said at a meeting in Flint of local and state officials responding to the crisis.
Snyder's comments came a day after liberal group Progress Michigan released emails showing high-ranking state officials knew about an increase in Legionnaires' disease in Genesee County, where the city is located, and a possible link to the contaminated Flint water almost a year before the governor said he got information about the outbreak.
Snyder, who has repeatedly apologized for the state's poor handling of the crisis, previously said he did not learn of the rise in Legionnaires' cases until last month.
The governor and state officials have been criticized for not catching the contaminated water sooner, with some calling for Snyder to resign. UltraViolet, a national women's group, said it had commissioned a plane to fly over the University of Michigan campus during a men's basketball game on Saturday dragging a banner that says "Snyder poisoned kids in Flint."
Flint, near Detroit, was under the control of a state-appointed emergency manager when it switched the source of its tap water from Detroit's system to the Flint River in April 2014 to save money.
It switched back last October after tests found high levels of lead in samples of children's blood. The more corrosive water from the river leached more lead from the city pipes than Detroit water did. Lead can damage the nervous system.
On Friday, lawmakers on a U.S. House of Representatives panel said they plan to hold a hearing next month to address Flint health and infrastructure issues. The energy and commerce panel did not have details on the date or who would testify.
This week, Congress held its first hearing into the Flint crisis. The House Oversight Committee did not invite Snyder, a Republican, to testify, something Democrats on the panel complained bitterly about.
The oversight committee has also subpoenaed Susan Hedman, the former Midwest chief of the Environmental Protection Agency, and Darnell Earley, the former state-appointed Flint city manager, to give depositions this month.
(Reporting by Ben Klayman in Detroit and Timothy Gardner in Washington; Editing by James Dalgleish)
Photo: Michigan Governor Rick Snyder gives an interview on the floor of the New York Stock Exchange May 8, 2015. REUTERS/Brendan McDermid