Michigan's GOP Extremism Goes Far Beyond Attacking Unions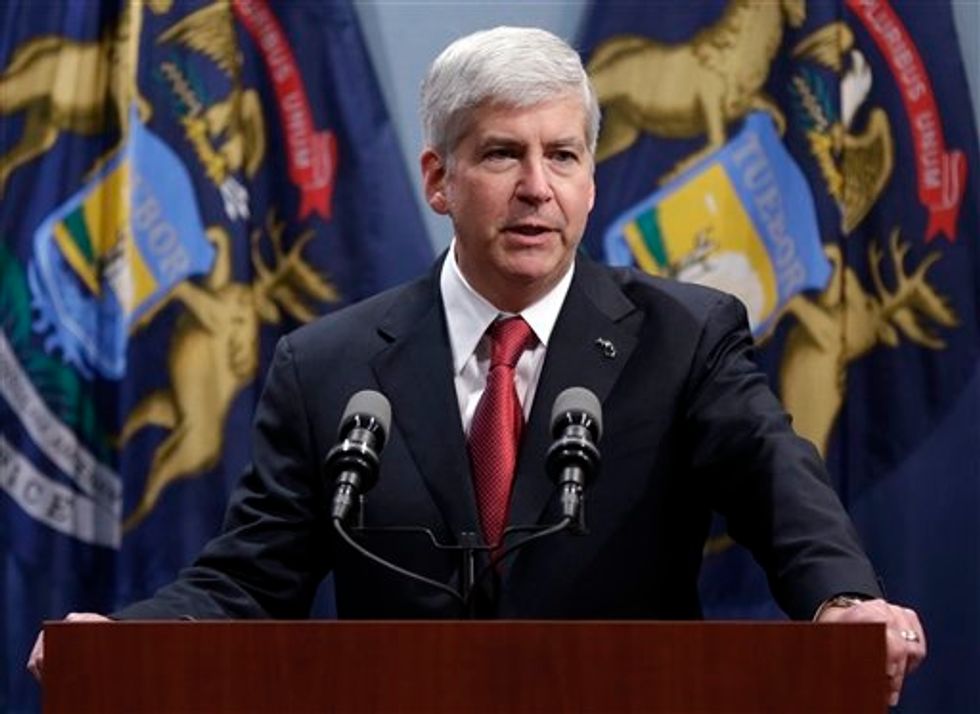 If Michigan's Republican Party didn't exist, someone would have had to invent it as a perfect example of what Democrats lost when young people didn't show up to the polls in 2010.
As a candidate, Rick Snyder defeated former congressman Pete Hoekstra and a handful of others in the GOP primary by posing as a nerdish alternative to the Tea Party fervor that was sweeping the nation. He then easily defeated his Democratic opponent and came into office with big majorities in the state House and Senate, who gladly cut taxes for businesses and raised taxes on pensioners while cutting spending on education.
Michigan — still in shock from the financial crisis and unsure if the auto rescue could work — mostly let Snyder go about his business, until they began to understand the scope of his new Emergency Manager Law, which ripped power away from local authorities and gave unelected bureaucrats the power to abrogate contracts and sell city property.
A "Recall Snyder" movement began, but without support from the state Democratic Party, it never put together enough signatures. The effort fizzled when the recall of Wisconsin governor Scott Walker failed.
In 2012, Snyder seemed to be veering toward moderation by rejecting a voter suppression law similar to one passed in Florida. The governor endorsed Republican nominee Mitt Romney, but never became a surrogate for the candidate. He mostly sat on the sidelines as the son of a former Republican Michigan governor who was born in the state lost Michigan by 9.5 percent. Michigan's GOP lost five seats in the House and would have lost more if not for gerrymandering.
Also on the ballot were two measures that seemed to have infuriated the governor.
One would end the state's Emergency Manager Law and the other would put collective bargaining in the state Constitution in a way that would have prevented the state from ever going "right to work." Voters chose to end the Emergency Manager Law and not to protect collective bargaining.
In his press conference Tuesday, Snyder repeatedly insisted that the collective bargaining amendment was "divisive" and responsible for pushing the GOP to pass "right to work" legislation. It's a convenient excuse. He's suggesting that unions tested their power and lost. This sparked a backlash.
That might make sense if Michigan's GOP weren't also pursuing a laundry list of some of the most extreme legislation in the country, laws that would give tax credits for fetuses, let people carry concealed weapons in schools and — of course — fight Sharia Law.
Clearly, with a much less right-wing legislature set to be seated in 2013, state Republicans have decided that now is the time to reward their extreme backers — like the Koch Brothers and Amway founder Rich DeVos — who do business in the state under the cloak of groups like Freedom to Work, the Mackinac Institute, and Americans for Prosperity.

Michigan's Republicans aren't just acting as if they won in a landslide — they're pretending Todd Akin and Richard Mourdock did, too.
Right after the GOP passed "Right to Work," they went to work on a series of bills that will, according to Planned Parenthood's Cecile Richards, make it "one of the most regressive states in the nation on women's health."
"One bill would likely shut down many health care providers that provide abortion by enacting unnecessary and burdensome licensing rules," Richards wrote, in a blog on the Huffington Post. "Another would ban all insurance coverage for abortion. And one of the bills would allow medical providers to refuse to provide any medical service — from birth control to blood transfusions."
The school's legislation being pushed would lead to what critics are calling privatization and corporatization by authorizing vouchers and allowing the state to take over whole districts.
This extreme legislation would make sense in a bright red state, not a state where Democratic senator Debbie Stabenow was just re-elected by a 20 percent margin.
The latest polling shows that the state was deadlocked 46-47 percent over whether Michigan should go "right to work. Previous polls had shown a majority supporting the law and this was before it was passed with no hearings in a lame-duck session.
So can Michigan's GOP get away with it? Or will voters send Snyder and his majorities back home as payback for showing their extremism after the state clearly sided with Democratic values?
The odds of Democrats taking back the legislature are greatly diminished by the gerrymandering done after the 2010 election. And if the electorate looks like 2010's and not 2012's, Republicans may even gain seats in 2014.
But they can't gerrymander for the governor's office. To defeat Snyder, who will be rewarded with even more money from his backers this time, the candidate matters.
Current Senate Minority Leader Gretchen Whitmer (D-MI), former congressman Mark Schauer, and current congressman Gary Peters (D-MI) are all being mentioned as good candidates to take on the governor.
But what will matter even more is if the extremism of this lame-duck session can be made an issue almost two years from now. Luckily for Democrats, what's being passed in these last days of 2012 will be very hard for the women, workers and families of Michigan to ignore.
But will it be enough to get the young people who voted for President Obama in record numbers twice to the polls?
Michigan's GOP apparently doesn't think so.
Photo credit: AP Photo/Paul Sancta