Militants Kill Dozens In Hours-Long Siege On Kenyan Town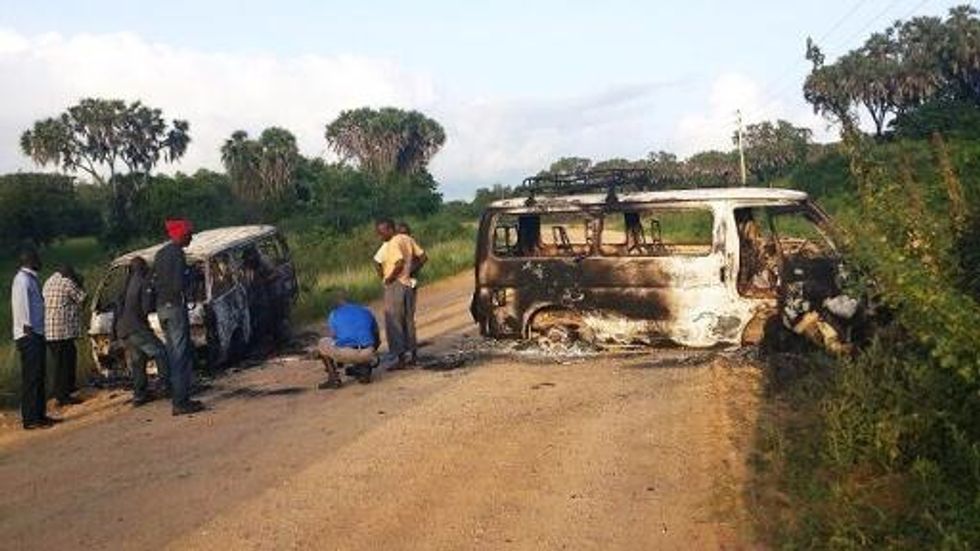 By Kate Linthicum and Joseph Akwiri, Los Angeles Times
NAIROBI, Kenya — A crowd of people gathered to watch a World Cup soccer match were among the targets of militants during a deadly five-hour siege on a small town on Kenya's coast.
Meshack Kimani said he was watching the game in a video hall in the town of Mpeketoni Sunday when attackers stormed in, shooting. They killed about 10 men before moving on to attack other parts of town, said Kimani, who survived by hiding behind a door.
At least 50 people were killed in the brazen assault on Mpeketoni, a predominantly Christian town near the island of Lamu, according to the Kenya Red Cross.
Police and eyewitnesses said attackers armed with guns and explosives hijacked two buses and then rampaged through town, striking a police station, the video hall and several hotels. The attackers roamed neighborhoods, too, entering homes, shooting male inhabitants and setting fires, according to survivors. Women and children were spared, and many fled into the forest, survivors said.
No group has claimed responsibility for the attack. Local police and officials in Kenya's Interior Ministry said they were investigating whether it was planned by the Shabab, an al-Qaida-linked Somali militant group, or another group. The Shabab, which carried out last year's deadly assault on Nairobi's Westgate shopping mall, has vowed violence as payback for Kenya's decision to send troops to Somalia in 2011.
Sunday's incident was the latest in a string of attacks in Kenya, including a series of grenade attacks in the coastal resort town of Mombasa and twin bus bombings in Nairobi last month, which killed 10. The incidents have hit Kenya's tourism industry, with the United States and Britain issuing travel alerts warning citizens of potential terrorist attacks.
The assault in Mpeketoni, where many people work on farms, was not directly aimed at tourists, although the town is a short distance from Lamu, an island popular with vacationing ex-patriots.
The attackers arrived in town just after 8:30 p.m., police said, and then split up to carry out simultaneous assaults on targets throughout the town.
Issah Birido, 28, who said he survived by hiding in a tree, said the attackers were dressed in army fatigues and were shouting in Somali. "After they attacked the area, they went around town shooting in the air and chanting slogans," he said. "It seemed like they had taken the whole town hostage," Birido said, adding that he believed local police may have fled.
Leonard Omollo, a police commander in Lamu County said at least one police officer was killed Sunday. He said the assailants left the town at around 1 a.m. None have been arrested.
The militants only targeted men, according to Omollo and others.
Mpeketoni resident Somoko Islam, 57, who was at work at the time of the siege, said his son was killed when they stormed his home.
On Monday morning, Islam said, police arrived in his neighborhood to collect the dead. "They came with a truck, but the truck could not even carry all the bodies," he said.
Muiruri Kinyanjui, of the Kenya Red Cross, said the death toll may rise. Dozens of people were seriously wounded, he said, and many more residents cannot be accounted for. He said some residents who fled to the woods were coming back into town gradually Monday, and were being provided food, water and counseling.
Photo via AFP