Modest 'Progress' In Iran Nuclear Talks
@AFP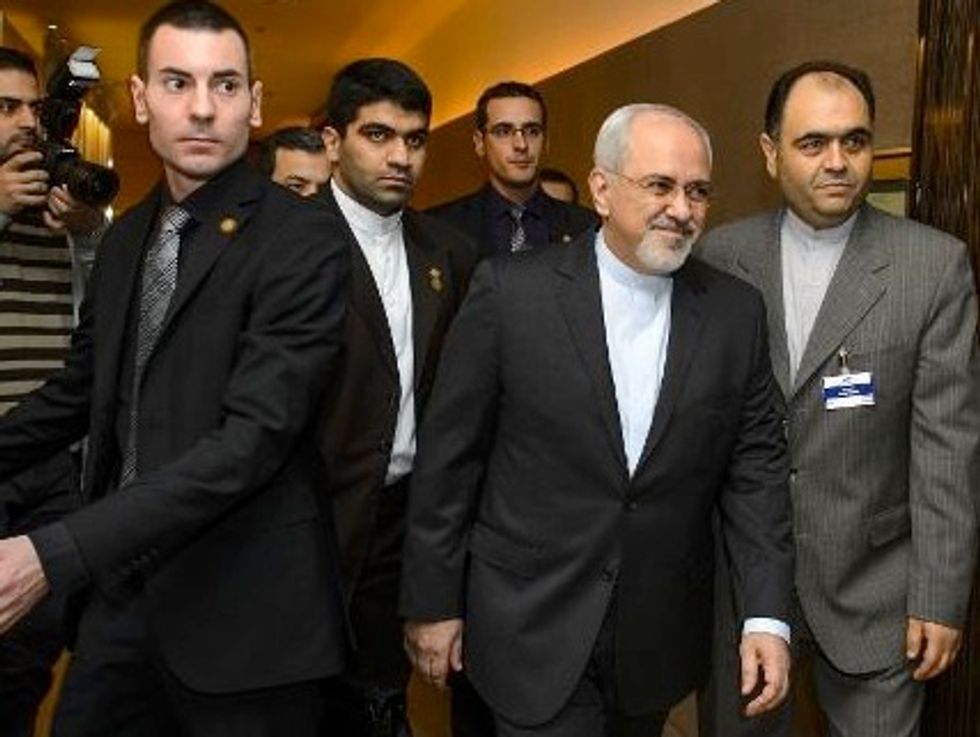 Geneva (AFP) – Iran and world powers appeared to make modest progress in nuclear talks Friday, with Tehran saying foreign ministers could fly in to Geneva in a fresh bid to clinch a deal.
"Last night we were a long way from foreign ministers coming. Today it has got closer," Iran's Foreign Minister Mohammad Javad Zarif said, according to the ISNA news agency.
Differences however remained.
This third meeting in Geneva since President Hassan Rouhani was elected in June is seen as the biggest hope in years to resolve the decade-old standoff over Iran's nuclear programme.
Failure might mean Iran resuming the expansion of its atomic activities, Washington and others adding to already painful sanctions, and possible Israeli military action.
At the last gathering two weeks ago foreign ministers including U.S. Secretary of State John Kerry flew to Geneva but three days of intense, high-drama talks failed and they went home empty-handed.
Both sides say they want a deal but getting an accord palatable to hardliners both in the United States and in the Islamic republic — as well as Israel — has proven a daunting task.
According to a draft proposal hammered out on November 9, the United States, Britain, China, France, Russia, and Germany — the P5+1 — want Iran to freeze for six months key parts of its nuclear program.
In return Iran would get minor and, Western officials insist, "reversible" sanctions relief, including unlocking several billion dollars in oil revenues and easing trade restrictions on precious metals and aircraft parts.
This hoped-for "first phase" deal would build trust and ease tensions while Iran and the six powers hammer out a final accord that ends once and for all fears that Tehran will get an atomic bomb.
God willing
After Thursday's sessions Iranian diplomats were downbeat.
But on Friday signals coming out of Tehran appeared to indicate an improvement after only an hour-long meeting between Zarif and the powers' chief negotiator Catherine Ashton.
"The negotiations are progressing well but we still have differences of opinion over a limited number of issues," Zarif said on Facebook.
"God willing we will reach a result," he told Iranian media.
Ashton's spokesman said that the meeting was "useful", without giving details.
"We are glad to hear the Iranians are also seeing things in a positive way, but we'll have to wait and see how things develop in the afternoon," Michael Mann said.
Russia's representative at the talks, Deputy Foreign Minister Sergei Ryabkov, said he thought a deal was a "possibility" but added that it "depends on many factors".

Netanyahu says no
Many in Israel, widely assumed to have a formidable nuclear arsenal itself, are alarmed about the mooted deal, however, with Prime Minister Benjamin Netanyahu campaigning vigorously against it.
Netanyahu wants all of Iran's nuclear infrastructure dismantled, not parts of it frozen, believing that the P5+1 will leave Iran with an ability to develop nuclear weapons.
"You are not really dismantling any capacity to make fissile material for nuclear weapons," he said in an interview in Germany's Bild, Europe's top-selling newspaper, this week.
In the United States meanwhile there is a push by lawmakers to ignore President Barack Obama's pleas and pass yet more sanctions on Iran if there is no deal — or one seen as too soft.
Raising the pressure, U.S. Senate Majority Leader Harry Reid said in Washington on Thursday that lawmakers would move to impose new trade restrictions in December.
This risks spoiling Iran's apparent newfound appetite for rapprochement with the West since Rouhani replaced the more hardline and combative Mahmoud Ahmadinejad in August.
Rouhani is under pressure to show the supreme leader Ayatollah Ali Khamenei the first fruits of his "charm offensive", and it is unclear whether the minor sanctions relief on offer is enough.
Khamenei, describing Israel as a doomed "rabid dog", said in Iran on the first day of the talks Wednesday that he insisted "on not retreating one step from the rights of the Iranian nation".
By this he meant what he sees as the "right" to enrich uranium, something the P5+1 are loath to endorse explicitly and which is a key sticking point in Geneva.
"The principle of enrichment is not something that is negotiable," Iran's lead negotiator Abbas Araqchi said Wednesday.
"But we can talk about volumes, the level and the location."
AFP Photo/Fabrice Coffrini