Mrs. Clarence Thomas Butts Into Ohio Sex Abuse Scandal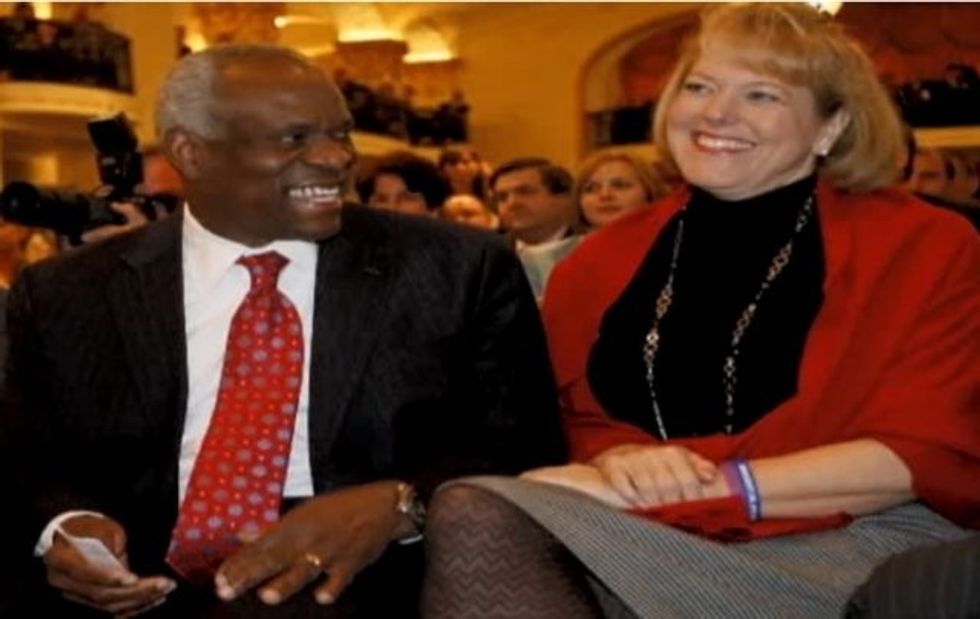 Reprinted with permission from AlterNet.
Virginia Thomas, the wife of Supreme Court Justice Clarence Thomas, on Monday claimed that Rep. Jim Jordan (R-OH) is the target of "false accusations" stemming from his time as an assistant coach at Ohio State University because he "threatens elite"—even as a seventh former wrestler on Sunday accused the GOP representative of lying about his knowledge of sex abuse at the school.
"Jim Jordan is under attack, with false accusations, because he threatens the elite," Thomas wrote, along with a video of Jordan emphatically denying any knowledge of sex abuse while he was a coach.
Wow: Ginni Thomas—wife of Supreme Court Justice Clarence Thomas—goes to bat for Jim Jordan, claiming that sexual assault victims are bringing "false accusations" that he knew of their abuse "because he threatens the elite." https://t.co/GYR5sTOIqf pic.twitter.com/egXrkak7pQ

— Mark Joseph Stern (@mjs_DC) July 9, 2018
Last week, three athletes told NBC News Jordan turned a blind eye toward a team doctor who molested them and other students. Mike DiSabato, a former wrestler with the school, accused Jordan of "absolutely lying if he says he doesn't know what was going on."
As more former students came forward to dispute Jordan's claim, the Ohio representative on Friday told Fox News' Bret Baier the abuse was only discussed in "locker room conversations."
"Conversations in a locker room are a lot different than allegations of abuse, or reported abuse to us," Jordan claimed. "No one reported any abuse to me, if they had I would have dealt with it."
Jordan also suggested the allegations were the result of DiSabato's "vendetta" against Ohio State, and floated a connection to his heated exchange with deputy Attorney General Rod Rosenstein last month.
"I think the timing is suspect when you think about how this whole story came together after the Rosenstein hearing and the speaker's race," Jordan said last week.
Virginia Thomas, a columnist for the Daily Caller and former employee of the conservative Heritage Foundation, appears to agree. It's not the first time Thomas has weighed into the political fray. In 2010, she formed the far-right advocacy group Liberty Central to battle what she described as the "tyranny" of the Obama administration. Her lobbying work has raised questions from ethics groups about Clarence Thomas' impartiality.
Elizabeth Preza is the Managing Editor of AlterNet. Follow her on Twitter @lizacisms.