Mulvaney Crippling Consumer Financial Protection Bureau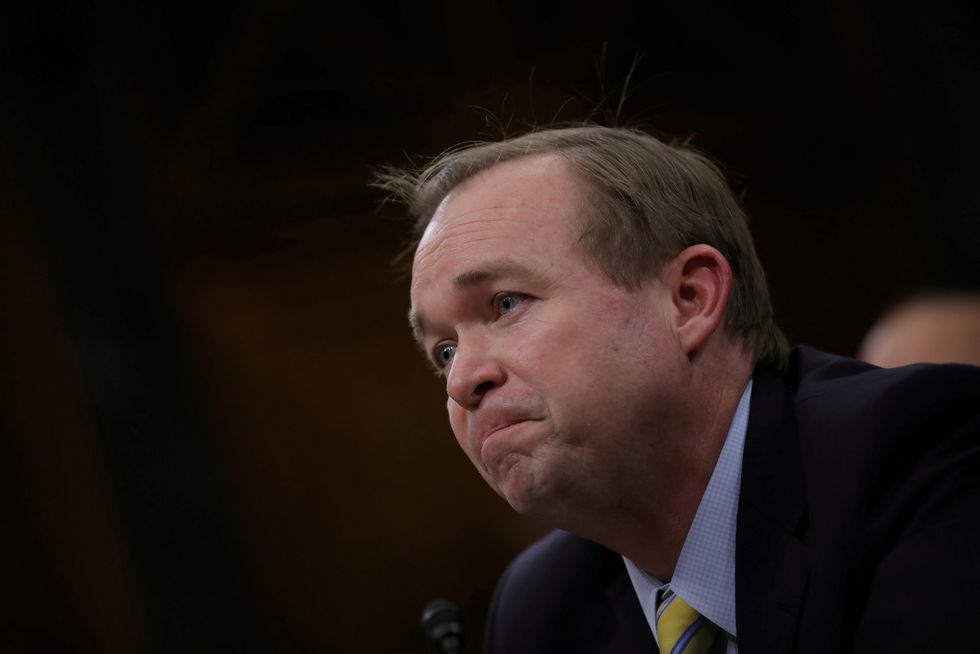 Reprinted with permission from DCReport.org
Trump's lawyers at the Justice Department tried and failed to convince appellate court judges that the Consumer Financial Protection Bureau is too powerful so now the new acting head of the bureau is trying to emasculate the bureau with help from Congress.
Mick Mulvaney, who is supposed to be enforcing federal regulations to protect the most vulnerable among us, is instead asking Congress to weaken the bureau by giving Congress control of its funding and mandating that the bureau's major rules need Congressional approval. Mulvaney is scheduled to appear Wednesday before the House Financial Services Committee and Thursday before the Senate Banking Committee.
"The bureau is far too powerful and with precious little oversight of its activities," Mulvaney said.
In 2010, Congress created the bureau in under former President Barack Obama because of the 2008 financial crisis that cost 4 million families their homes to foreclosure proceedings. About $11 trillion in household wealth such as retirement accounts and other savings vanished.
Action Box/What You Can Do About It

Call members of the House Financial Services Committee to tell them your thoughts on financial protections for consumers. The phone number for the committee is 202-225-7502, and its address is 2129 Rayburn House Office Building, Washington, D.C. 20515.

Call members of the Senate Banking Committee. The phone number for the committee is 202-224-7391 and the address is 534 Dirksen Senate Office Building, Washington, D.C. 20510

Contact the National Consumer Law Center at 617-542-8010 or consumerlaw@nclc.org
The agency and its first director, Richard Cordray, forced predatory companies such as New Jersey mortgage lender PHH Corp. to make about $11.9 billion in returned payments and debt relief to consumers they stiffed.
Under Trump, the bureau is siding with powerful bankers whose trade organization, American Bankers Association, spent $11.7 million on federal lobbying last year. No enforcement actions against banks, credit card companies, debt collectors or any finance companies have been recorded since Trump appointed Mulvaney.
The bureau announced it will reconsider a rule that could have cut revenue in the payday loan industry by two-thirds.Mulvaney also dropped plans to sue a Kansas-based payday lender, National Credit Adjusters, that an investigation had found had wrongly collected about $50 million.
"The CFPB is supposed to create a level playing field for consumers," said Joanna Pearl, a former enforcement attorney. "I'm not sure Mulvaney sees it like that."
Trump's attorneys at the Justice Department sided in a court case with PHH Corp. which was sanctioned for collecting $109 million in illegal kickbacks. The attorneys argued that the bureau has essentially the same responsibilities as Cabinet agencies and that the president can fire Cabinet secretaries.
But the U.S. Court of Appeals for the District of Columbia backed the bureau, saying that its director could only be removed for inefficiency, neglect of duty or malfeasance. The heads of other federal agencies such as the Social Security Administration, the Federal Reserve and the Consumer Product Safety Commission have similar protections from being arbitrarily fired to protect them from political interference.
Although Mulvaney is standing by while payday lenders continue to fleece borrowers, he has used federal pay scale regulations to help some of his political appointees make more than $250,000 a year ­- more than members of Congress, Cabinet secretaries and most federal judges.