Murdoch Is Reportedly Advising Trump While DOJ Investigates Fox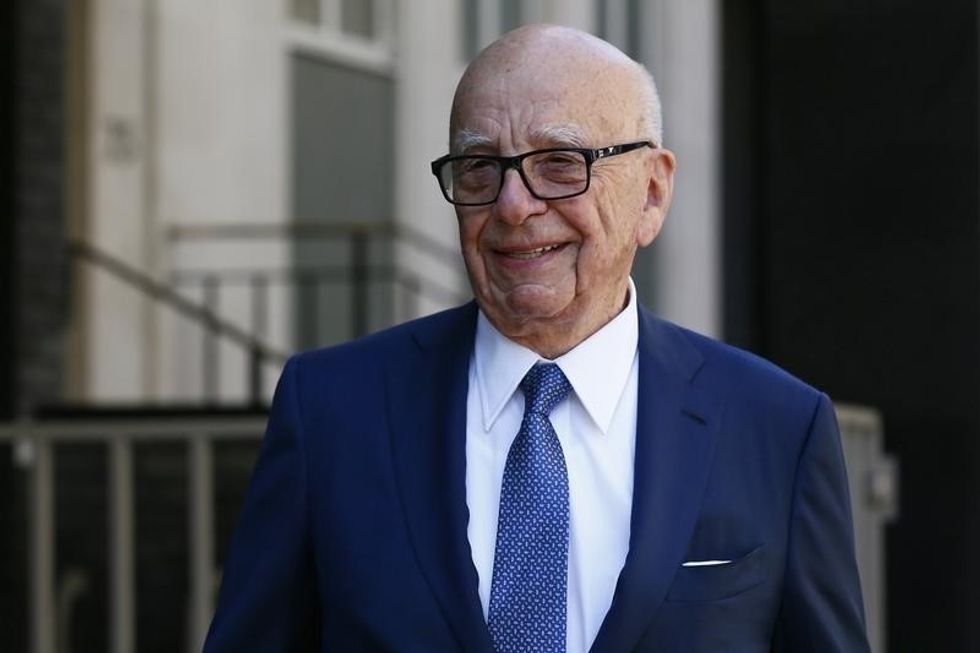 Reprinted with permission from MediaMatters.
Fox News owner and CEO Rupert Murdoch is reportedly advising President Donald Trump on a near-daily basis at the same time as the Justice Department is investigating his company, an ethical breach that could undermine the credibility of the inquiry.
The Justice Department is currently engaged in a wide-ranging investigation of Fox News. The inquiry includes a review of the network's "settlements made with women who alleged sexual harassment by former Fox News boss Roger Ailes," as well as "possible misconduct by Fox News personnel" over a period of years, and has grown to include the United States Postal Inspection Service, which has jurisdiction over some financial crimes, according to CNN.
The investigation is complicated by the ongoing relationship between Murdoch and Trump. "The president speaks to Murdoch now almost every day," with Murdoch advising Trump on an array of foreign and domestic policy issues, according to a report by The New York Times' Maggie Haberman. According to Haberman, the Fox chief also regularly talks to Trump aide and son-in-law Jared Kushner.
The situation raises questions about whether Trump or his subordinates are communicating with the Justice Department about the Fox investigation, according to Kathleen Clark, a law professor at Washington University in St. Louis whose specialty is government ethics. "Are they monitoring or attempting to influence that investigation, or is DOJ able to act independently in its investigation of a company owned by a friend of the President?" she wrote in an email to Media Matters.
"This [White House] isn't abiding by the same limits on WH-DOJ communications as previous administrations," she added, pointing out that White House officials reportedly asked the FBI and other agencies in February to rebut media reports about communications between Russians and Trump associates. As CNN noted at the time, "Such a request from the White House is a violation of procedures that limit communications with the FBI on pending investigations."
Communications between the White House and the DOJ "regarding pending or potential criminal or civil investigations or cases" are restricted in order to maintain DOJ's independence under a 2009 memorandum that is still in force.
Trump and Murdoch have a long and complicated relationship that has metamorphosed as Trump rose to power and became potentially useful for Murdoch's goal of expanding his media holdings.
They have known each other for decades, but historically disliked one another, with Murdoch reportedly describing Trump as a "phony." During early stages of the 2016 presidential campaign, Murdoch repeatedly criticized Trump's comments about immigrants and reportedly pushed his media outlets to scrutinize the candidate.
But once it became clear that Trump would be the GOP nominee, Murdoch turned Fox into an unrelenting pro-Trump propaganda outlet in order to ensure what New York magazine termed "an open line to the new administration" if Trump won. They also repeatedly met during and after the campaign.
On Thursday, Murdoch introduced Trump as "my friend" during an event celebrating U.S.- Australian relations and commemorating the 75th anniversary of the Battle of the Coral Sea. In turn, Trump bragged about donating to the American Australian Association after entreaties from Murdoch, commenting: "Now I realize that was money well spent. That's right. Right, Rupert?"
That friendship has been potentially lucrative for Murdoch's media empire. Murdoch has for decades opposed federal regulations that aim to prevent the consolidation of too much media power in too few hands, and in Trump, he may have found a president willing to allow him to expand his empire even further.
Soon after his election, Trump reportedly asked Murdoch for a list of potential nominees for Federal Communications Commission chairman. Trump's selection, Ajit Pai, is a fierce opponent of the regulations that have capped the expansion of Murdoch's companies. Pai's FCC has already overturned an Obama-era rule that had blocked Murdoch's Fox Television Stations from trying to buy Tribune Media's 42 television stations. Further relaxing of regulations could allow Murdoch to purchase newspapers across the country as well.
Fox News has previously been quick to decry the appearance of impropriety when investigations were both led by and targeted Democrats. During the 2016 presidential campaign, the network's hosts and guests frequently suggested that President Barack Obama and Attorney General Loretta Lynch were refusing to prosecute Hillary Clinton for political reasons.
"The president has made it quite clear to Attorney General Loretta Lynch that he, he does not want any prosecution of Hillary Clinton, or any investigation into the Clinton Foundation," said Bill O'Reilly a week before Election Day. "Mrs. Lynch got the message." [Editor's note: Neither O'Reilly nor Fox News ever cited any evidence that Obama interfered with investigations of Clinton or the Clinton Foundation.]