Nairobi Resumes International Flights After Fire
@AFP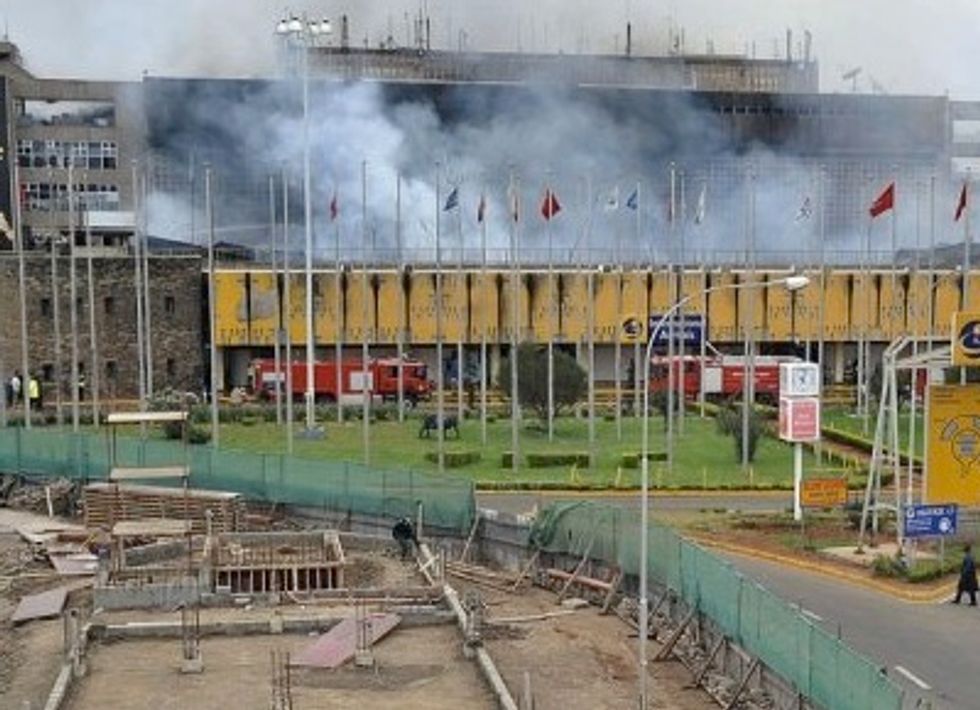 NAIROBI (AFP) – International flights landed at Nairobi airport Thursday, the first since a huge fire gutted the arrivals terminal, causing widespread chaos and delays.
Wednesday's blaze forced the cancellation or diversion of scores of flights at east Africa's biggest transport hub.
Using the domestic terminal for passengers instead of the fire-damaged international hall, flights from London and Bangkok safely landed early Thursday, said Eric Kiraithe, head of security at Jomo Kenyatta International Airport (JKIA).
A map locating the Kenyan capital of Nairobi where a massive fire has shut down the international airport
Officials were waiting for an accident investigations report into the blaze and the extent of the damage caused to get "a clearer indication" of when normal operations might resume, government spokesman Muthui Kariuki said.
However, Kenya's media were united in criticizing the response to the fire as painfully slow, and warned the airport would need major building work until it could be returned back to normal.
Cargo and domestic flights out of the Kenyan capitol had resumed on Wednesday evening.
However, it was not clear when airlines other than the national carrier Kenya Airways would also land at Nairobi.
"We will have things up and running within days," said Kariuki.
Kiraithe told AFP the airport had received two flights from London and Bangkok, and was currently checking in passengers flying to other destinations including Zanzibar, Johannesburg and Paris.
Some of those passengers will fly first to Kenya's second city Mombasa before taking connecting international flights, but others are expected to leave directly for their destination from Nairobi, he added.
"We are confident we will process other flights in the course of the day, although we are not fully operational," Kiraithe said.
The Standard newspaper accused the emergency services of being caught unprepared and calling the delay in tackling the blaze "inexcusable".
The Star warned the fire may cause a "lack of trust and confidence" in the future among passengers.
"From preliminary assessments, it will take a complete rebuilding of critical areas of the airport," the Daily Nation added, warning it would take "a pretty long time".
The fierce fire, which started before dawn on Wednesday, took around four hours to bring under control, with firefighters hampered by a lack of both water and equipment.
The interior ministry was forced to issue public appeals for Nairobi's notoriously congested traffic to give way to trucks ferrying water to the airport after firefighters tackling the blaze ran "dangerously low on water".
Some 16,000 passengers usually transit through JKIA every day, according to official figures.
The airport is a regional hub for east Africa, with many long-distance international flights landing there to connect to countries across the region.
There were no casualties in the fire but two people — an airport worker and a passenger — were taken to hospital due to smoke inhalation.
August is one of Kenya's busiest months for tourism, a key industry for the country, as foreign travellers fly in to see its wildlife and enjoy the white sand beaches on its Indian Ocean coast.
The airport offers direct connections to Europe, the Middle East, the Far East and other African cities.
Photo Credit: AFP/ Simon Maina