His Name Was Jordan Edwards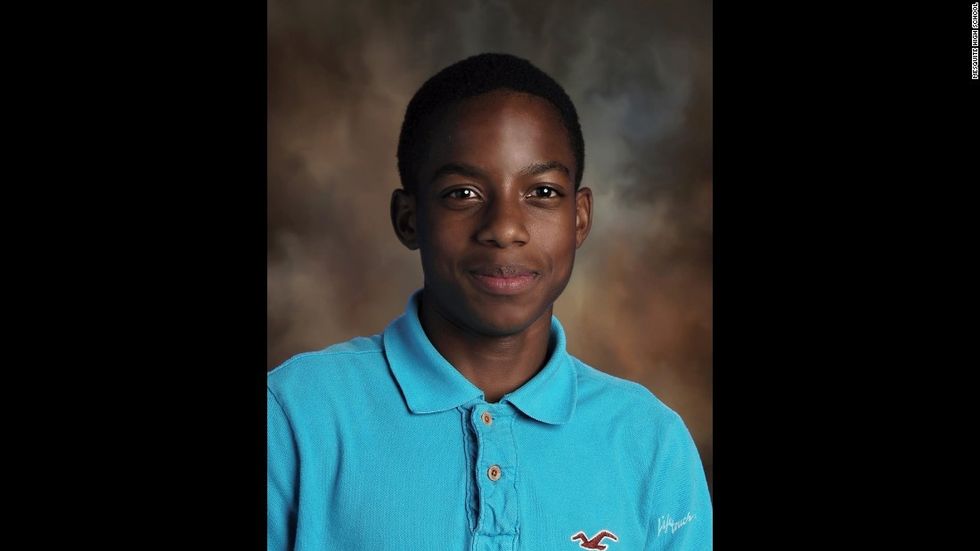 Reprinted with permission from Creators.
Another black boy was killed by police, this time in Texas.
His name was Jordan Edwards.
Jordan was 15, a "model student," a "popular football player" and "a kid that did everything right."
He was a freshman at Mesquite High School, in a suburb east of Dallas.
In a recorded message to the school community, principal Kevin Samples described Jordan as "a good student who was very well-liked by his teachers, coaches and his fellow students." Samples added that the "entire district — especially the staff and students of Mesquite High School — are mourning this terrible loss."
Head football coach Jeff Fleener posted on social media: "Nothing can prepare you for a day like today. … I have felt a range of emotions from extreme sadness, sick to my stomach, anger, questioning, and simply asking, 'Why?' My faith tells me that only God can tell me why, but that answer will come in His time. But knowing Jordan, his huge heart, his big smile, and his constant, positivity, God is putting him to work."
I wanted to start with these details about Jordan, because how else can we even try to comprehend his loss? I am writing from the city of Cleveland, where less than three years ago, another black boy, 12-year-old Tamir Rice, was shot and killed by police. If I learned anything from the immediate coverage after his death, it's that we must emphasize early that this boy — this black boy — did not deserve to die.
Jordan Edwards spent his last conscious moments in a car driven by his 16-year-old brother in another Dallas suburb. As has been subsequently reported, the teens in the car — Jordan, his two brothers and two friends — had no weapons, and they were not drunk. None of them has been charged with any crime.
At first, Balch Springs Police Department Chief Jonathan Haber claimed that one of his officers, later identified as Roy Oliver, fired at the teens' car because it was backing down the street in an "aggressive manner" toward officers called to break up a teen party.
Hours later, the police chief walked that story back, saying body camera footage showed the car driving away when the officer raised his rifle and began shooting.
"After reviewing the video," Haber said, "I don't believe that (the shooting) met our core values."
The Dallas County medical examiner has ruled Jordan's death a homicide. Cause of death: rifle wound to the head.
The police officer has been fired. We await further news about what happens next.
Meanwhile, Jordan Edwards' family is not the family it used to be, before Jordan was shot in the head.
"This entire ordeal has been inescapable," family members said in a statement released through their lawyer. They described Jordan as a "loving child, with a humble and sharing spirit," sharing a bond with his siblings that was "indescribable."
His brothers, the family continued, will never be the same.
"Not only have Jordan's brothers lost their best friend; they witnessed firsthand his violent, senseless, murder. Their young lives will forever be altered. No one, let alone young children, should witness such horrific, unexplainable violence."
We too often fail to mention this, let alone dwell on it, when children are killed. Family members — parents and grandparents, siblings and cousins, aunts and uncles — all of them are shattered in their own ways, none of which we want to imagine.
Jordan Edwards' family is asking that we try. It is the very least we can do. Our discomfort is irrelevant.
The Washington Post editorial board asks, "Will this latest, utterly needless death of a young African American male make 'Black Lives Matter' more than a hashtag by spurring needed police reforms?"
As the Post reported, about 25 percent of the 330 people shot and killed this year by police were black, and 7 percent of them were unarmed.
If you think Black Lives Matter is only a hashtag, get off Twitter and start talking to the families in our communities — emphasis on "our" — who worry every day that the black sons they kiss goodbye in the morning will be dead by midnight.
We'd rather not think about that, either.
Connie Schultz is a Pulitzer Prize-winning columnist and professional in residence at Kent State University's school of journalism. She is the author of two books, including "…and His Lovely Wife," which chronicled the successful race of her husband, Sherrod Brown, for the U.S. Senate. To find out more about Connie Schultz (con.schultz@yahoo.com) and read her past columns, please visit the Creators Syndicate webpage at www.creators.com.