What You Need To Know About April 29th's Climate March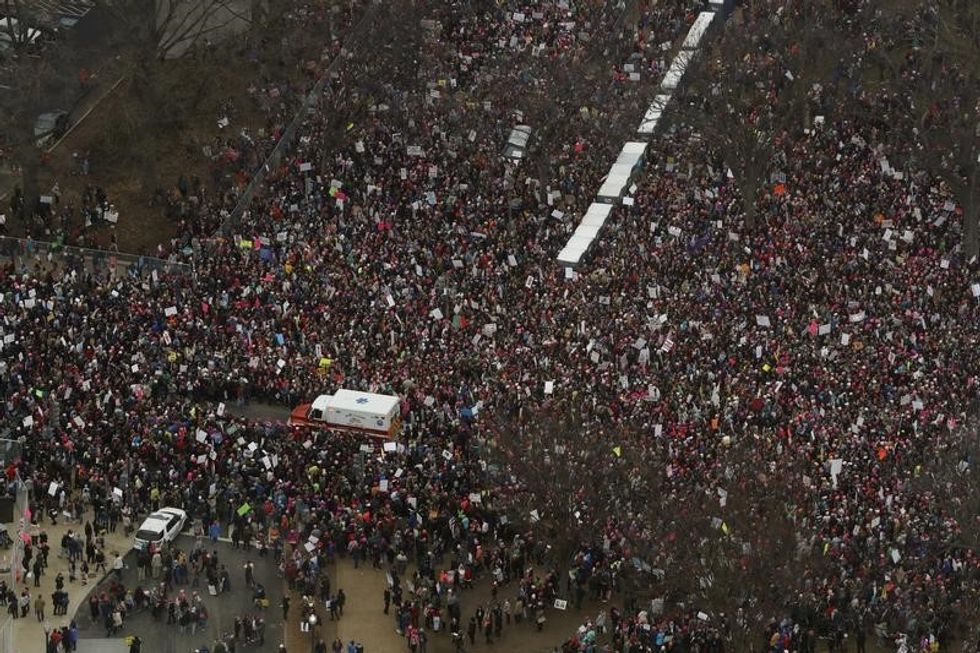 Reprinted with permission from Alternet.
On April 29th, President Trump will be forgoing his usual jaunt to Florida in favor of a Pennsylvania rally commemorating 100 days in office. Trump's tweets claim it will be a "big" rally, but in reality he will face stiff competition from tens of thousands of Americans descending on Washington, D.C., for the second People's Climate March. Its timing serves as both a rebuke to that grim milestone, as well as a national message from Americans concerned that the president's agenda will exacerbate climate change, roll back the progress of legislation like the Paris Climate Agreement, and generally leave the planet in worse shape than he found it.
The People's Climate March, as national coordinator Paul Getsos explained in an email interview, "comes at the end of a Week of Action that we are framing as 'From Truth to Justice' kicking off with the March for Science and ending with May 1st." The events, he explained, will include "a pre-march water ceremony, a youth convening, multiple candidate trainings, a climate justice Shabbat, a Catholic mass for marchers, direct actions, events intended to lift up the stories and voices of local activists, and numerous events centered around the role of women, elders, and youth in the movement for climate justice."
Getsos stressed that all of the events, the Climate March included, are intersectional, and mindful of the relationships between climate justice and racial and economic justice. He also noted that "the PCM includes leadership from indigenous, environmental, racial justice, economic justice, faith-based, youth, and immigrant groups and labor unions."
The day will begin with a march from the Capitol to the Washington Monument, and end with a rally that includes participants encircling the White House, to, as Getsos put it, "directly confront Donald Trump and challenge those who are pursuing a right-wing agenda that destroys our planet and environment, favors corporations and the 1% over workers and communities, and are waging attacks on immigrants, Muslims, people of color, and LGBTQI people every day." He was also adamant that the march be intersectional and focused on the movement leaders doing the grassroots organizing: "Front-line, indigenous and grass-roots community leaders, young people, rank and file union members and people of faith."
In addition to collaborating with environmental and racial justice groups, Getsos also sees the Climate March as an integral part of the larger anti-Trump resistance, starting with the Women's March. As he explained, "The Women's March was an amazing and historical moment in our nation's history when millions of women (and their supporters) hit the streets to show their collective power in the face of the election of a man who had repeatedly maligned women throughout his campaign and who had a history of treating women badly and with contempt."
Three months later, "the energy in the field is different and more diffuse. Rather than do one-off actions, people want to build a movement, which is aligned with People's Climate March's goals since 2014. The energy is focused on building relationships locally, coming together to discuss strategy, bring our solutions to Washington, D.C., and show our continued resistance in the streets."
Along those lines, Getsos hopes that "on April 30th, our movement will have deeper and more powerful bonds than it did on April 29th."
Fellow activists and the pundits who cover them worry over the sustainability of the resistance, of whether or not it can bring disparate groups together, and overcome intra-movement infighting, but Getsos remains committed to working through those conflicts and continuing the work. "After the march, we hope to continue to build and to help to inspire broad-based coalition work across the country… We also want to send a strong message to the administration and our movement that protests and actions can have an impact and we will continue to organize."
Ilana Novick is an AlterNet contributing writer and production editor.
This article was made possible by the readers and supporters of AlterNet.