Netanyahu Rift With Obama Fires Up Super Bowl Party In Tel Aviv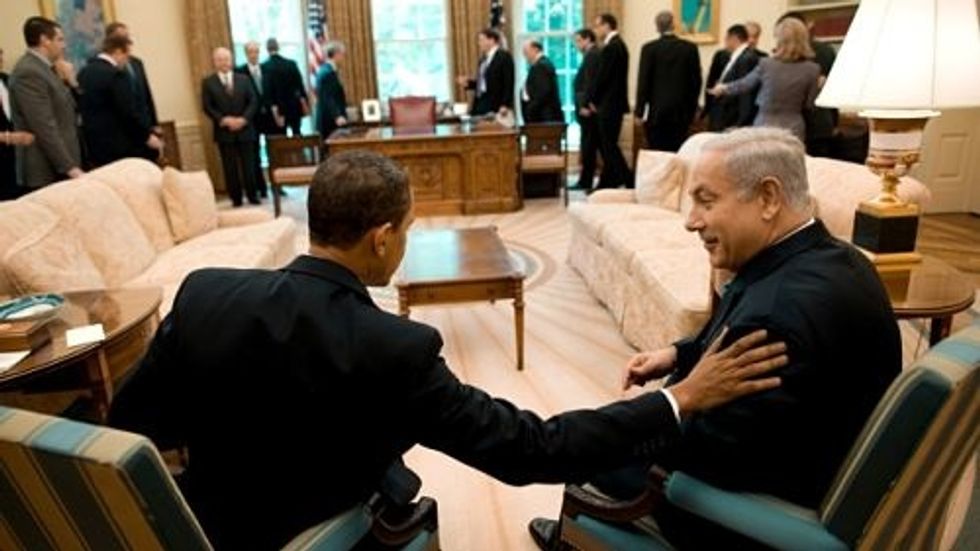 By Jonathan Ferziger, Bloomberg News (TNS)
TEL AVIV — Prime Minister Benjamin Netanyahu's protocol-bending invitation to address Congress took Israel's election campaign deep onto the American political field. Sunday night it reached the Super Bowl.
Yair Lapid, the finance minister Netanyahu fired for "subversion," threw a Super Bowl party in Tel Aviv, trying to take advantage of a widening rift between Netanyahu and President Barack Obama to win American votes to help topple the Israeli leader. Israeli candidates are also tapping U.S. donors for cash and hiring strategists from battles between Republicans and Democrats.
"Netanyahu's lost touch with America," the 51-year-old Lapid, wearing a leather jacket, told fans munching on chicken wings at a downtown nightclub before the New England Patriots beat the Seattle Seahawks 28-24.
"He's like an '80s kind of Republican and America's become a lot more multicultural and pluralistic," he said in accented English.
Lapid turned to American-Israeli voters, estimated at 150,000 by Republicans Abroad Israel, as polls show his Yesh Atid party's popularity slipping. With the U.S. giving Israel $3 billion in annual aid and parrying moves at the United Nations that Israel sees as hostile, rivals accuse Netanyahu of poisoning relations with the country's guardian angel. Months before Lapid was booted from the cabinet in December, he warned that ties, strained over U.S. policy on Iran and American-led efforts to make peace between Israel and the Palestinians, were in a "crisis."
Netanyahu retorts that he is the politician best able to protect Israel against enemies such as Iran and its proxies, the Lebanese Hezbollah and Palestinian Hamas, considered terrorist groups by the U.S. and Israel. His Likud party is running even with a Labor-led bloc, with each receiving about 25 of parliament's 120 seats, polls show.
Netanyahu's March 3 address to Congress on the dangers of Iran's nuclear program, at the invitation of Republican House Speaker John Boehner, wasn't coordinated with the administration. The prime minister was told to forget about being received at the White House.
Obama told CNN in an interview that it would be "inappropriate" to meet any foreign leader two weeks before an election. Netanyahu's critics say the speech is designed to undercut the president's efforts to reach a nuclear accord with the Iranians, who deny allegations their atomic program has military objectives.
In Tel Aviv on Sunday, Lapid worked the room with Dov Lipman, a U.S.-born rabbi who immigrated to Israel from Silver Spring, Md., and Ofer Shelah, a veteran TV sports reporter, running-mates from Yesh Atid, founded three years ago.
"We believe that relations with America are critical and Netanyahu has fumbled that," Lipman said. "We know that 20 percent of voters are still undecided and many of them are young American immigrants who see a lot of opportunity in this country. We're going after them."
There are no official figures on American voting trends in Israel.
The club was festooned with Lapid posters and party activists carrying clipboards to record guests' e-mail addresses and mobile phone numbers for future contact. The 150 Super Bowl party guests, given free admission and surrounded by wall-to- wall screens, ignored the seven-hour time difference to watch the game that stretched until after 5 a.m.
John Haber, a dual citizen from Livingston, N.J., said he favored Lapid over Netanyahu but was much more focused on the Super Bowl than politics.
"OK, Obama and Netanyahu don't get along but that's not a disaster and he hasn't destroyed Israel's relationship with America," said Haber, a 44-year-old tour guide from Jerusalem who moved to Israel six years ago. "Here we've got football, we've got beer and we have wings. I have no complaints."
Aides to Netanyahu, who played soccer while attending high school in suburban Philadelphia, didn't return phone calls asking if the prime minister watched the Super Bowl.
Photo via Wikimedia Commons