New Documentary Exposes Deadly Conditions Faced By Smartphone Workers In China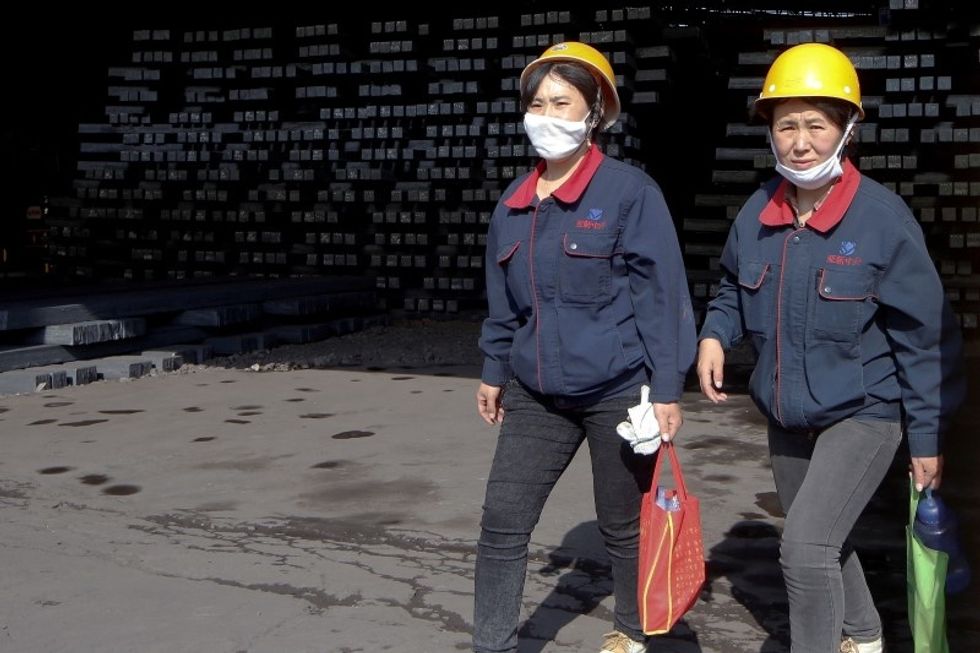 Reprinted with permission from Alternet.
At 24, Yi Yeting was diagnosed with leukemia after three years of nonstop exposure to benzene, a toxic chemical endangering the health of a million-plus Apple workers in Shenzhen.
"We are all benzene patients," the victim-turned-activist told attendees at an organizing rally in February 2014. "For those of us who are alive, we need to fight for our rights."
The chemical was phased out starting in August 2014. Less than a month later, the same factory was hit with a cluster of leukemia cases.
A viral video exposé of the company's toxic practices triggered outrage, suppressed since the Foxconn suicides in 2010. Called "Complicit" (2016), the shocking short is now a feature.
Watch the trailer:
Yi Yeting's David-and-Goliath smartphone industry fight is at the crux of "Complicit." Yi learns labor law and meets with global trade union leaders, all while battling his own illness. Then there's Xiao Ya, a migrant worker who left his farming community as a teenager in search of a better life, only to be poisoned by n-hexane, and 26-year-old Ming Kunpeng, also suffering from leukemia, who committed suicide.
"I was living in Shenzhen, China in 2013, making a film about the poisonous chemicals being used in our electronics, when something struck me. Week after week I would hear news reports about factory workers committing suicide across the country," explained director Heather White on her blog.
Prior to making "Complicit," White worked on labor issues for nearly three decades.
"One after another," she observed, "workers were giving up hope and taking their own lives. Hazardous working conditions, illnesses, and disabilities were commonplace and the only way these workers felt they could find a way out of this seemingly bleak situation was suicide."
"The film shows just how important the work of these victims-turned-activists are," notes Maya Wang, China researcher for Human Rights Watch. "And the way the authorities crack down is very typical of China's government's perverse response to activism."
"Complicit" screens in the Human Rights Watch Film Festival on June 12 at the Film Society of Lincoln Center's Walter Reade Theater, New York.
Watch an exclusive clip:
Alexandra Rosenmann is an AlterNet associate editor. Follow her @alexpreditor.
This article was made possible by the readers and supporters of AlterNet.