New Exodus Of Cubans Headed To The US Is Underway Across The Americas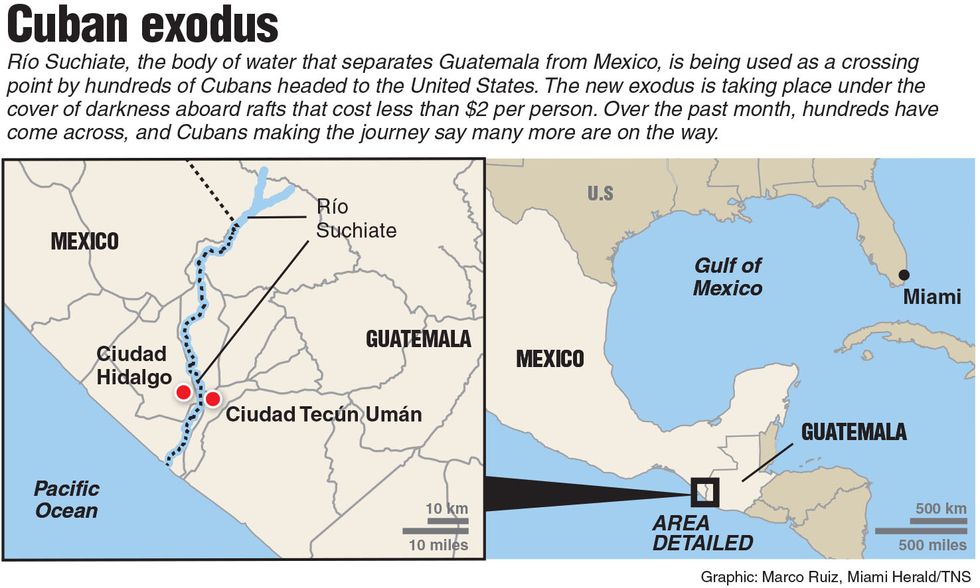 By Nancy San Martin, Miami Herald (TNS)
CIUDAD HIDALGO, Mexico — They line up on the edge of the water, their silhouettes barely visible in the wee hours before the sun rises. Groups of 10 to 12 climb aboard rafts mounted with plywood and pay less than $2 to be ferried to the other side. Within the span of 20 minutes, at least 60 have crossed aboard six rafts.
All of them are Cuban migrants en route to the United States. The illegal crossing scene at the Rio Suchiate — the body of water that separates Guatemala from Mexico — is happening every day under the cover of darkness.
A new exodus of Cubans is underway at this river in Ciudad Hidalgo in the Mexican state of Chiapas. Over the past month, hundreds have come across from the border town of Tecun Uman, Guatemala, and those making the journey say many more are on the way.
"We're leaving in droves," said one Cuban as he rushed to get away from the river and onto a van that would drive his group to the nearest immigration center in Tapachula, about 18 miles away. "Everybody is leaving Cuba."
"Another hundred are waiting to cross," shouted another young man as he dismounted the raft from Guatemala and caught up with the group of new arrivals in Mexico.
The migrants are from across the island, predominantly between 20 and 40 years old. Many travel with children. Most are headed to South Florida.
The migrants are Cubans who have either spent some time in third countries such as Ecuador or who travel directly from the island to a third country as tourists and immediately proceed on their journey across South and Central America to make their way to the U.S.-Mexico border.
The migration route is not new for Cubans. But the numbers passing through over the past month have grown to the point that human rights activists in Mexico have labeled it a "migration crisis" that is adding to the already high number of Central American migrants also using Mexican land as a pathway toward America.
"A lot are coming through here," said Sister Maria del Carmen, who helps run a Catholic migrant shelter in Tapachula. Since it opened its doors in early September, more than 500 Cubans have been served at the shelter.
"But the figure is much higher," del Carmen said. "The immigration center is full of Cubans."
Official data show a significant increase in the number of Cubans coming across the U.S.-Mexico border.
According to the latest figures from U.S. Customs and Border Protection, at least 27,413 Cubans have entered through the U.S.-Mexico border from Oct. 1, 2014, through Aug. 31. Another 9,056 arrived without visas at Miami International Airport during the same time frame.
The border entries are at its highest since 2005 with increases each fiscal year over the past four years: 5,316 border entries in 2011; 10,315 in 2012; 11,932 in 2013 and 17,459 in 2014.
On a recent Wednesday morning at the immigration center in Tapachula, dozens of newly arrived Cuban migrants collected their passports and waited outside to get processed and obtain "safe passage" documents that give them 20 days to leave Mexico. Many more were also inside the facility. Immigration authorities declined to comment.
Among those waiting to be processed was Guantanamo resident Angel Reyna Rojas, 30, who was traveling with his wife Yudisleidi Perez and 3-year-old son Angel Fabian.
Reyna Rojas and his wife left Cuba in August 2013 and traveled to Quito, Ecuador, on a tourist visa and began to establish roots there. Reyna Rojas returned to Guantanamo in December to pick up his son.
"We left Cuba always with the purpose of bettering our lives," he said. "For some Cubans in Ecuador, things have gone well but not for us."
The family tried to emigrate legally through both the Mexican and Nicaragua embassies but their petitions were denied.
"So we decided to embark on the long journey," Reyna Rojas said.
Like many other Cubans taking the same route, the Reyna Rojas family made contact with a well-organized smuggling network, made their way to Cartagena, Colombia, and began their odyssey to the United States on Sept. 26 aboard a sailboat that took them and other Cuban migrants on a turbulent 36-hour ride to Panama.
They spent a month traveling across South and Central America, spending money on smuggling fees, bribes to border agents and police, transportation costs, visa fees and other incidentals. Along the way, they replenished dwindling dollars with wire transfers from relatives in the United States. On Thursday, after crossing seven countries and spending about $7,000, they made it to their final destination: with family in Hialeah.
"Thank God this nightmare is over," he wrote in an email upon arrival. "I'm reborn."
Reyna Rojas said the number of Cubans making the same journey is astounding.
In Panama, during the early part of their travels, Reyna Rojas said immigration authorities told him that by the time his family arrived, thousands of Cubans had already passed through there.
"That is not counting the great number of people who got stranded because they'd run out of money," he said.
In Choluteca in southern Honduras, where they spent a weekend awaiting documents that would allow them to continue their journey, Reyna Rojas said the hotels in town were teeming with Cubans making the same journey.
"More than 800 Cubans were there," he said. "All of the hotels were full. All of them."
Those fleeing cited several reasons for abandoning the island, including economic hardships and fear that restored diplomatic ties between Washington and Havana will bring an end to the Cuban Adjustment Act, which allows most Cubans who make it to U.S. soil to stay. But the primary reason cited for fleeing, migrants said, is simply because now they can.
New rules that took effect in 2013, which eased strict exit visa requirements and allows Cubans to travel more freely, has opened a new way out for those who want to abandon the island.
"So long as there is a way for people to get out of Cuba, they will continue to leave," said Jose Angel Jordan, 30, of Havana.
He, too, made it to Miami Tuesday night on a flight from Houston after crossing the border into Texas from Matamoros, Mexico, and is staying with family.
"We are very happy because it's not easy to get here across so many countries," said Jordan's cousin, Dayron Orlando Alvarez, who fled Cuba eight years ago. "It's a little risky, but those who do it take the risk because they want to move forward and have a better life."
Yeniset Hernandez Deschapelles, of Matanzas, who traveled with husband Rafael Pino Espinosa and their 2-year-old son Shairas Zakir Pino, left Cuba in 2014 by way of Guyana. They stayed 10 months, then went to Brazil and spent another 10 months saving money for the journey across Central America to the U.S. with help from family in Canada.
"Everybody wants to go to America," Hernandez Deschapelles said in strained English outside the immigration center in Tapachula. "A lot of people have big problems in Cuba. … The salaries are very low so everybody wants to move to a better future, also for their children, for their family. All the people here want to help their family in Cuba."
"That's why people want to travel to another country like Ecuador, Panama, Colombia," she said. "They make the big travel. … It's a little dangerous to go to the big dream, the Cuban dream: to go to America."
Hernandez Deschapelles said that during her journey, she also came across hundreds of other traveling Cubans, including children.
Pinar del Rio native Carmen Ordaz, 33, also was headed to Miami to join her husband Orlando Cata. He was a doctor assigned to community service in Venezuela, defected through Colombia and made the same journey about five months ago.
Ordaz followed suit, arriving by bus to Miami a little more than a week ago after crossing the U.S.-Mexico border in Reynosa, Texas.
"The fear is that the Cuban Adjustment Act will end," Ordaz said. "So people are getting out."
Most of those interviewed after entering Mexico said they have little hope for significant changes in Cuba under the Castro regime, despite the restored diplomatic relations and some economic openings on the island signed off by Cuban leader Raul Castro.
"Everybody who leaves Cuba knows that nothing is going to change there," Reyna Rojas said. "And if there is going to be change, it will take 30 or 40 years. Perhaps longer.
"Now with the new relations (between the U.S. and Cuba), there might be a little more flexibility but the situation in Cuba is not going to change," he said. "That belongs to them and they will not change. I blame them for everything we've been through — Fidel and Raul."
___
(El Nuevo Herald staff writer Alfonso Chardy contributed to this report.)
Graphic: Map of route taken by Cuban migrants to the U.S. Miami Herald 2015.