The New GOP Plan To Repeal Obamacare Would Actually Create Real 'Death Panels'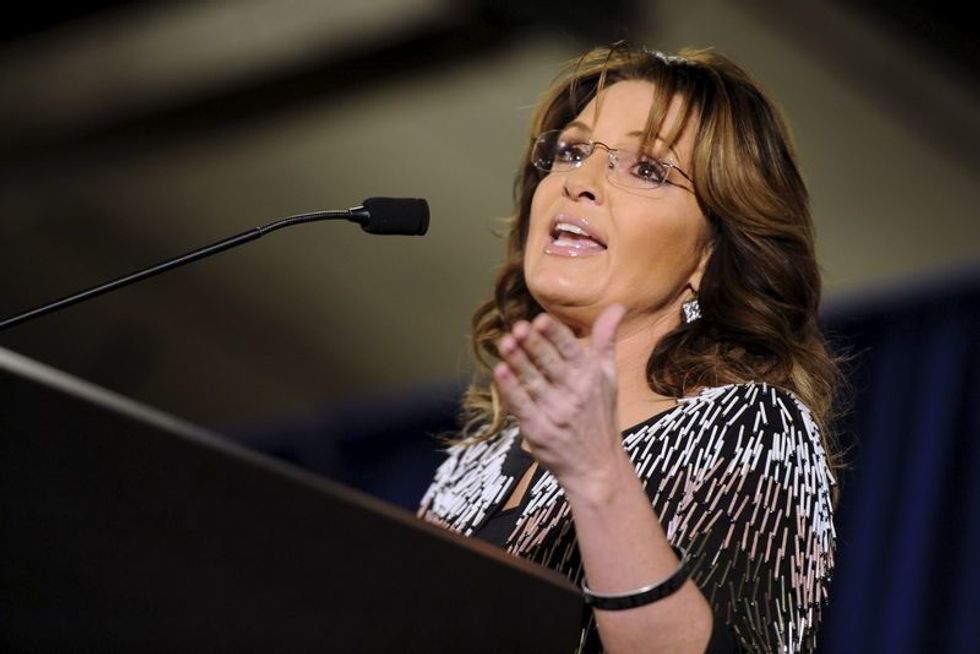 Reprinted with permission from Alternet.
Now it's the House Republicans who are correctly being accused of creating so-called death panels.
Sarah Palin went on a famous tirade in 2009 after she and John McCain lost the presidential election, saying the bill that would become known as Obamacare would lead to medical rationing and life-and-death decisions by faceless bureaucrats about who got coverage and who would not.
Seniors and the disabled "will have to stand in front of Obama's 'death panel' so his bureaucrats can decide, based on a subjective judgment of their 'level of productivity in society,' whether they are worthy of health care," Palin said, lying at that time in a manner that anticipated the rise of Donald Trump.
As of early Wednesday, House Republicans appeared to be blinking when it comes to amassing enough votes to pass their latest Obamacare repeal bill because what they are hearing loud and clear is turning crazy Sarah's macabre vision into reality. Americans struggling with cancer and other life-threatening illnesses are expressing their concrete fears that the House's latest handiwork will accelerate their demise, because it repeals Obamacare's ban on insurers rejecting coverage for people with pre-existing conditions and allows insurers to segregate these people into pricier high-risk pools. Both are disasters.
"I don't think people really understand how serious this is," Cannon Slayton, 50, a children's book author with brain cancer from Charlottesville, Virginia, told the New York Times in a front-page story Wednesday. Her bottom line, like others in the report, was that she could lose her coverage under the latest Republican revisions to the Affordable Care Act and that could be fateful. And Slayton's predicament is by no means unique.
Moreover, the GOP proposal for creating high-risk pools is a fantasy, others told the Times, recalling how before Obamacare if you were over age 50 and had any medical issues—which includes almost everyone—no insurer would sell you a policy.
As the Times noted, "Janice Elks, 50, a small-business owner in Omaha, had cervical cancer and suffered from neuropathy when she looked for a policy. 'I could not get insurance at all, of any type, for years,' she said. 'I would apply over and over.'"
House Republican leaders are scrambling to paper over their repeal of Obamacare's pre-existing condition provision. The latest analyses, from those who ran Medicaid and Medicare under President Obama, is that every congressional district will see tens of thousands of people losing coverage, with those remaining facing premium hikes of 15 to 20 percent and deductible increases of 60 percent.
After longtime Michigan Republican Congressman Fred Upton declared his opposition to the latest bill, House Speaker Paul Ryan offered to put $8 billion in subsidies back into the program for the most vulnerable (this is breaking news on Wednesday morning), as an attempt to sway his vote. As of midday Wednesday, there are reports the House GOP may soon schedule a floor vote. (Later on Wednesday, House Republicans said they had the votes and scheduled a vote for Thursday. It's unclear if it will pass.)
Whether Ryan's last-minute gambit works is irrelevant in the larger scheme of things, as more astute Republicans—namely, their political consultants—were tweeting on Wednesday. They know that pulling the pre-existing condition prohibition out of the law is not just a political death wish, but amounts to life-threatening changes for older Americans. In other words, Palin's death panels are all too real; they're in Ryan's latest repeal bill; and enough voters know it.
Don't take my word for it: listen to a Republican pollster who did focus groups to create ads trashing Obamacare. Here's Rick Wilson's tweetstorm:
"A quick story about why Obamacare is so hard to kill now. Hop in the wayback machine with me for a moment to a series 2009 focus groups. I've told you about this before but it bears repeating. We were prepping anti-Obamacare ads. In EVERY group and I mean EVERY group… Democrats, indys, hard Rs, soft Rs, rich, poor, black, white, urban, suburban…there was one argument that nuked everything else… And that was coverage for pre-existing conditions. It didn't matter where you were coming from on the battle…it was the killer app…

"I wasn't weighing policy, but rather the politics of it. And that's why it was a tentpole of the sales job to the American public… Now salve Trump's ego over losing Trumpcare the first time, the House GOP is trying to pass a bill that let's states end that coverage… Set aside policy. Set aside the economics. Think about the politics of it. They're awful. They're idiotic. It's a vote that makes House… Members vote for a bill that the Senate will NEVER pass. A Senate source tells me they now have MAYBE 25 Rs (and shrinking).

"Trumpcare 2.0 is still too gutless for the Freedom Caucus and too heartless for the rest of the House. Bravo, boys. Bravo… Finding a way to reduce premiums deductibles instead of doing the ONE thing that voters f**king hate might be smart, but what do I know?"
There you have it, the view from players inside the GOP tent. The only way this passes the House is to salve Trump's ego and save Ryan's prestige. If that happens, it will send a wave of fear through millions of American households, where an estimated 100 million people are struggling with cancer, heart disease and other chronic maladies according to 10 nationwide patient care organizations that Monday issued a joint statement opposing the House bill.
As was the case in 2009, it was a Republican—Palin—who projected the fantasy of insurance industry panels taking away life-saving care from ordinary Americans. Almost a decade later, House Republicans are poised to enact that macabre reality.
Steven Rosenfeld covers national political issues for AlterNet, including America's democracy and voting rights. He is the author of several books on elections and the co-author of Who Controls Our Schools: How Billionaire-Sponsored Privatization Is Destroying Democracy and the Charter School Industry (AlterNet eBook, 2016).
This article was made possible by the readers and supporters of AlterNet.