New Poll: Trust In Trump Scraping Bottom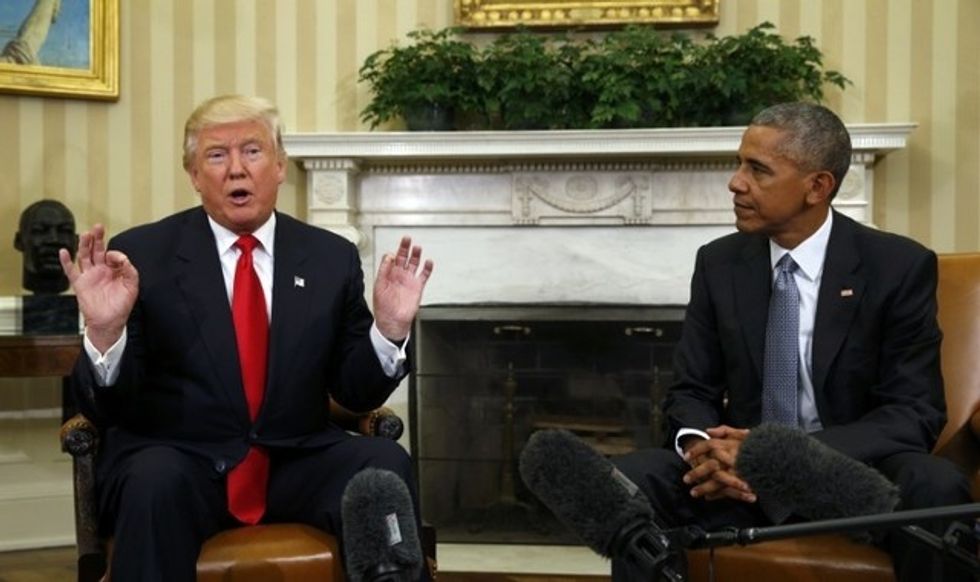 Reprinted with permission from Shareblue.
A new poll has found that American opinions of Trump are down across the board on key issues like his truthfulness, his temperament, and how he has dealt with issues like Russia and immigration.
According to a poll from Priorities USA, Garin-Hart-Yang Research Group, and Global Strategy Group notes the ratings are lower than they have seen "in any of our eleven previous national tracking surveys on the Trump presidency."
Alarmingly for Trump, among Trump voters who no longer strongly approve him, 47 percent have an unfavorable reaction to his truthfulness, or lack thereof, while by a margin of 35 to 27 percent, they lack the confidence that he has the "integrity and honesty a president should have."
The poll even found that despite the overall positive tone to recent economic news, Trump isn't receiving the benefit of the doubt. Thirty-five percent of people in the poll said Trump's economic policies are good for them, and only 35 percent give favorable marks to the tax bill passed by Trump.
That data comes as new filings show CEOs reaping the benefit of the legislation by racking up millions in stock sales while average workers got little to no boost after the law was passed.
American wages fell as Trump and his congressional allies handed out tax cuts for the uber-wealthy, and Americans know it. In the poll, by a margin of 47 to 22 percent, voters say things are getting worse instead of getting better when wages are compared to increased cost of living.
Trump is even experiencing problems with Republican voters in the new survey.
Thirty-seven percent of Trump voters do not strongly approve of him, and in that subgroup 54 percent had an unfavorable reaction to his leadership style, while 48 percent do not like how he handles Vladimir Putin.
The results show that the fumbling propaganda effort to clean up after Trump's attacks on U.S.  law enforcement as he stood shoulder-to-shoulder with Putin did not help, even among those who have backed him in the past.
The weakness with his voters translated in the poll to an 8-point lead for Democrats in the generic matchup for the 2018 midterms, the best showing in this poll. That echoes other polls with Democratic leads. Over half of those surveyed said they want more Democrats in Congress to act on a check and balance on Trump and the GOP.
Among the most highly motivated voters surveyed, Democrats have a 16 point lead.
Among Democrats, Trump's unilateral decision to rip apart border-crossing families and put young children in detention facilities is reviled. Eighty-seven percent viewed him unfavorably for this, and reversed the trend from previous elections were immigration issues were more of a motivator for Republicans than Democrats.
Overall the survey shows that Trump's rhetoric about Republican resilience heading into the election is more bravado than reality, while his team's efforts to politically spin his erratic and ahistorical behavior are not working.
Americans are moving further away from Trump, not toward him, and they were never that into him in the first place.
Published with permission of The American Independent.