New Puerto Rico Report Proves Trump Dead Wrong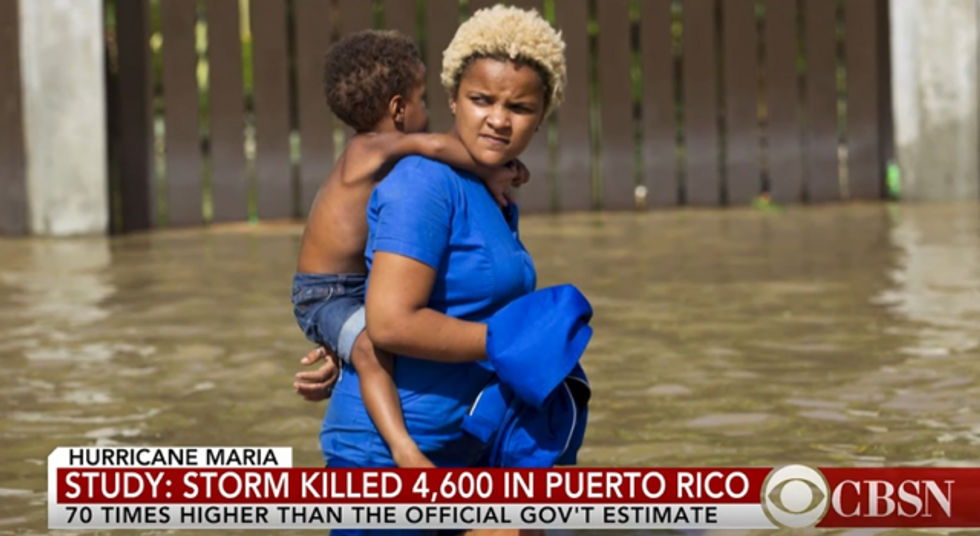 Reprinted with permission from Shareblue.com
Trump never stopped asking for credit for the government's response to Hurricane Maria in 2017, while also downplaying its seriousness. But a new study shows that the devastation that storm brought was far worse than previously known.
The study in the New England Journal of Medicine estimates that nearly 5,000 Americans died as a result of Hurricane Maria, more than double Hurricane Katrina's death toll.
Yet bragging about the supposedly low casualties was one of many tone-deaf things Trump said in response to the storms.
During a photo op in October 2017, Trump complained about the money that was being spent to aid Puerto Rico. He acted as though the costs were unjustified because the death toll wasn't high enough.
"I hate to tell you, Puerto Rico, but you've thrown our budget a little out of whack because we've spent a lot of money on Puerto Rico," Trump told officials at a military base. He added that Maria wasn't "a real catastrophe like Katrina," in which 1,833 people died. And he pestered Puerto Rico Gov. Ricardo Rosselló about the number of fatalities.
"What is your death count, as of this moment — 17?" Trump asked Rosselló.
"Sixteen certified," Rosselló replied.
"Sixteen people certified," Trump said, as if he were reciting a golf score.
Even at that time, the death toll of 16 was well-known to be grossly inaccurate. As time passed, the scope of the tragedy came into ever-sharper and more disturbing focus.
And now the latest study proves just how grossly wrong Trump was.
From the very start, Trump fixated on the optics and the politics of hurricane season. And he failed spectacularly at every turn.
He used official White House photographs to try to look busy, while actually just trying to sell his campaign hats.
He embarrassed himself by falsely claiming to have witnessed "first hand" the devastation of Hurricane Harvey. When the death toll for Hurricane Irma hit 33 (it eventually reached 134), he called it "such a small number."
And as Hurricane Maria devastated Puerto Rico, Trump launched a series of often racist attacks on its people, who are all American citizens. He eventually showed up to offer "help," which largely took the form of throwing rolls of paper towels at them.
Thanks to the climate change that Trump is ignoring, these were exceptionally powerful storms. Thus it's difficult to know precisely what effect the administration's response efforts have had on the death tolls.
But Trump has made it painfully obvious that he cares much more about how the response makes him look than about the response itself.