New Text Messages Indicate Kavanaugh Lied About Yale Incident
@FAWFULFAN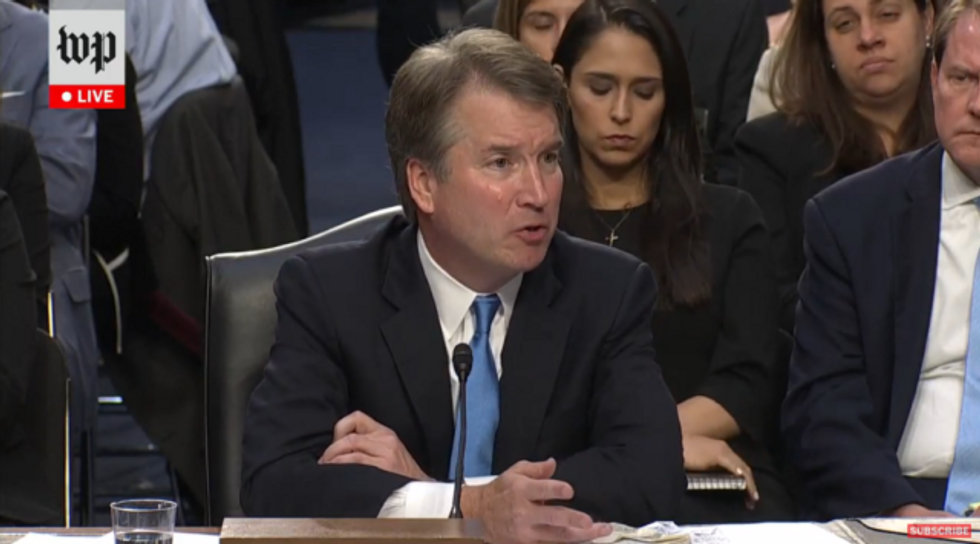 Reprinted with permission from AlterNet.
Hours after Senate Republicans finally locked up the votes to confirm accused sexual predator Brett Kavanaugh to the Supreme Court, a new report from NBC revealed text messages sent to a woman who claims to have witnessed Kavanaugh's assault on Deborah Ramirez at a college party at Yale:
The texts are a conversation between Kathy Charlton and a mutual friend of Kavanaugh's who, NBC has confirmed, was identified to the FBI by Ramirez as an eyewitness to the incident. NBC News has received no response to multiple attempts to reach the alleged eyewitness for comment.

The story detailing Ramirez's accusation was published in The New Yorker on Sept. 23. Charlton told NBC News that, in a phone conversation three days earlier, the former classmate told her Kavanaugh had called him and advised him not to say anything "bad" if the press were to call. 

Then on September 21, according to the texts, that same person sent Charlton a text accusing her of disclosing their conversation to a reporter. "Hellllllooooo. Don't F****** TELL PEOPLE BRETT GOT IN TOUCH WITH ME!!! I TOLD YOU AT THE TIME THAT WAS IN CONFIDENCE!!!"

"From the content and all capital letters of the text (the alleged witness) seemed to feel that there was a great deal at stake for Brett if Brett's fears of exposure ever became public," Charlton wrote in a statement to the FBI shared with Grassley's office on Oct. 4.
Two days ago, another NBC report detailed text messages between friends of Kavanaugh, Berchem and Karen Yarasavage, who also suggested Kavanaugh was contacting former classmates in an attempt to head off Ramirez's allegation before it went public.
Kavanaugh told the Senate Judiciary Committee, under oath, that he had not heard of or discussed Ramirez's allegations before her story appeared in The New Yorker.
Despite the clear potential that he committed perjury, the FBI did not contact any of the recipients of these text messages for an interview, even though they were informed at least some of them had information.
Matthew Chapman is a video game designer, science fiction author, and political reporter from Austin, TX. Follow him on Twitter @fawfulfan.