New York Fashion Week Frenzy Kicks Off
@AFP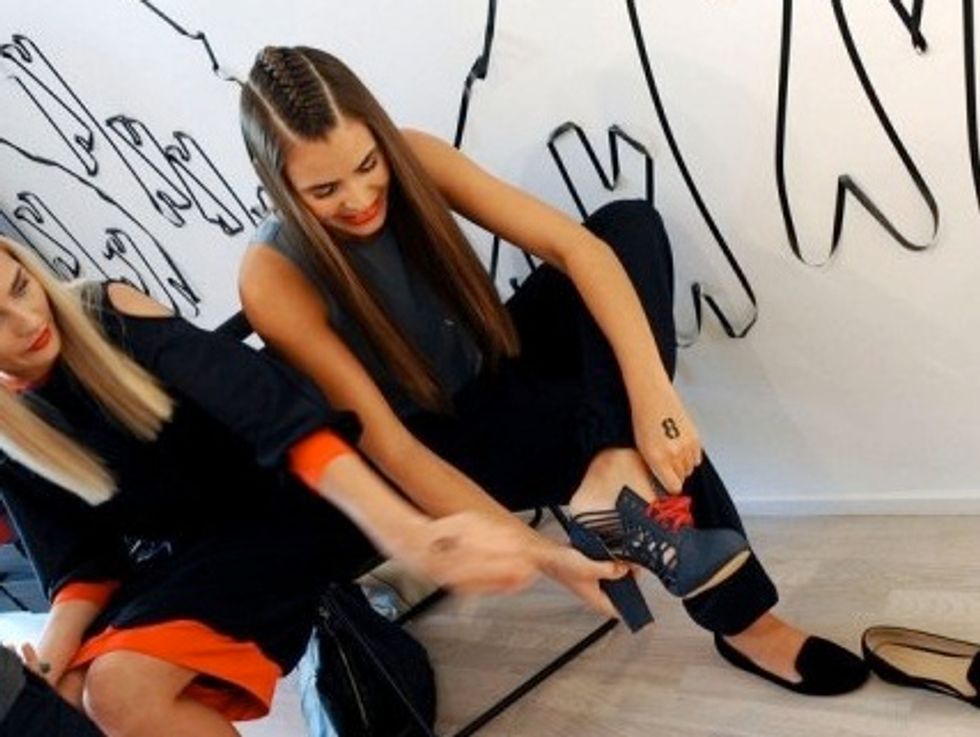 NEW YORK (AFP) – The fashion world takes over New York, as industry heavyweights and several newcomers unveil their lines for next spring, and one designer stages the first show for plus-sized women.
As the days begin to shorten in the Big Apple, the city can bask a little longer in the warmth as designers look ahead to spring-summer 2014 during Fashion Week.
Celebrities and fashionistas will flock to the city for some 350 shows that will draw more than 100,000 guests for the event, which runs through September 12.
The style spotlight will then swing over to London, Milan and Paris.
Two-thirds of Fashion Week events have spilled out of New York's official Lincoln Center tents, with runways springing up everywhere from the High Line park to Chelsea art galleries and hotel rooftops.
And with so much fashion to take in and so little time, about 20 designers decided to get an early start, showing their collections on Wednesday in other spots around the city.
The official event traditionally starts with Nicholas K, who will show his latest collection on Thursday.
New York Fashion Week — which prides itself on showing "the most internationally diverse group of established and emerging talent" — will show several designers for the first time.
Spanish brand Desigual, which is opening a shop on Fifth Avenue, will show here for the first time on Thursday. Britain's AllSaints will follow suit over the weekend, promising to "disrupt the format of the traditional fashion show and integrate product, digital and music."
Hometown designer Eden Miller will meanwhile become the first to present a collection for plus-sized women during Fashion Week, showing her Cabiria line as part of the Fashion Law Institute showcase.
"It's an incredible honor, it is absolutely fantastic," Miller told AFP.
Of course, the usual suspects will be at the party: Ralph Lauren, Calvin Klein, Marc Jacobs, Tommy Hilfiger, Proenza Schouler, Jason Wu, Alexander Wang and Victoria Beckham, to name a few.
The official Lincoln Center venue will host about 100 shows, including those by red carpet darling Monique Lhuillier, Michelle Obama favorite Tracy Reese and fashion royalty Carolina Herrera.
Long-time New York veterans Vera Wang, Diane Von Furstenberg and Michael Kors will also show there.
It will be easier than ever for ardent fashionistas to follow the goings-on at Lincoln Center, with shows streamed live on the website mbfashionweek.com, Facebook and YouTube.
Some designers will do the same on their personal sites, while legions of bloggers, Tweeters and Instagrammers will ensure near-instant access to next spring's looks.
Ahead of the fashion circus, debate has sprung up once again over the home of the event, which moved from Bryant Park to Lincoln Center in 2010, and may move again in 2015.
"Whether Lincoln Center will continue or not, we do not know," Von Furstenberg, the president of the Council of Fashion Designers of America, told the New York Times.
Some designers have expressed fatigue with the noisy crowds or glaring sponsorship signs around the official location.
This year also marks the end of "Fashion Night Out", which started in 2009 as shops tried to boost the struggling clothing industry with a glamorous night of entertainment and celebrity appearances to lure in buyers.
However this failed to generate the expected sales, with hordes coming out for free champagne and a glimpse of someone famous, costing designers more than they earned.
Photo Credit: AFP/Ben Gabbe